Sports
Perfect start relieves Lindell
Fri., Sept. 16, 2005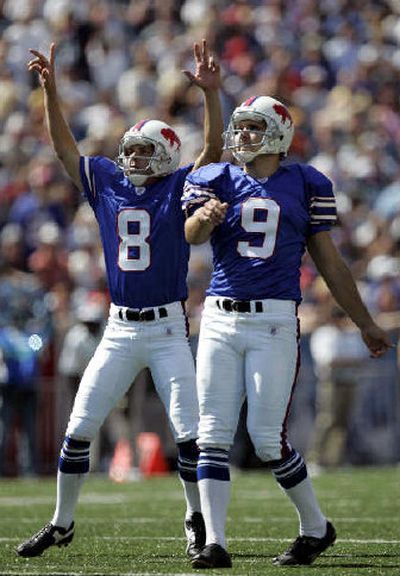 Perhaps Rian Lindell can finally begin concentrating on kicking field goals instead of himself.
Shrugging off a shaky preseason, the Bills kicker responded with a career day, hitting all five field-goal attempts in Buffalo's season-opening victory. He hopes he's put questions about his accuracy in the past.
"It is nice. You want to start well," Lindell said Thursday. "I'm just happy that I was helping the guys win."
Relief might be another good description.
Lindell's performance in Buffalo's 22-7 win over Houston on Sunday was a big turnaround from his last outing, when he missed a 32-yarder wide right in a preseason loss to Detroit. It capped a tough preseason in which Lindell missed 3 of 8 field goals and, more disturbing, an extra point. The struggles continued a trend for Lindell, who in two seasons in Buffalo had missed 11 of 52 attempts, including three from within 40 yards.
The Bills were so concerned that coach Mike Mularkey took the unusual step on his weekly radio show last week of saying the team was looking at potential replacements.
Mularkey elected a less-drastic move: changing long snappers by bringing in six-year veteran Mike Schneck to replace Jon Dorenbos.
Mularkey played down his comments Wednesday, saying it's common practice for the team to try out players at several positions during the week. Difference is, it's not often the coach announces his tryouts in public.
Lindell got the message.
"I'm sure they didn't like that last miss against Detroit," Lindell said. "Somebody out there wants my job. And if I'm not doing it, they'll bring him in. … So it just comes back to how well I do my job."
So far, so perfect.
Four of the five field goals came on Buffalo's first four possessions, including a 42-yarder that gave the Bills a 9-0 lead. The five were the most the Washington State University product has hit in one game at any level, and they were one short of the franchise record set by Steve Christie in 1996.
That's the type of performance the Bills are counting on, especially this season with an offense that will have its growing pains under first-year starter J.P. Losman.
"Any time you have a young quarterback, you know you're not going to be able to get into the end zone all the time," receiver Eric Moulds said. "We're going to count on Rian a lot this year to make plays for us and hopefully win some games."
Buffalo hasn't had a dependable kicker since Christie was released before the 2001 season. Lindell is the fourth player at the position since, signed as a free agent after he spent three seasons with Seattle.
Punter Brian Moorman, Lindell's holder, said the kicker's critics have been unfair.
"They don't realize how good he really is," he said. "To have that many opportunities and to go out and prove it, everybody should have confidence in him. … To see him have such a great game is just awesome."
Lindell said the key is staying calm.
"I just try to make it like a lazy day in April," he said.
Lindell acknowledges he's beginning to learn to shrug off bad kicks, saying no one is perfect.
"Michael Jordan, he's missed a free throw before. It wasn't because he wasn't trying," he said.
"I'm kind of learning that a bit more as the years go on. People say, 'Ah, forget it.' I still remember it. But I think I've kind of learned to deal with it a lot better and move on."
Monday Night fallout
Nine players were fined after Monday night's game between the Eagles and Falcons, with Atlanta defensive tackle Chad Lavalais drawing the biggest fine – $7,500 – for a hit on Donovan McNabb during the game.
Lavalais was fined for using his helmet on McNabb, who hurt his chest on the play. McNabb is questionable for Philadelphia's game Sunday against San Francisco because of the injury.
For the pregame fight, which resulted in Falcons cornerback Kevin Mathis and Eagles linebacker Jeremiah Trotter being ejected before kickoff, both players got $5,000 fines. Also receiving a $5,000 hit was cornerback DeAngelo Hall for unsportsmanlike conduct
Two Falcons were fined $2,500 for entering a fight area, which made them active participants: safety Keion Carpenter and cornerback- kick returner Allen Rossum. Safety Kevin McCadam got a $1,000 fine.
Along with Trotter, the three Eagles fined for entering a fight area were linebackers Keith Adams, Jason Short and Mike Labinjo.
The fine is the least of Mathis' concerns. The cornerback is out for the season after tearing up his left knee in practice Wednesday.
Bailey plans to play
Denver Broncos cornerback Champ Bailey, who hasn't missed a game in his seven-year career, practiced in pads and said he expects to keep the streak going Sunday against San Diego despite a dislocated shoulder.
"If I'm in pads during the week, I'm probably going to play," Bailey said.
Robinson gets community service
Minnesota Vikings wide receiver Koren Robinson was sentenced Wednesday to 50 hours of community service for parole violations following his July guilty plea to driving under the influence.
Robinson, a former receiver for the Seattle Seahawks, admitted in Kirkland (Wash.) Municipal Court that he violated parole by failing to provide a change of address and for failing to report to a probation officer on time.
Local journalism is essential.
Give directly to The Spokesman-Review's Northwest Passages community forums series -- which helps to offset the costs of several reporter and editor positions at the newspaper -- by using the easy options below. Gifts processed in this system are not tax deductible, but are predominately used to help meet the local financial requirements needed to receive national matching-grant funds.
Subscribe to the sports newsletter
Get the day's top sports headlines and breaking news delivered to your inbox by subscribing here.
---