News > Business
Drumming up business
Thu., Sept. 29, 2005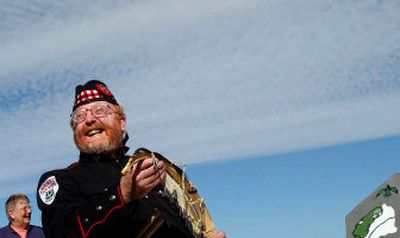 WORLEY, Idaho — A troupe of Scottish golfers headed home Saturday after a weeklong tournament at the Coeur d'Alene Tribe's Circling Raven Golf Course. The ceremonies of bagpipes and tribal drumming are over. The friendship gifts of peace pipes and medicine sticks have been exchanged. And now, the tribe hopes, the publicity will begin.
Scotland's Glasgow Herald has already featured stories on matches between the clansmen and the tribesmen. Golf Connoisseur has an article in the works. And, "the word of mouth will be tremendous," predicted Bob Bostwick, director of public relations for the tribe's casino-hotel-golf course complex near Worley.
The visiting golfers were members of Scotland's Royal Dornoch Golf Club, one of the oldest courses in Europe, with 1,800 members worldwide.
Last week's cultural exchange represents many of the tribe's fledgling hopes for the European travel market.
Affluent, blessed with long vacations, and fascinated by Native American culture, Western Europeans represent just the kind of tourists the Coeur d'Alene Casino Resort/Hotel wants to attract.
"There seems to be a genuine interest in our culture and identity," said Marketing Director Laura Stensgar-Mokry. "There's a certain beauty to that."
Western Europeans, as a group, are increasingly courted in the Inland Northwest.
"They're a very productive traveler for us," said Karen Ballard, international tourism development specialist for the state of Idaho.
Europeans average five weeks of paid vacation each year, plus 16 paid public holidays. They have time to fly into Portland or Seattle, and still do a driving tour of Glacier and Yellowstone national parks. And they outspend domestic travelers on an 8-to-1 ratio.
"We're a fine bargain with the strength of the Euro and the British pound," Ballard said. "Even our gas prices aren't a deterrent to them. They're used to paying so much more."
The Inland Northwest, naturally, isn't the first U.S. destination that pops up on Europeans' travel itineraries, said Jeanna Hofmeister, the Spokane Regional Convention and Visitors Bureau's director of destination marketing.
"First they go to New York or Los Angeles or to Florida if they want the Disney thing," she said.
But after they've experienced the "glitzy-glamour," Europeans go looking for a slice of genuine Americana, Hofmeister said. Often, that includes the Rocky Mountain West.
"There's still an awful lot of belief that there's lots of cowboys and Indians out here," Hofmeister said.
About five years ago, the Spokane CVB joined Rocky Mountain International, a multi-state marketing group that targets Europeans travelers. The CVB spends just over 1 percent of its marketing dollars on Europe – but the small expenditure has reaped strong returns, she said.
Last week, CVB hosted three Danish tourism operators. A German magazine, America Journal, will highlight Spokane's wineries in an upcoming issue. The magazine's readers travel to the U.S. an average of five times per year – four times on business, and once for pleasure.
"I know that thousands of Europeans are coming here," Hofmeister said. But because many fly into other cities, tracking the numbers is challenging, she said.
Stensgar-Mokry doesn't have hard numbers either, but sees a steady stream of English, Dutch, Italian and German visitors at the tribe's annual Julyamsh Powwow. People from all over the world inquire about visiting the reservation.
"We get a lot of inquiries from groups, asking about opportunities to participate in cultural events," Stensgar-Mokry said.
Consumer demand for Native culture shows up in the casino's long-term plans. Eventually, a tribe plans to build a museum on the complex, along with a spa featuring sweat houses and other traditional Native treatments.
However, marketing culture is always a balancing act, Stensgar-Mokry said. At the Julyamsh Powwow, the master of ceremonies spends time instructing visitors on powwow etiquette, including when pictures aren't welcome. Outsiders are welcome on some places on the reservation, and restricted from others.
"It behooves us to educate people and to share," Stensgar-Mokry said. "But we need to be very sensitive about what we expose. We want to protect the special places where we go to pray and to gather camas roots."
Local journalism is essential.
Give directly to The Spokesman-Review's Northwest Passages community forums series -- which helps to offset the costs of several reporter and editor positions at the newspaper -- by using the easy options below. Gifts processed in this system are not tax deductible, but are predominately used to help meet the local financial requirements needed to receive national matching-grant funds.
Subscribe now to get breaking news alerts in your email inbox
Get breaking news delivered to your inbox as it happens.
---