News > Idaho
Grateful community hails a hero
Thu., Sept. 29, 2005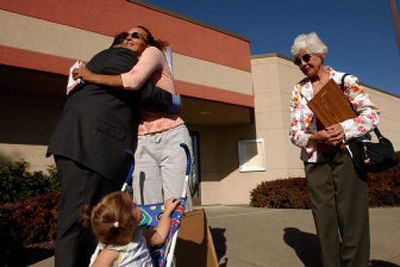 Amber Deahn pinned a fading yellow ribbon to her shirt Wednesday afternoon – a yellow ribbon that was just recently taken off a Beaumont, Calif., woman's fridge and addressed to Deahn with a note of thanks.
For eight years, the woman wrote, she had kept the ribbon on her refrigerator to keep alive the memory of 10-year-old Anthony Martinez, in hopes that his killer would be brought to justice.
The community of Beaumont credits Deahn, a Coeur d'Alene Denny's waitress, for helping catch sex offender Joseph Edward Duncan – the sole suspect in Anthony's murder. A fingerprint obtained after Duncan's July 2 arrest matched a partial print taken from duct tape used to bind Anthony.
"It means a lot that in Beaumont we no longer have to look at our neighbor and say, 'Is that the guy who did it?' " said David Castaldo, past president of the Beaumont/Cherry Valley Rotary Club.
Coeur d'Alene police arrested Duncan after Deahn recognized the young girl sitting in the booth with him as kidnapping victim Shasta Groene. Deahn served up a milkshake to stall Duncan from leaving the restaurant while her manager called 911.
Duncan, 42, has pleaded not guilty to three counts of first-degree murder and kidnapping for the May bludgeoning deaths of Shasta's mother, her 13-year-old brother and her mother's boyfriend. Federal charges are pending for the kidnapping of Shasta and her brother, 9-year-old Dylan Groene, and for Dylan's subsequent death.
According to a Justice Department source, the suspected serial killer has also implicated himself in the 1996 deaths of two Seattle girls.
On Wednesday, a group from Beaumont traveled to Coeur d'Alene to present Deahn with proclamations from Anthony's hometown and from the California Legislature, hailing her as a hero.
The group brought with them an 8-foot-long banner with a large picture of the smiling 10-year-old and messages of gratitude from hundreds in their community.
"You have helped bring many answers to my family," wrote Diana Medina, Anthony's mother and the first to sign the banner.
The messages, written in colorful marker, illustrated the impact the boy's death had on the Southern California town of about 20,000 residents.
"Thanks for the big help. This means so much to me," one message read. "You caught the guy that took my best friend away. So thank you so much."
Beaumont Police Lt. Mitch White, who was part of the group that came to Coeur d'Alene, had put retirement on hold until Anthony's murder was solved.
"You brought closure to a lot of people, including me," White told Deahn. "I've been looking for Anthony's killer since 1997. It's finally to an end."
Deahn said she didn't think the attention paid to her Wednesday was necessary.
"I was glad to be given the opportunity to do what I did," she said. "My heart goes out to his mother. I'm glad, if for nothing else, she's able to have some closure and peace."
Charla Sparks, Anthony's third-grade teacher, brought a baby book, "Pat the Bunny," to Coeur d'Alene as a gift for Deahn's 6-week-old boy. She came with hugs, too, for the mother of two.
"Anthony was my boy," Sparks said. She remembers how Anthony would get tears in his eyes when he was concerned for someone. After Anthony was abducted at knifepoint, Sparks volunteered for the 2 a.m. to 4 a.m. shift to answer calls to a tip line.
"People never dreamed our little town would suffer anything like this," Sparks said. "It's beyond understanding."
Local journalism is essential.
Give directly to The Spokesman-Review's Northwest Passages community forums series -- which helps to offset the costs of several reporter and editor positions at the newspaper -- by using the easy options below. Gifts processed in this system are not tax deductible, but are predominately used to help meet the local financial requirements needed to receive national matching-grant funds.
Subscribe to the Coronavirus newsletter
Get the day's latest Coronavirus news delivered to your inbox by subscribing to our newsletter.
---