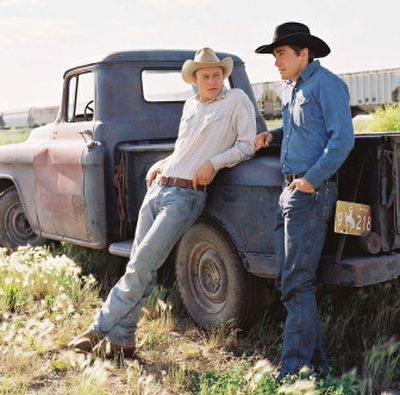 Conservative pundits, including Bill O'Reilly, predicted "Brokeback Mountain" would flop in cowboy country.
Not so, according to the film's distributor. Although this isn't exactly the wild West, "Brokeback Mountain" opened in first place at many area theaters, including sellout or near-sellout crowds in Spokane and small-town Idaho theaters in Sandpoint and Moscow.
Ryan Pliner, distribution coordinator for Focus Features, said he knew the gay romance would draw more than just big city "arthouse" crowds, but never expected it would debut in first place in cities like Spokane.
"Yeah, I'm surprised," Pliner said, speaking recently from his office in New York City. "It's obviously doing very well."
"Brokeback Mountain" has taken in $81,308 since it opened in Spokane on Jan. 6. That amounts to about 41 cents spent on the movie by every resident of the city.
Spending isn't much less in the deep-red state of Idaho, where Coeur d'Alene residents spent about 36 cents per capita.
The weeks after Christmas aren't exactly known for blockbuster movie releases. Nonetheless, "Brokeback" was up against some heavy hitters, Pliner said, including "Memoirs of a Geisha."
But there were also some not-so-notable competitors. In Moscow, for example, Brokeback opened along with "Big Momma's House 2," which features Martin Lawrence dressing up as "Big Momma" to avert a national security disaster. The movie took in $336 its first weekend in Moscow, while "Brokeback" was the top draw with $1,488 in ticket sales.
Pliner was stupefied by the low numbers brought in by the hip-hop comedy: "I assume this is not a very big African American area?"
"Brokeback" has also done well in Montana, Pliner said. It's been the No. 1 draw on opening weekends in Missoula, Helena, Whitefish and even Billings – exactly where O'Reilly predicted it would flop the worst.
"They're not going to go see the gay cowboys in Montana," the Fox News pundit said on his Dec. 20 show. "I'm sorry. They're not going to do it."
Pliner laughed at the prediction.
"Those people think homosexuality only exists in Los Angeles, San Francisco, New York," he said, while also admitting the company remains "shocked by the business. … There's no way we could have predicted what this film has done."
"Brokeback" also opened in the top slot in places like Lubbock, Texas, and Sioux Falls, S.D. In its first nine weeks, the film has grossed more than $60 million; production costs were about $14 million, Pliner said.
Although the movie's success has been boosted by an Oscar nomination for best picture, Spokane Public Radio film critic Bob Glatzer said innovative marketing has been the primary reason for the large audiences.
"It was brilliantly, brilliantly released: slowly, market-by-market, theater-by-theater," said Glatzer, who saw the movie on its opening weekend in Spokane. The theater was sold out.
"Somehow, Brokeback Mountain hit this country at exactly the right moment, when everybody is teetering on the brink of dealing with – put this in quotes – the gay question, unquote," he said.
Glatzer, it should be noted, is not a huge fan of the film, which chronicles the secret love affair of two Wyoming cowboys.
"It didn't ring true," he said. "I didn't feel the sexual chemistry. I didn't feel the love."
---