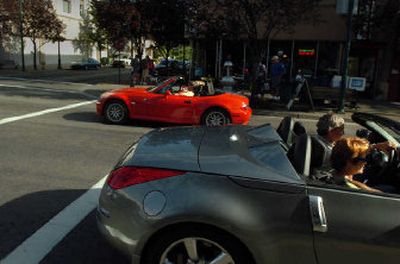 The Mercedes, martini and the occasional stretch Hummer are all but overtaking the pickup truck and draft beer crowd that have long defined downtown Coeur d'Alene's nightlife. Although a few old-school, smoke-filled haunts remain, Sherman Avenue is now crowded with wine bars and watering holes that are decidedly upmarket – places where Belgian beer outsells Budweiser, and fake nails flash the latest flavor of platinum credit card.
"It feels too ritzy for Idaho. This is Portland," said Coeur d'Alene resident Rebecca Heffter, as she scanned the scene while sipping a drink on a recent Friday night. It was 11 p.m. and the sidewalks were bouncing with a heavily primped and carefully manicured crowd. At any given time, a half dozen men and women stood in front of the avenue's newest bar, the Beacon, conversing on cell phones.
"There's never been this many people on Sherman," Heffter said. "I can't believe this."
She sat with a group of friends at a sidewalk table, commenting on the passersby.
"See all those women with white pants and flip-flops? They're from out of town," ventured Heffter's friend, Kelli Gabourie, a local high school Spanish teacher. "It's becoming so much more yuppie. We almost feel uncomfortable here."
A surge of new residents has prompted changes across North Idaho in recent years. Traffic, housing prices and property taxes are ballooning, prompting complaints from longtime residents. But others say some of these changes have brought in a few fresh breezes, including new life to a nightlife scene that was once fairly stale.
"I like it a whole lot more now," said Charles Miller, a 30-year-old Post Falls resident who grew up in the area. "There's a little more to do, more culture. It's not so homogenous."
The main thing lacking in Coeur d'Alene's entertainment scene these days, Miller said, is a theater to showcase bands, art films or other performances. Miller made the observation while sitting next to a friend, Keith Tenty, on a sidewalk bench late one night. Late-night crowd-watching on Sherman Avenue has become its own entertainment, Tenty joked.
"All the changes, though, appeal more to the tourists than the locals," he said. "I don't think we need any more bars on Sherman."
Tenty said he was especially disappointed when the Penny Candy Store at Sherman and Fourth Street closed earlier this year to make room for a new bar. Another bar is expected to open soon in Coeur d'Alene's Riverstone Development. An opening date hasn't yet been announced for Bardenay, a Boise-based restaurant and microdistillery.
Paul Dorazi, general manager of The Beacon, on Sherman, said new businesses have opened in response to the changing marketplace. The Beacon, for instance, broke with most North Idaho bars by becoming entirely smoke-free. On most weekend nights, the establishment is packed with a mix of locals and tourists. The Beacon is the sister bar of Brix Restaurant next door, also owned by businessman Jerry Goggin.
The Beacon is simply filling a niche, Dorazi explained. "There's a big demand for it downtown," he said. "Just the amount of people downtown on any given night – it's staggering."
Although the bar has a spendy feel – its menu features a $17.50 pastrami sandwich and points out that bar burgers are served with nothing less than "barrel-cured pickles" – Dorazi stressed that drink prices are no higher than most other watering holes. Many patrons might wear collared shirts or skirts, but Dorazi said there is no dress code.
"I don't think that will ever be here," he said.
Rob Schelstrate, a 21-year-old North Idaho College student, said Coeur d'Alene's changes are attracting more young people from Spokane. Schelstrate, who lives in Post Falls, said he goes out three or four nights a week.
"I don't think I've ever been to a bar in Post Falls," he said, while drinking a vodka and orange juice at a downtown Coeur d'Alene bar on a recent Friday night. Behind him, a young woman in dark sunglasses chatted on a mobile phone while twisting strands of blond hair around her finger. "It's more classy here," Schelstrate said.
Sherman Avenue might be experiencing a glitz blizzard, but a handful of downtown bars would still feel comfortable to a thirsty logger. Just three blocks north of Sherman Avenue is Lakers, a bar that patrons say has barely changed since the late 1960s.
"This is probably one of the last frontiers," said Brad Parsons, as he smoked a cigarette and drank a glass of tap beer after work on a recent weekday. The bar is still paneled with cedar boards installed years ago by Parsons' father. The jukebox has changed a bit and the carpet gets replaced every few years, but otherwise the bar is the same, he said.
"You still gotta have cash to drink here," Parsons explained. "No credit cards."
At Lakers, however, a glass of Busch beer and a packet of beer nuts will only set you back $1.75.
Has Parsons visited any of Coeur d'Alene's new night spots, such as The Beacon? "What's The Beacon? Never heard of it."
Behind the bar, a statue of a bald eagle glowed with different colors of fiberoptic cables. A half-dozen patrons sat on stools laughing and talking quietly. The bartender knew most by name.
"It's the way things go," Parsons said of the changes. "This place has been growing, and it's been growing for a few years. You have a lot of money here, and you have to cater to that."
---