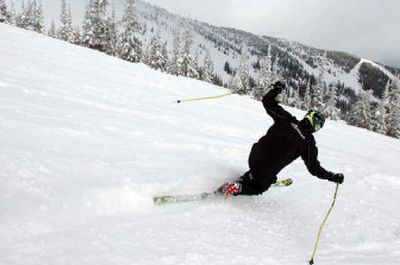 SANDPOINT – Traveling mostly on their own dimes, kopecks and kroner, the best "free heel" ski racers in the world are converging at Schweitzer Mountain this weekend for the World Cup Telemark Finals.
Thursday, the racers practiced their graceful, zigzagging turns down the race course, which had been covered the night before by nearly a foot of fresh powder. They focused on committing to memory the complex course terrain – at breakneck speeds they must navigate jumps, gates, treed sections and even a flat stretch – but many admitted to thinking four years ahead to the Vancouver Winter Olympics.
Although telemark skiing predates other Olympic sports, including snowboarding, by more than a century, the skiing style has yet to get a slot at the Olympics. For now at least, the World Cup Finals are the big show.
"This is the closest thing they have to going to the Olympics," said Kevin Nye, race director and owner of the Outdoor Experience sporting good in Sandpoint.
The race, held for the first time in three years in the United States, has attracted 53 competitors from 10 nations. "With the exception of one or two countries, they're paying their own way. They get no support," Nye said. "They do it for the love of the sport. There's really no fame and glory. They're not going to be Bode Millers."
The sport is largely dominated by teams from northern Europe. The only local in the competition is Spokane's Suzanne Pattinson, who was ranked 26th out of 28 women. Sandpoint men's team member Brandon "Moondog" Moon was sidelined earlier this season by a broken bone. The U.S. team has been plagued with injuries this season, said Heidi Fehlhaber, a racer from Whitefish, Mont.
The fact belies the sport's technical nature, she said. It might look like ballet on the slopes, but the bent-knee turns and challenging race courses are anything but easy. Telemark skiers use metal-edge skis, but the heels of their hard-plastic boots can lift from the skis, allowing for tighter, deeper turns. Fehlhaber said racers from different teams look out for one another and offer tips.
"There's not really the attitude or posturing that goes on in alpine (skiing)," she said. "They want to see you progress. They want to see the sport progress."
The lack of swagger is part of telemark skiing, Fehlhaber said. Most people are initially attracted to the sport as a way to explore quiet, backcountry slopes. But this laid-back ethos doesn't always lend itself well to attracting the best skiers in the sport, she admitted. "Why would they want to be on a race course when they can be in backcountry powder?"
Racers want Olympic recognition, but they also want to cling to the camaraderie. David Hobbs, a first-year team member from Whitefish, Mont. – half of the 16 members on the U.S. squad list the city as home – said he brought his unicycle to joke around with other racers from Norway after the most recent World Cup competition in Canada.
"Everybody's totally relaxed," Hobbs said. "There's no negative going on."
Members of the Czech team were even skiing with gear from other nations after their own luggage failed to show up at the Calgary airport. "The French guys borrowed us skis and we got poles from Norway," said Jakub Cernohorsky, a Prague resident who works most of the year as a civil engineer to support his international ski racing.
Cernohorsky's teammate, Vratislav Krobot, said the conditions at Schweitzer Mountain look to be good. But he jokingly complained about the quality of post-skiing libations in the U.S. and Canada – Czechs are fiercely proud of their nation's beer.
"I don't know about this Milwaukee's Best stuff," Krobot said in a heavy accent.
Krobot perked up when he learned his favorite Czech brew, Pilsner Urquell, could be found at local watering holes. "We are beer patriots," he explained.
The racers might be jovial, but the competition is anything but quaint, said Ron Sande, a retired ski aficionado who traveled from South Dakota to watch the race and help judge certain events. Sande said telemark races are filled with variety and drama. Racers not only twist through gates, but they also fly over jumps and navigate through timber.
"I would much rather watch these guys than World Cup downhill," Sande said. "The skill level here is so high. It's just amazing."
---