CdA takes a walk on the green side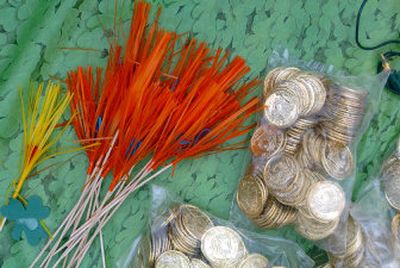 Starting a parade from scratch is something of an act of faith. But organizers of Coeur d'Alene's first St. Patrick's Day Parade are counting on the luck of the you-know-who.
"It's been a little nerve-racking, yes," admitted Ilene Moss, owner of the downtown shop All Things Irish and parade organizer. "We realize it's the first year, but people are very excited."
The parade begins tonight at 6 on Sherman Avenue in downtown Coeur d'Alene.
Moss said the city was due its own St. Patrick's parade. Nothing against Spokane's celebration, she said, but it's a bit of a drive, and finding parking isn't always easy.
"Every year my customers come in and ask, 'What's going on in Coeur d'Alene?' The Spokane parade's very large, but some people don't want to go that far," Moss said. "It's come a time when the two cities can support two parades."
The parade will include floats and musicians sponsored by other downtown businesses and local Irish-Americans. A pipe band is coming from Sandpoint.
Other Irish music will also be floating over Sherman Avenue for the event, Moss said, including some Celtic fiddling from Arvid Lundin, who will be playing in front of Moss' shop beginning at 3:30 p.m. Downtown restaurants are also offering a variety of food and drink specials, she said.
Moss hopes the celebration will be held every year. She's also hoping for additional participation in coming years from churches and local law enforcement and fire departments, which are traditional ingredients for St. Patrick celebrations.
Local businessman and Coeur d'Alene Downtown Association Manager Terry Cooper said the parade is designed to be family-friendly. Children and families in Irish regalia are encouraged to join the marchers, he said.
Although the parade is new, Cooper said the city has a good track record in turning out for parades. He thinks the event tonight will draw lots of people.
"Early springs are always kind of quiet," Cooper said.
---