Beetles creep across region's forests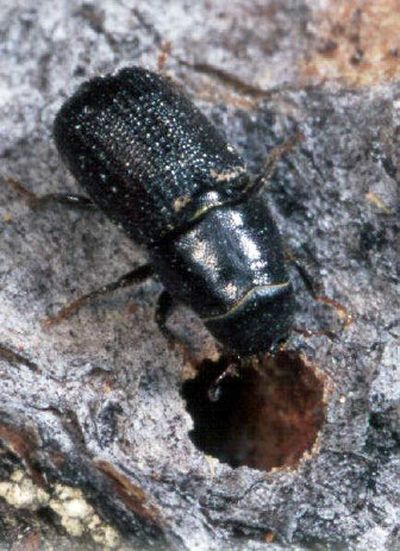 The drought seems to be over, but Inland Northwest forests continue to endure lingering insect and disease epidemics prompted by the dry years, according to recent surveys conducted by the U.S. Forest Service and state forest management agencies.
In Montana and North Idaho, forests are experiencing the biggest mountain pine beetle infestation in 20 years, with nearly 1.1 million acres under attack in 2005, compared with 675,000 acres the year before, according to the latest aerial survey.
The Washington Department of Natural Resources also reports mountain pine beetles at "epidemic" levels, with 554,000 acres of forest showing elevated mortality – a 28 percent jump from the previous year.
Most of the infested forest is in northeastern Washington, according to the agency's latest report.
The surveys are conducted annually by low-level, low-speed flights above millions of acres of forest. Information from the reports is monitored by land management agencies and helps the agencies set priorities for forest thinning projects.
Last year's abundant rain and this season's healthy snowpack will help ease the region's drought-stressed forests, said Karen Ripley, entomologist with the Washington DNR. But she said it will take several years of normal moisture for forests to return to health. Even then, Ripley doesn't expect disease and insect levels to abate much.
The problem, Ripley said, is that forests are becoming a victim of our success in taming wildfires, which once kept forest health problems in check. If fire is kept out of the forest and if logging does not take place, nature has other ways of reducing overcrowding.
"Nature's way is to have some of the beetles kill some of the trees," Ripley said.
"That relieves some of the competition. … We've got a lot of stressed trees out there now, and they're easy pickings."
The dead trees remain, however, and could help fuel "extreme" fire behavior during summer lightning and campfire season, Ripley said.
Lodgepole pine that sprouted after massive wildfires in 1910 are bearing the brunt of the native beetle infestation.
Telltale orange patches of dead trees are especially visible in the Bitterroot Mountains along Montana-Idaho border, said Tom Martin, silviculturist with the Idaho Panhandle National Forests.
This year, the Forest Service hopes to conduct a thinning project on 500 acres in the Upper St. Joe River area of Idaho to reduce the severity of the infestation.
The agency has also spent about $40,000 on pheromone treatments to protect lodgepole at the Lookout Pass Ski Area.
The chemical substance helps confuse beetles into thinking the trees have already been attacked.
"It's still susceptible," Martin said of the remaining mature lodgepole.
"What we're trying to do is weather the storm."
Eventually, once the host trees are killed, the beetle population will reduce, Martin said.
Populations of most other bark beetles were "much reduced" in the Idaho Panhandle National Forests, according to the latest aerial survey report.
"Things can change rapidly, but the last couple of years we've gotten favorable moisture," Martin said.
In the Colville National Forest, a significant infestation of fir engraver beetles appears to be under way, according the aerial survey.
The native beetles have spread through about 368,000 acres in Eastern Washington, a 20 percent jump from the previous year.
In 2002, only 82,000 acres of forest in Eastern Washington were showing elevated signs of mortality from pine beetles, according to the DNR report.
Douglas fir beetles also remain prevalent in Eastern Washington, with about 69,000 acres infested, up from 50,000 mapped in 2004.
The species continues to feast on trees killed or stressed by a 1997 ice storm, according to the survey.
Overall, insect and disease problems are showing up in 2.5 million acres of Washington's estimated 21 million acres of forestland, which is up from 1.9 million acres the previous year.
In British Columbia, a massive infestation of mountain pine beetles has already killed at least 20 million acres of forest.
Provincial officials say the outbreak is from a continuing string of warmer-than-average winters.
Forests in British Columbia were also filled with an unusually high percentage of lodgepole pine.
Ripley, the DNR entomologist, said the Inland Northwest does not face a forest kill-off on the scale of British Columbia.
"We don't have the same continuity of lodgepole pine they do," she explained.
---