News > Spokane
Eagles eye new view
Tue., March 28, 2006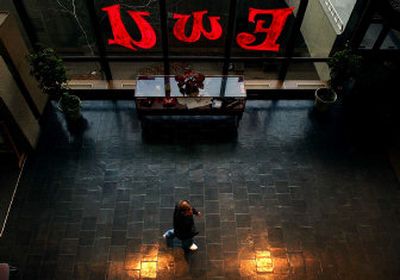 Eastern Washington University is moving ahead with efforts to shift its Spokane programs to the Riverpoint campus it shares with Washington State University.
The school has received state approval – awaiting the governor's signature – to sell its downtown center and put the proceeds toward a new facility. EWU is stepping up efforts to find a buyer and considering options at the Riverpoint campus, spokesman David Rey said.
"We're working with WSU to figure out a location and some of the other details," he said.
Much about the proposal remains unfinished, in part because EWU is awaiting the arrival of its new president, Rodolfo Arevalo, in April. The school could consider using existing space at Riverside, though some officials say a new building is likely. EWU also must determine which programs to put at Riverpoint; the downtown center now hosts journalism, creative writing, social work and other programs.
"All options are under consideration," said Jeff Gombosky, EWU lobbyist. "It'll be Dr. Arevalo's call."
EWU needed special permission to sell the building and keep the proceeds for a move to Riverside, and that authority was added as a proviso in the capital budget this year. The move has long been envisioned at EWU, and it will be a big step toward realizing the long-term goals of the Spokane campus of adding about 1,000 students and bringing a new building to a complex in the midst of rapid growth. WSU will open a new academic center this fall and start work on a nursing building soon after.
The addition of students, programs and academic facilities should help drive other development such as housing and businesses, said Brian Pitcher, chancellor of WSU-Spokane.
"The more students the better," he said Friday. "It gives us another piece of the jigsaw puzzle."
EWU's downtown center is valued at $4 million to $4.5 million, and it's surrounded by property owned by developer Walt Worthy, including the Davenport Hotel a block away. Worthy said Friday he's been interested in the center for a while.
"I'd like to invite them to give me a call," he said. "At the right price, I'm interested."
Gombosky said the school had not been contacting potential buyers because it was awaiting legislative approval for the transaction.
"Our folks haven't been out soliciting," he said. "Until we got the budget proviso, it was premature."
More than 1,500 students enrolled at WSU-Spokane last fall – the equivalent of 753 full-time students. About 1,000 students a year attend classes at EWU's downtown center, which needs about $1 million in maintenance, school officials say.
Pitcher said that long-term plans for the Riverpoint campus include about 20 "footprints" for future building and that figuring out which one meets EWU's needs will be the next step.
Local journalism is essential.
Give directly to The Spokesman-Review's Northwest Passages community forums series -- which helps to offset the costs of several reporter and editor positions at the newspaper -- by using the easy options below. Gifts processed in this system are not tax deductible, but are predominately used to help meet the local financial requirements needed to receive national matching-grant funds.
Subscribe now to get breaking news alerts in your email inbox
Get breaking news delivered to your inbox as it happens.
---