Sports
Pirates rally to win first playoff game
Sun., Nov. 19, 2006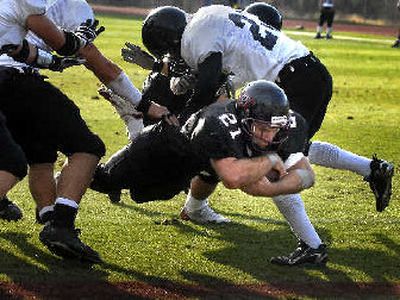 Trailing by three points and facing a long field with precious few ticks left on the clock, Whitworth College found itself in a familiar – and seemingly comfortable position – in front of a Pine Bowl crowd of 2,550 on Saturday afternoon.
And the resourceful and unbeaten Pirates responded as their coaches and fans have come to expect, marching 64 yards in eight plays to score the winning touchdown with just 24 seconds left and secure a riveting 27-23 win over Occidental College in the opening round of the NCAA Division III football playoffs.
Senior quarterback Joel Clark, playing on a badly sprained and heavily taped right ankle, hit Nick Koller with a couple of huge passes to keep Whitworth's final drive alive and then hooked up with backup tight end Drew Griggs on a 1-yard scoring pass that lifted the 8th-ranked Bucs (11-0) into a second-round playoff showdown against perennial national power St. John's (Minn.), the winningest school in the history of Division-III football, in the Pine Bowl at noon next Saturday.
Saturday's victory was Whitworth's first postseason win in its 100th season of football.
"We've done this a few times now this year," coach John Tully said of his team's thrilling comeback, which rivaled the one it put together in marching 76 yards – with no timeouts remaining – in the final 1:06 to force overtime against Wisconsin-Stout earlier this year. "We're at our very, very best when our backs are to the wall.
"I know I shouldn't be amazed by this team anymore, but I am. They're an unbelievable group, having an unbelievable year."
Saturday's win came in spite of an unsuccessful fake punt late in the third period and two fourth-quarter turnovers that set up Occidental (9-1), which was leading 23-20 at the time, with short fields and scoring chances.
In each instance, Whitworth's defense stiffened and met all three challenges, setting the stage for Clark's late-game heroics.
"We just didn't capitalize," Occidental coach Dale Widolff said, after watching his Southern California Intercollegiate Athletic Conference champions bow out of the playoffs for the third year in a row. "When you get those short fields, you've got to do something with them, and we didn't."
Whitworth started its final drive from its own 36-yard line with 2:13 left in the game. Clark, a preseason All-American and the Pirates' career leader in total offense, connected with Koller for a second-down gain of 23 yards and three plays later came up with a third-and-15 throw – again to the 5-foot-8 Koller – that covered 42 yards and gave the Bucs a first-and-goal from the Tigers' 2-yard line with 44 seconds remaining.
After two off-tackle runs by Kyle Havercroft moved the ball to within inches of the goal line, Clark faked a handoff to Havercroft and flipped a short pass to a wide-open Griggs in the end zone.
On his long pass to Koller, Clark was forced to painfully scramble to his right before finding his junior wideout near the sidelines. Koller did an excellent job of coming back on the ball to make the catch.
"The greatest thing about that moment is that (Koller) and everybody else on this team will remember that catch as long as they live," Tully said, "and that's special."
Clark, who left the field to receive immediate medical attention following the game, completed 18 of 26 passes for 204 yards and three touchdowns as the Pirates outgained the Tigers 357-273.
"You could tell Joel was having trouble getting around," said teammate Jay Tully, a two-way junior standout, who caught a 37-yard scoring pass from Clark in the first quarter and also picked off a pass from his strong safety position. "But when he needed to get outside the pocket and make plays, he did."
John Tully, Jay's father, also praised the courage of Clark, who injured his ankle early in last Saturday's 44-27 win over Puget Sound, but played the entire game.
"He's a special player when he can run, and he was a special player today," he said. "That play he made on that last drive is who he is.
"I told people when we played (Wisconsin) Stout and we came back and went almost 80 yards with no timeouts that, at that moment, Joel was the best Division-III player in America. And he wasn't far from that this week, despite having to limp around."
Koller said he had some doubts about whether he could get to the ball on his late-game catch that set up the winning TD.
"But it was an incredible throw by Joel," he explained. "He put it behind the defender, who didn't know where the ball was at, and I went up and made the catch.
"We get to the 4-yard line, and at that point – with the enthusiasm in the air – we knew we were going to put the ball in the end zone, and three plays later we did."
Whitworth, which converted on 9 of 16 third-down situations, got its other two TDs on an 8-yard first-quarter pass from Clark to Steve Silva, and a 1-yard run by Havercroft just before the end of the first half.
"When it absolutely has to be done, these guys do it," John Tully said. "These guys are going to have stories to tell their whole lives.
"Pretty cool."
Whitworth 27, Occidental 23
| | | | | | | |
| --- | --- | --- | --- | --- | --- | --- |
| Occidental | 3 | 13 | 7 | 0 | — | 23 |
| Whitworth | 13 | 7 | 0 | 7 | — | 27 |
WC—Silva 8 pass from Clark (Collings kick)
OC—FG Joraanstad 33
WC—Tully 37 pass from Clark (kick blocked)
OC—Lehman 10 pass from Collins (kick failed)
OC—Inabnit 18 pass from Washington (Joraanstad kick)
WC—Havercroft 1 run (Collings kick)
OC—Andersen 1 run (Joraanstad kick)
WC—Griggs 1 pass from Clark (Collings kick)
A—2,550.
| | | |
| --- | --- | --- |
| | OC | WC |
| First downs | 16 | 16 |
| Rushes-yards | 21-28 | 40-153 |
| Passing | 245 | 204 |
| Comp-Att-Int | 28-38-2 | 18-27-3 |
| Return Yards | 24 | 25 |
| Punts-Avg. | 5-38.2 | 3-34.3 |
| Fumbles-Lost | 2-0 | 2-1 |
| Penalties-Yards | 4-25 | 5-33 |
| Time of Possession | 27:36 | 32:24 |
INDIVIDUAL STATISTICS
RUSHING—Occidental, Andersen 8-63, Team 1-(minus 1), Collins 12-(minus 34). Whitworth, Nelson 7-87, Havercroft 27-79, Tully 1-0, Clark 5-(minus 13).
PASSING—Occidental, Collins 27-37-2-227, Washington 1-1-0-18. Whitworth, Clark 18-26-3-204, Tully 0-1-0-0.
RECEIVING—Occidental, Andersen 8-58, Inabnit 7-55, Ciasulli 6-96, Rucker 3-21, Washington 3-5, Lehman 1-10. Whitworth, Silva 8-55, Koller 5-81, Tully 2-42, Griggs 2-15, Allan 1-11.
Local journalism is essential.
Give directly to The Spokesman-Review's Northwest Passages community forums series -- which helps to offset the costs of several reporter and editor positions at the newspaper -- by using the easy options below. Gifts processed in this system are not tax deductible, but are predominately used to help meet the local financial requirements needed to receive national matching-grant funds.
Subscribe to the sports newsletter
Get the day's top sports headlines and breaking news delivered to your inbox by subscribing here.
---