A&E > Food
Bacon Dip gets skinny
Wed., April 11, 2007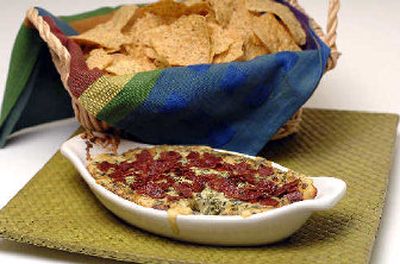 Dear Recipe Doctor: Here is a recipe for a bacon dip that my family is crazy about. It calls for a pound of bacon, among other things. Help!
A: You weren't kidding when you called this bacon dip. The original recipe calls for a pound of bacon for 12 servings. I switched to lean turkey bacon and cut the amount in half. Since turkey bacon tends to soften when it is in a moist mixture, I ended up adding the crisp turkey bacon bits at the end. I wanted the crispy turkey bacon to contrast the texture and color of the spinach and onion dip.
I used light cream cheese and light mayonnaise instead of regular (and used a little less) and added some fat free sour cream. I also used a part-skim shredded mozzarella cheese instead of whole milk. I added some freshly ground pepper and some finely chopped basil to complement the other flavors in the dip.
The calories per serving dropped from 444 to 190 and slashed the grams of fat from 42 to 12. The saturated fat in the recipe dropped from 19 grams to 6, and cholesterol was reduced from 82 to 33 milligrams.
McDreamy Spinach and Bacon Dip
If you want to make twice as much dip, double all of the ingredients, use a 2-quart baking dish and bake for about 30 to 40 minutes.
1 package (8 ounces) light cream cheese
1/4 cup light mayonnaise
1/4 cup fat-free sour cream
6 ounces frozen chopped spinach (about 1 cup after being thawed and gently squeezed of extra water)
3/4 cup chopped sweet onion
1/2 cup shredded Parmesan cheese
2/3 cup shredded part-skim mozzarella cheese
2 tablespoons fresh finely chopped basil (or frozen chopped)
1/4 teaspoon black pepper
Salt as desired (optional)
5 strips turkey bacon (such as Louis Rich brand), cooked until crisp and then crumbled in pieces
Preheat oven to 350 degrees. Coat 9-by-5-inch loaf pan with canola oil cooking spray.
Add cream cheese and light mayonnaise to large mixing bowl and beat on low to combine.
Add remaining ingredients (except bacon) to mixing bowl and beat on low just to blend.
Spoon into prepared loaf pan and bake for 30 minutes, or until hot and bubbly. Sprinkle turkey bacon bits over the top and serve with low fat whole-wheat crackers, sliced multigrain baguette or baked tortilla chips.
Yield: 6 to 8 servings
Nutrition per serving (based on 6 servings without added salt): 190 calories, 12 grams fat (6 grams saturated, 56 percent fat calories), 11 grams protein, 10 grams carbohydrate, 33 milligrams cholesterol, 1.5 grams dietary fiber, 380 milligrams sodium.
Weight Watchers POINTS = 4
Local journalism is essential.
Give directly to The Spokesman-Review's Northwest Passages community forums series -- which helps to offset the costs of several reporter and editor positions at the newspaper -- by using the easy options below. Gifts processed in this system are not tax deductible, but are predominately used to help meet the local financial requirements needed to receive national matching-grant funds.
Subscribe to the Spokane7 email newsletter
Get the day's top entertainment headlines delivered to your inbox every morning.
---