News > Idaho
Sali defends stance on prayer
Tue., Aug. 14, 2007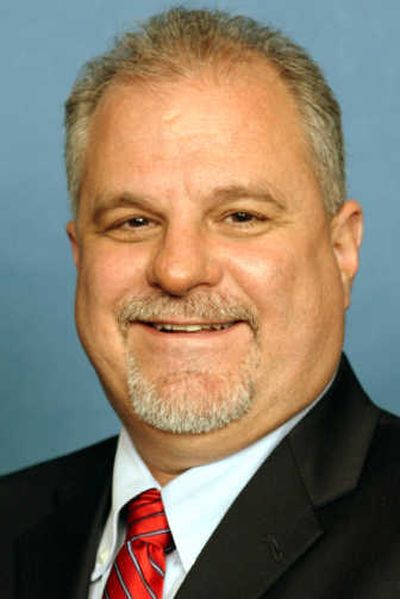 BOISE – Idaho Congressman Bill Sali said Monday he believes in religious freedom but still doesn't want a Hindu prayer opening a session of Congress.
"I believe the invocation in Congress is an important matter and that we ought to reach out to the God of the Bible, because it is He who continues to allow this country to prosper and He is responsible for the country's longevity," Sali said in an e-mail to The Spokesman-Review.
In an earlier interview, he said a Hindu prayer is to "a different god."
Sali, a freshman Republican, also said he's the victim of a "well-organized campaign at the national level" to portray him as an opponent of religious freedom. The controversy stems from an interview he gave to a Christian news outlet, American Family News Network, which then published an online article saying Sali was one member of Congress who was "disturbed" by a Muslim serving in Congress and by a Hindu prayer recently opening a congressional session.
Sali's press secretary, Wayne Hoffman, said Sali was "making a historical observation, nothing more," when he cited those two items to the network and said, "Those are changes, and they are not what was envisioned by the Founding Fathers."
Sali said Monday that there's a national effort on to "spin this whole thing in a way that is deceptive."
"I believe strongly in freedom of religion," he said. "I have nothing but respect for the right for all people to worship in a way of their choosing. I believe that people of any congressional district have the right to elect anyone to Congress that they deem fit, and it is clear that diversity in Congress will occur because of that."
The U.S. Constitution states in Article 6: "No religious test shall ever be required as a qualification to any office or public trust under the United States."
But Sali added, "I am a Christian and I believe that this nation was founded on Christian principles, and that it is important to embrace those principles that have given this country the many blessings it enjoys today. I believe it is important to reach out to the hand of God for guidance and His protective hand and continued blessings upon our country."
Hoffman said, "It's not something that we pick and choose between one day and the next, which God you're going to pray to. For him, he believes that the God of the Bible is the one that we ought to reach out to each morning for guidance and for His continued blessing upon the country. … His preference is that it's a Christian prayer."
North Idaho College political scientist and human rights activist Tony Stewart called that "really sad." As a student of the U.S. Constitution and a teacher of it for 38 years, Stewart said he wished more people understood the unique balance the Constitution's framers struck by not having a state religion, but protecting the practice of all religions or even no religion.
"One can be deeply committed to their particular religious principles without discriminating against other people's right to their religion," Stewart said. "It's not the job of the state to show a preference or to discriminate."
Larry Grant, a Democrat who is running against Sali, sent a letter Sunday to Minnesota Congressman Keith Ellison, a Muslim, apologizing for Sali's remarks "on behalf of the people of Idaho's 1st Congressional District." Grant wrote, "His remarks, at the very least, were thoughtless, uninformed, and inappropriate. We here in Idaho do cherish religious freedom, both yours and ours."
Rick Jauert, communications director for Ellison, said the Minnesota congressman was out of the country finishing up a trip that included a stop in Iraq. "He would not think any less of the good folks of Idaho for comments that were previously made," Jauert said. "But he certainly would be very appreciative of what was stated in the letter."
Hoffman said Sali already has spoken with Ellison. "It was a very cordial exchange, and there are no issues between the two of them," Hoffman said.
Jauert said he couldn't confirm or deny that, but said, "I would take Congressman Sali at his word – it would be so in keeping with the nature of Congressman Ellison." He added, "The congressman really likes to look on the bright side of things, and take it that perhaps people are having a bad day or misspoke, chose some poor words. It's nothing personal."
Jauert said Ellison supported the first-ever Hindu prayer being offered to open a session of Congress. "We're a nation of immigrants, we're a nation of many faiths, and no one particular faith should have a corner on how we (open sessions)," he said.
Ellison, a Democrat, is the first Muslim elected to Congress. He is a convert to the religion who traces his U.S. ancestry back to 1741.
In addition to Grant, a former Micron Technology executive who lost narrowly to Sali in the last election, Sali's announced election challengers include Republican Matt Salisbury, of Nampa, and Democrat Rand Lewis, of Worley.
Local journalism is essential.
Give directly to The Spokesman-Review's Northwest Passages community forums series -- which helps to offset the costs of several reporter and editor positions at the newspaper -- by using the easy options below. Gifts processed in this system are not tax deductible, but are predominately used to help meet the local financial requirements needed to receive national matching-grant funds.
Subscribe to the Coronavirus newsletter
Get the day's latest Coronavirus news delivered to your inbox by subscribing to our newsletter.
---