Sports
USC thinking defense
Mon., Jan. 1, 2007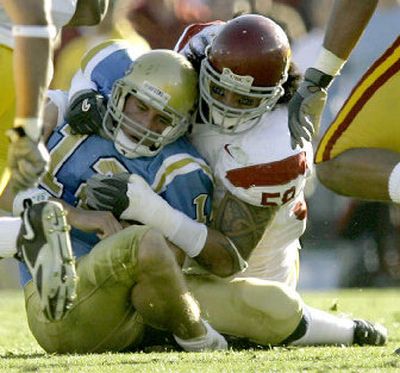 LOS ANGELES – Defense made the difference for Southern California three years ago in a convincing Rose Bowl victory over Michigan.
USC looks for a similar scenario today against the Wolverines, although the Trojans realize they face a difficult task.
"It's obvious they're a great football team, especially on offense," USC defensive coordinator Nick Holt, the former Idaho coach, said. "They run the ball really well, they're effective in the passing game, throw the deep ball really nicely.
"They're a different team than they were in 2003."
So is No. 8 USC (10-2), possessing a defense Pete Carroll calls the fastest and deepest in his six years as head coach.
And it's a defense that's peaked late in the season, allowing only 56 points in the last five games.
"They give you so many different blitzes, different looks, a lot of different personnel packages," Michigan coach Lloyd Carr said. "And, of course, they're very, very talented and very, very quick defensively. So they give you a lot of challenges."
No. 3 Michigan (11-1) averaged 374.9 yards and 30.2 points per game this season, and scored 39 against top-ranked Ohio State in a three-point loss.
Chad Henne passed for 2,199 yards and 20 touchdowns with just seven interceptions, and was sacked only 18 times. And Mike Hart was among the nation's rushing leaders, gaining 1,515 yards and scoring 14 touchdowns.
"These guys are great," USC linebacker Oscar Lua said. "They check from a pass to a run to a pass, and it's not that often you see in college football, that much responsibility handed off to a quarterback."
The Wolverines of three years ago were pretty good, too. Fact is, they brought a 37.2-point average into the Rose Bowl, scoring at least 27 points in each of their first 12 games. But the Trojans made it a long day for quarterback John Navarre, sacking him a season-high nine times in a 28-14 victory.
Defensive end Lawrence Jackson believes USC can put that kind of pressure on Henne.
"I don't think so," he replied when asked if the Trojans will have a tough time getting to the Michigan quarterback.
"They're not the big, bad wolf and we're not the three little pigs. They're a great group of guys and they block really well. But we know that anybody can get sacked on any given day."
Mike DeBord, in his first season as Michigan's offensive coordinator, said the Wolverines studied the Rose Bowl film of three years ago.
"They had some new things for our offense at that time blitz-wise that we hadn't seen in the past," DeBord said. "We've practiced against everything now. This is a very multi-schemed defense. This is more multi-schemed than what we've faced the entire year, so what we've been trying to do is practice against all of it."
Michigan tackle Jake Long said Jackson will probably be the best defensive end he'll have faced this season.
"He's a big guy and he's thrown around some guys," Long said. "He's great in the run game, but I think his best ability is the pass rush. He's fast, he's got lots of moves. It's going to be fun going up against him."
USC enters having won 55 of its last 59 games, but two of those defeats took place at the Rose Bowl – a 41-38 setback to Texas in the national championship game last January and a 13-9 loss to UCLA on Dec. 2 that knocked the Trojans out of the national championship game.
"Losing to UCLA, losing to Texas, we haven't put forth the effort to show that we own the Rose Bowl," Lua said. "We want to get a victory to reiterate that we are the team that owns the Rose Bowl. I think that's definitely what's on our minds."
Local journalism is essential.
Give directly to The Spokesman-Review's Northwest Passages community forums series -- which helps to offset the costs of several reporter and editor positions at the newspaper -- by using the easy options below. Gifts processed in this system are not tax deductible, but are predominately used to help meet the local financial requirements needed to receive national matching-grant funds.
Subscribe to the sports newsletter
Get the day's top sports headlines and breaking news delivered to your inbox by subscribing here.
---