Sports
Hoopfest delight!
Mon., July 2, 2007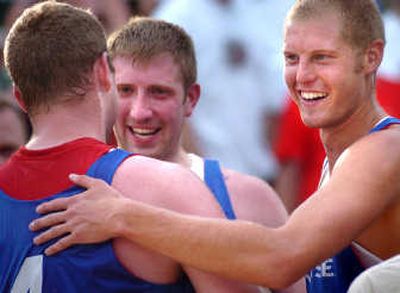 The defending champs were nowhere near Nike Center Court for the 18th annual Hoopfest Men's Elite finals Sunday afternoon.
That cleared the way for four teams, with distinct local flavor, to showcase their talent.
Five Towns Benzel, featuring former Greater Spokane League standouts Eric Benzel and Danny Pariseau, were cruising along when 6-foot-11 Phil Von Buchwaldt found himself looking at an unobstructed lane to the basket.
Von Buchwaldt's eyes got as big as the basket he was about to dunk on. One point would have moved Five Towns within a point of securing the men's 6-foot and over championship.
Dunking, however, is a Hoopfest no-no. After the 3-man referee crew huddled, the basket was disallowed and a point awarded to Team Wildcat. Instead of Five Towns leading 19-16, Team Wildcat pulled within 18-17 and had possession.
The momentum shift was palpable. Team Wildcat's 6-6 Tyler Mitchell, who hadn't launched a shot beyond the extra-point arc previously, banked in a two-point shot that vaulted his team into a 19-18 lead.
Von Buchwaldt scored a basket on an uncontested drive seconds later to tie the score before Mitchell used a low-post move against Von Buchwaldt for the game winner as Team Wildcat rallied for a 20-19 decision.
In the men's 6-feet and under final, Associated Messenger had no difficulty topping Perfection Tire 21-12.
6-feet and over: The crowd booed when a technical foul was called on Von Buchwaldt for the dunk. And the crowd booed again when Team Wildcat won.
Von Buchwaldt, a former Santa Clara player, was aware of the rule. He said he just felt an adrenaline rush as he took off for the basket.
"It was a matter of putting an exclamation point on the game," Von Buchwaldt said. "Give me the basket and give them a point and possession. But don't take my basket away. We still had two more possessions. We just didn't score."
Benzel, who was as hot as the temperature from behind the arc in the semifinal and final, tried to be diplomatic. He, too, thinks the rule should be modified as to not be as penal.
"That's the way it goes," Benzel said. "Since we're on Center Court with a breakaway hoop, they could count the basket and give a point and possession to the other team. It was a three-possession swing."
Five Towns, which handled defending champ Team Fresno 20-6 in a bracket final, seemingly had the game in hand when Benzel hit a two-pointer off a pass from Pariseau for an 18-12 lead.
Mitchell, who was named the most valuable player, said he called 'bank' on his two-point attempt that put Team Wildcat ahead 19-18.
"I did try to bank it because I have no touch outside," Mitchell said. "This is awesome. We've played here six times and this is the first time we made the finals."
Mitchell teamed with Central Valley grad Kyle Boast, Sunnyside Christian product Lance Den Boer and Jay Thomas, who played with Mitchell at Central Washington.
6-feet and under: Associated Messengers sent a message from the opening dribble. It wasn't going to allow any uncontested two-point shots.
"We just knew we had to be real aggressive and jump switch on all screens," said Dallas Leslie, who scored 10 points and was named MVP.
Perfection Tire, which knocked off four-time defending champ Hoop Hearted Avery in the semifinals, never got untracked.
Local journalism is essential.
Give directly to The Spokesman-Review's Northwest Passages community forums series -- which helps to offset the costs of several reporter and editor positions at the newspaper -- by using the easy options below. Gifts processed in this system are not tax deductible, but are predominately used to help meet the local financial requirements needed to receive national matching-grant funds.
Subscribe to the sports newsletter
Get the day's top sports headlines and breaking news delivered to your inbox by subscribing here.
---