Sports
Chasing the greats
Mon., July 9, 2007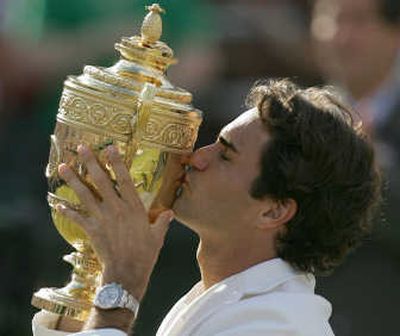 WIMBLEDON, England – Locked in the toughest test of his Wimbledon reign, against his only real rival in today's game, Roger Federer summoned the strokes and resolve that allow him to chase records set by the greats of yesteryear.
And after Federer finally overcame Rafael Nadal in a five-set epic Sunday to win his fifth consecutive championship at the All England Club and 11th Grand Slam title overall, tying Bjorn Borg on both counts, guess who was waiting to greet him in a hallway off Centre Court?
Borg himself. They smiled and embraced, then chatted briefly, a tete-a-tete between the only two men in the past century to win Wimbledon five years in a row.
"To see him after the match – it was very fitting in my point of view," Federer said. "It made me a bit more proud of myself."
He could swell his chest all he wanted, given everything he's accomplished, not to mention the way he beat three-time French Open champion Nadal 7-6 (7), 4-6, 7-6 (3), 2-6, 6-2 for his 54th straight victory on grass in a taut match filled with momentum swings and marvelous shotmaking.
Federer is No. 1, Nadal is No. 2, and they have met in four of the past six major finals. Federer won both at the All England Club. Nadal won both at Roland Garros. This was, by far, the best of the bunch.
"I win my share. He wins his. We've been at the top for over 100 weeks together. It is like building up to one of maybe the great rivalries," Federer said. "We sometimes haven't lived up to the expectations in the past … but you can't always play five-set thrillers, you know. I'm happy it happened today. I left as the winner. Perfect."
He's taken 11 of the past 17 Grand Slam titles, including three apiece at the Australian Open and U.S. Open. Now Federer's total trails only Roy Emerson's 12 and Pete Sampras' 14 on the list of career Grand Slam titles.
"I don't know how much longer I can keep it up," the 25-year-old Federer said, "but I definitely feel like I'm mentally and physically still fit to go on for many more years."
As close as the 21-year-old Nadal is to a barrier – the Spaniard does lead their career series 8-5, after all – Federer's main challenge for some time has come from trying to live up to standards set in the past.
Even if Federer doesn't necessarily look at it that way.
"He has so much passion for the game," said his mother, Lynette. "He's not playing for the record books. He's playing for the game."
On Sunday, on his game's grandest stage, Federer finished with a 24-1 edge in aces and a 65-50 edge in winners. Numbers hardly do justice to his excellence or elegance with a racket in hand, however.
"He's an artist on this surface. He can stay back. He can come in. No weaknesses," said Borg, whose Wimbledon run was from 1976-80. "I believe if he continues the way he's doing and stays away from injuries and has the motivation, he'll be the greatest player ever to play the game."
And those words were spoken before Borg watched Federer's latest virtuoso performance from the front row in the Royal Box in jacket and tie.
Federer also dressed formally for the occasion, sporting his tailor-made, five-piece Gatsby getup, from the white dinner jacket with the gold "RF" on the left breast pocket to the white slacks replete with belt loops. Even his shoes were special, with four tiny red circles patterned after the Swiss flag, each marking a year he won a Wimbledon title. A fifth circle needs to be added now.
Still, just when it looked as if Federer might turn the sunny afternoon into a coronation by taking a 3-0 lead, Nadal won the next three games. Just when it looked as if Nadal might be in charge, breezing through the fourth set, Federer broke twice in a row to end the match.
Each did what he does best – and managed to show a flair for his foe's fortes.
Nadal is terrific at the baseline, forcing opponents to hit great groundstroke after great groundstroke just to win a single point. Yet there was Federer, hanging in there on the longest of rallies; he won half the points that lasted at least 10 strokes. Federer believes he's the best server around, yet it was Nadal who kept producing easy hold after easy hold.
"I tried to play as aggressive as possible," Nadal said.
In the first set, he played serve-and-volley on one point, as if to say, "See, I can do that, too." And Federer conjured up a cross-court forehand passing shot on the run, as if to reply, "Yeah, well, I can do THAT, too."
Because of all the rain that jumbled the schedule and sapped some of the tournament's energy, Nadal was playing on a seventh consecutive day. His right knee was treated during the fourth set, but he said that wasn't a factor.
"Tired? No, no. Not tired," said Nadal's uncle and coach, Toni. "He played the first four sets completely even. Even."
Federer has won 34 matches in a row at Wimbledon, and this was the first to go five sets. He's played in 13 Grand Slam finals, and this was the first to go five sets.
And he was growing frustrated, both by Nadal's relentless play and by what appeared, to Federer, to be questionable rulings by the instant replay system making its Wimbledon debut. After one call in Nadal's favor, Federer cursed in disbelief.
"It's killing me today," Federer told the chair umpire.
Nadal had his chances in the final set. At 1-1, 15-40, he held two break points, but pushed a return long, then missed a forehand wide. At 2-2, 15-40, Nadal sent a return long, then Federer produced a 127 mph service winner.
"It was a tough moment to be in," Federer said. "I was nervous."
Those dangers averted, ahead 3-2 in the fifth, Federer grabbed hold of the match, getting to love-40 on Nadal's serve. Finally, more than three full sets after the last time he had broken, Federer came through, ending a 14-stroke exchange with a forehand winner that kicked up a cloud of chalk.
Federer hit three aces in the next game to hold, then broke Nadal again. When he converted his second match point with an overhead winner, Federer dropped to his knees — the way Borg used to celebrate.
Waiting for the trophy ceremony, Nadal slumped forward in his chair, hanging his head.
"Losing in the fifth set," Nadal said later. "It's not easy, no?"
Local journalism is essential.
Give directly to The Spokesman-Review's Northwest Passages community forums series -- which helps to offset the costs of several reporter and editor positions at the newspaper -- by using the easy options below. Gifts processed in this system are not tax deductible, but are predominately used to help meet the local financial requirements needed to receive national matching-grant funds.
Subscribe to the sports newsletter
Get the day's top sports headlines and breaking news delivered to your inbox by subscribing here.
---