News > Business
Wal-Mart making a fleet move
Wed., July 18, 2007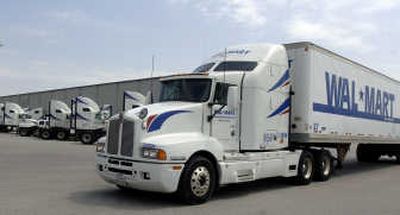 BENTONVILLE, Ark. — Wal-Mart Chief Executive Lee Scott laid out ambitious environmental goals in late 2005 as the world's largest retailer sought to burnish its reputation against mounting criticism.
Nearing the two-year mark, Wal-Mart Stores Inc. is still compiling a major report on how far it has come with the program overall, including reducing waste, using more renewable energy and stocking more green products.
But one division says it is already well under way to meet its goals. Wal-Mart's fleet of about 7,200 semitractor-trailer trucks is already about 15 percent more fuel efficient and the company knows what changes it needs to make to meet a target of 25 percent by late next year.
The annual savings in carbon dioxide, a greenhouse gas, would be equal to taking 67,744 cars off the road.
"We're real proud of where we've gotten to already," said Tim Yatsko, senior vice president of transportation for Wal-Mart Stores Inc.
Industry experts and environmentalists say Wal-Mart is ahead of other trucking operations. The Sierra Club, an ally of Wal-Mart's union-backed critics, says the retailer's demand for vehicles could prompt truck makers to bring more efficient models to market faster.
"They are pushing beyond what the trucking industry has already decided to do. Because of their size, I think they will create economies of scale for more efficient trucks," said Daniel Becker, director of the Sierra Club's global warming program.
Wal-Mart's fleet regularly ranks among the top 10 private fleets in corporate America, alongside company-owned lines such as Pepsi, Tyson Foods and Sysco Corp. Its trucks will drive about 900 million miles this year ferrying goods to about 4,000 U.S. stores.
Becker said he shares union criticism of Wal-Mart over its labor practices but that Wal-Mart deserves recognition for its fuel effort. The Sierra Club is a member of the union-funded group Wal-Mart Watch that attacks the retailer over issues including wages and benefits.
Great Dane Trailers, which is developing a more aerodynamic trailer for Wal-Mart, says the retailer is more involved than any other carrier in developing fuel-efficient trucks.
"Wal-Mart is doing more than any other fleet I know of," said Charles Fetz, vice president of research and development at Great Dane.
Analyst Chaz G. Jones from Morgan, Keegan & Co said he is not aware of any other trucking operator pushing as hard as Wal-Mart on fuel efficiency. He noted that company-owned truck lines have more incentive to save fuel because they cannot easily impose a surcharge on customers for higher diesel prices, as many for-hire carriers do.
Local journalism is essential.
Give directly to The Spokesman-Review's Northwest Passages community forums series -- which helps to offset the costs of several reporter and editor positions at the newspaper -- by using the easy options below. Gifts processed in this system are not tax deductible, but are predominately used to help meet the local financial requirements needed to receive national matching-grant funds.
Subscribe now to get breaking news alerts in your email inbox
Get breaking news delivered to your inbox as it happens.
---