Sports
Woods rules come in handy
Fri., July 20, 2007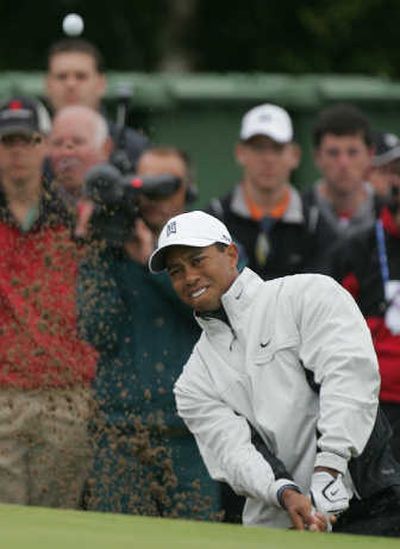 CARNOUSTIE, Scotland – The British Open is usually the most genteel of the major championships, run by stuffed shirts in dark blazers who make it their mission to protect the dignity of the game the same way their green-jacketed counterparts in Augusta try to uphold the teachings of Bobby Jones.
It's a place where good shots are rewarded with polite applause, fans queue politely for bacon sandwiches and beer, and you're 10 times as likely to hear someone murmur "lovely stroke" as yell out "You Da Man!"
Most of all, it's a place of order, where rules really matter.
So imagine the consternation when the 136th Open, already juiced with Gary Player's suggestion that today's golfers are using performance- enhancing drugs, opened on the links of Carnoustie with a right dandy rules dispute, of all things.
Involving Tiger Woods, of all people – or World No. 1 Tiger Woods, as they call him around these parts.
Scandal!
Well, "scandal" might be overstating it a wee bit. But it was Tiger, it was questionable, and this is golf, a sport that prides itself on keeping everything on the up-and-up. It's also Great Britain, a combination that guarantees plenty of big headlines in the morning tabloids.
Woods, who ended up with a 69, probably doesn't need any help to win this Open. He did, after all, win the last two without anyone kicking his ball out of the rough or stopping one of his drives from going out of bounds.
But the R&A gave it to him anyway, and Woods wasn't about to turn his hosts down.
"I didn't ask for it," Woods said. "The guy told me I could."
The guy was Alan Holmes, a rules official for the R&A whose job it was on this chilly day to follow Woods and his playing partners around Carnoustie and be ready to interpret the rules of golf for them whenever needed. Turns out it was needed on the 10th hole, when Woods sprayed his drive into the deep rough and the ball wound up on some television cables.
Enter Holmes.
He ruled quickly – albeit inexplicably – that the cables were an immovable object, allowing Woods to pick up the ball that had been buried in the tall grass and drop it onto shorter grass. Instead of a dicey carry over water up ahead and possible bogey, he was able to get it near the green and make a par to keep a good round going.
That might have been the end of it if not for Mark Roe, a former European Tour player following the group for the BBC. After Woods hit, Roe went over and easily picked the cables up and moved them 3 feet. He then suggested to Holmes that he had made an improper ruling.
"I most certainly did not," Holmes sniffed.
Woods wasn't complaining, though his experience with moveable objects indicates he understands the rule book well. Who can forget when he enlisted a dozen men in the gallery to move a 1,000-pound rock that was in his way at the 1999 Phoenix Open, only to go on and birdie the hole?
Woods could probably move that rock by himself now, the way he's bulked up recently. Perhaps tellingly, though, he made no effort to bend down and move the cables.
It was suggested later that Woods might have gotten preferential treatment because he's the star attraction, though there's no truth to the rumor that Sergio Garcia was the one making the suggestion. Garcia said much the same thing about the USGA when Woods took advantage of some favorable tee times to win the 2002 U.S. Open at Bethpage, but on this day he was otherwise occupied taking the lead with a first-round 65.
"I've not met any R&A official who's scared of any of the players," said David Rickman, the organization's rules secretary.
Scared, no. Intimidated, perhaps.
Local journalism is essential.
Give directly to The Spokesman-Review's Northwest Passages community forums series -- which helps to offset the costs of several reporter and editor positions at the newspaper -- by using the easy options below. Gifts processed in this system are not tax deductible, but are predominately used to help meet the local financial requirements needed to receive national matching-grant funds.
Subscribe to the sports newsletter
Get the day's top sports headlines and breaking news delivered to your inbox by subscribing here.
---