News > Idaho
Homes in harm's way
Wed., Sept. 26, 2007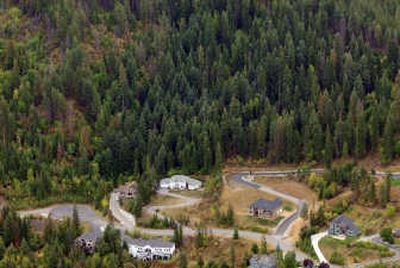 Firefighters are increasingly at risk and American taxpayers will face soaring costs to protect the growing number of homes popping up across forested stretches of the West, according to a recent study.
The Inland Northwest faces some of the highest risks, according to the county-by-county study by Headwaters Economics, of Bozeman, Mont.
Idaho's Bonner County ranks fourth out of all counties in the West in terms of the number of homes being built in wildfire-prone areas. Stevens County, in northeast Washington, is 10th highest in the West in terms of future risk, with 300 square miles of private forest ground that could potentially be turned into home sites.
It's unfair to expect taxpayers to foot the bill for protecting homes in those places, said Ray Rasker, an economist and executive director of Headwaters Economics, a nonprofit think tank.
"Local counties can permit subdivisions without having to incur most of the costs of fighting fires," Rasker said. "The firefighting costs are paid by the national taxpayer. It amounts to a subsidy, basically."
Although only 14 percent of the private land surrounding national forests in the West has been developed, an estimated $1 billion is now being spent annually by federal land management agencies to protect homes in these areas, according to the study. If even half of the private land is developed in the future, the firefighting costs could double or even quadruple.
"It's all about protecting homes. We're asking firefighters to risk their lives to protect homes," Rasker said. "If you build in harm's way, you should at least be responsible for that. We don't let people build in floodplains."
Forest Service officials were not surprised by the findings.
The Idaho Panhandle National Forests has more than doubled its firefighting budget in recent years, according to data from the agency.
In 2000, about $1.9 million was spent on firefighter salaries and equipment for the IPNF. This year, about $4.4 million was spent.
With the overall Forest Service budget flat or declining, the boost in firefighting funds has meant leaner times for other programs, such as trail maintenance and wildlife restoration projects, said Randy Swick, Coeur d'Alene River district ranger.
"It's becoming an increasing challenge to maintain your service levels in every area," he said.
Thinning projects near private ground could help reduce the severity of fires, Swick said. In Kootenai County, forest thinning projects are now in the works for the Wolf Lodge Creek and east side of Hayden Lake areas.
"We're trying to do as much as we can to improve our chances of keeping fire away from those developed areas," Swick said.
As wildfires approach homes, increasingly expensive firefighting measures are employed, including wrapping homes in fire-resistant materials and installing sprinklers, said Mark Grant, fire management officer for the Coeur d'Alene District of the Bureau of Land Management and the Idaho Panhandle National Forests.
"Our responsibility is to do the best we can to keep the fire from getting there and impacting those structures," Grant said.
"We don't fight house fires. It's not our responsibility. We're not trained for it."
Although some rural homeowners install metal roofs and keep their yards free of brush, many other homes in the forest are topped by cedar shingles and surrounded by thick vegetation.
Some of these homeowners expect federal firefighters to "miraculously come out of the sky," when fire threatens, Rasker said.
Eventually, the money to pay for these firefighters is going to dry up, Rasker said. Earlier this year, top Forest Service officials warned the agency could no longer afford the growing costs.
Rasker believes local and state governments could soon be forced to pay the costs of protecting homes in forested areas, including the estimated 30,000 residences in Idaho and Washington that are used primarily as vacation homes.
"We're only starting to see the magnitude of the problem," Rasker said, noting the West's continuing growth patterns along with heightened wildfire risk brought on by climate change.
"We haven't seen a real aggressive push to say, 'Wait a second, should the homes be built there in the first place?' "
Local journalism is essential.
Give directly to The Spokesman-Review's Northwest Passages community forums series -- which helps to offset the costs of several reporter and editor positions at the newspaper -- by using the easy options below. Gifts processed in this system are not tax deductible, but are predominately used to help meet the local financial requirements needed to receive national matching-grant funds.
Subscribe now to get breaking news alerts in your email inbox
Get breaking news delivered to your inbox as it happens.
---