News > Features
Book notes: Online novel casts long 'Shadow'
Sun., April 13, 2008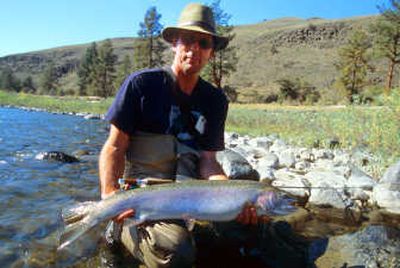 Last week in this space I reminded readers about the ongoing online novel, "Valley of the Shadow," that is being published weekly, chapter by chapter, on The Spokesman-Review's Web site.
A bit of historical fiction set in 1849, the book was written by Cheney writer John Soennichsen, author of the nonfiction book "Live! From Death Valley: Dispatches from America's Low Point" and the forthcoming "Bretz's Flood: The Remarkable Story of a Rebel Geologist and the World's Greatest Flood" (due in October from Seattle's Sasquatch Books: www.sasquatchbooks.com).
Today I'm announcing a special promotion of the online novel. In the next week or so, we're going to pick, at random, one of the readers who leaves an online comment on "Valley of the Shadow." That person will receive a free autographed copy of "Live! From Death Valley."
So go on the site ( www.spokesmanreview.com/ blogs/shadow) and start reading. Then leave a comment.
If this first promotion effort goes well, we'll continue. Soennichsen says he has multiple copies of the "Death Valley" book, and he's willing to give away all of them.
Also, Soennichsen stresses, readers are "not obligated to be complimentary. If you have a gripe with the writing style, or think that one character or another does not seem realistic – by all means let me know!"
Meanwhile, enjoy the first 10 chapters of "Valley of the Shadow." Only 40 to go.
Get Lit! plus
In addition to David James Duncan's Get Lit! appearance – which will see the author of "The River Why" speak at 7:30 p.m. Wednesday at Spokane Community College – Duncan will speak at a noon luncheon on Tuesday at the Spokane Athletic Club, 1002 W. Riverside Ave.
The talk, which is sponsored by the Save Our Salmon Coalition and Spokane Slow Food, costs $20. For reservations, which must be made in advance, call Sam Mace at (509) 747-2030. Or e-mail sam@wildsalmon.org.
Home sweet hotel
Brandon Schrand will entertain a home crowd when he reads from his book "The Enders Hotel" at 7:30 p.m. Wednesday at the University of Idaho in Moscow.
Schrand, who earned a master's of fine arts in UI's creative writing program in 2006, is a lecturer in English at the university and coordinates its creative writing program.
His book, which is an award-winning memoir of growing up in Soda Springs, Idaho, was chosen as a 2008 summer selection for Barnes & Noble's Discover Great New Writers series.
The reading, which is free and open to the public, will take place in the administration building auditorium. Call (208) 885-6156.
"Schrand also will join a number of UI writers who will read from their works to honor National Library Week, which begins Monday.
The daily readings will begin at noon Monday through Friday (except for Thursday, at 11:30 a.m.) on the first floor of the school's library, 850 Rayburn St.
In addition to Schrand (who will read on Friday), other noted authors will include Kim Barnes ("Finding Caruso") and Robert Wrigley ("Earthly Meditations"), both of whom will read on Thursday.
Call (208) 885-6534 during regular business hours.
Guest barista
Coeur d'Alene Police Sgt. Christie Wood, author of the children's book "Adventures in Woodville," will be a guest barista Friday from 3 to 5 p.m. at the Coeur d'Alene Hastings, 101 E. Best Ave.
Wood will be accompanied by several city residents who represent different characters from the book. Call (208) 664-0464.
Scent of sport
Bloomsday is coming (on May 4), which should make Scott Melville happy.
Melville, who teaches in the physical education, health and recreation department at Eastern Washington University, is the editor of a self-published book titled "The Scent of These Armpits: Poetic Thoughts on Sport" (285 pages, $18.99 paper).
Despite the book's irreverent title, many of the pieces are serious meditations on sports of all types. The title, in fact, comes from Walt Whitman, who wrote about "The scent of these armpits, aroma finer than prayer."
Melville's book is available through Auntie's Bookstore. Call (509) 838-0206.
Unless otherwise noted, all events are free and open to the public.
Book talk
"Inland Northwest Writers Group, 6:30 p.m. Wednesday, Auntie's Bookstore, Main and Washington. Call (509) 838-0206.
"Spokane Fiction Writers Group, noon Saturday, Argonne Branch, Spokane County Library, 4322 N. Argonne Road. Group is "open to writers truly serious about writing and getting published." Call Steve Hughes at (509) 891-1695.
The reader board
"David Givens ("Crime Signals: How to Spot a Criminal Before You Become a Victim"), 7:30 p.m. Wednesday, Auntie's Bookstore.
"James C. Park, M.D., Meredith A. Kendall, R.N. ("Death 101: A Manual to Live and Die By"), reading, 7:30 p.m. Thursday, Auntie's Bookstore.
Local journalism is essential.
Give directly to The Spokesman-Review's Northwest Passages community forums series -- which helps to offset the costs of several reporter and editor positions at the newspaper -- by using the easy options below. Gifts processed in this system are not tax deductible, but are predominately used to help meet the local financial requirements needed to receive national matching-grant funds.
Subscribe now to get breaking news alerts in your email inbox
Get breaking news delivered to your inbox as it happens.
---