News > Idaho
Otter says more cuts needed
He orders another 3 percent trimmed from budget
Tue., Dec. 2, 2008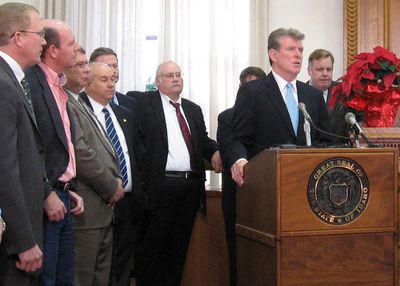 BOISE – Idaho Gov. Butch Otter has ordered another 3 percent cut from Idaho's current state budget, on top of the 1 percent he trimmed in September.
Layoffs of state employees are likely, there may be no raises at all next year for state workers, and Otter asked agencies to consider eliminating entire programs.
"We do not have a lot of good news," he said. "Our economic downturn is getting much worse than we originally thought."
The new midyear budget cut, or holdback, trims another $81.7 million from the state budget, on top of the $27.1 million Otter cut in September. He also ordered state agencies to set aside another 2 percent of their budgets for possible future cuts. If all the cuts are enacted, 6 percent would be trimmed from this year's budget.
A big falloff in state sales tax and income tax revenues prompted the additional cuts, the governor said. "Economic indicators show that this could be a long-term problem, much longer and much deeper than we originally thought," he said.
Otter said he's declining to tap into Idaho's rainy-day funds to make up the shortfall at this point, anticipating that money will be needed to balance next year's budget.
The only exception will be for public schools. Otter will tap Idaho's public-education stabilization fund to spare schools from midyear budget slashing.
Idaho's state colleges and universities are among the biggest losers in the cutbacks, with $8.3 million to be trimmed now on top of the $2.8 million they slashed in September.
State Senate President Pro-tem Bob Geddes, R-Soda Springs, said he expects "a healthy discussion in the Legislature" over Otter's no-raises stance for state employees, whose pay long has lagged well below market rates. A new state-funded report issued Monday showed that state workers' pay falls 15 percent below market rates; the report recommended 5 percent raises next year.
Otter has made it a hallmark of his administration to push for big pay increases for state employees, saying pay should be boosted 5 percent a year for five years to bring state salaries up to par. This year, state employees got 1 percent across the board and 2 percent for merit increases.
Otter said the budget situation doesn't change his view, but "it does change what I'm capable of doing."
He said he expects more state agencies to join two that already require state employees to take time off without pay at the holidays. His own office will do the same, he said.
State agencies have until Monday to decide how they'll make their cuts.
"I think there will be layoffs, I just don't know how many, and I don't expect a lot," said Wayne Hammon, Otter's budget director.
"Agencies already trimmed travel, meetings and the like for the earlier budget cut in September."
The governor vowed to press forward with his proposal to increase the state's transportation funding, saying it's especially important in a down economy.
He'll present lawmakers with a proposal, he said, "for their consideration and hopefully their approval."
Local journalism is essential.
Give directly to The Spokesman-Review's Northwest Passages community forums series -- which helps to offset the costs of several reporter and editor positions at the newspaper -- by using the easy options below. Gifts processed in this system are not tax deductible, but are predominately used to help meet the local financial requirements needed to receive national matching-grant funds.
Subscribe to the Coronavirus newsletter
Get the day's latest Coronavirus news delivered to your inbox by subscribing to our newsletter.
---