Sports
Then & Now: Former goalie takes own path
Lemanowicz dedicated to government service
Tue., Aug. 25, 2009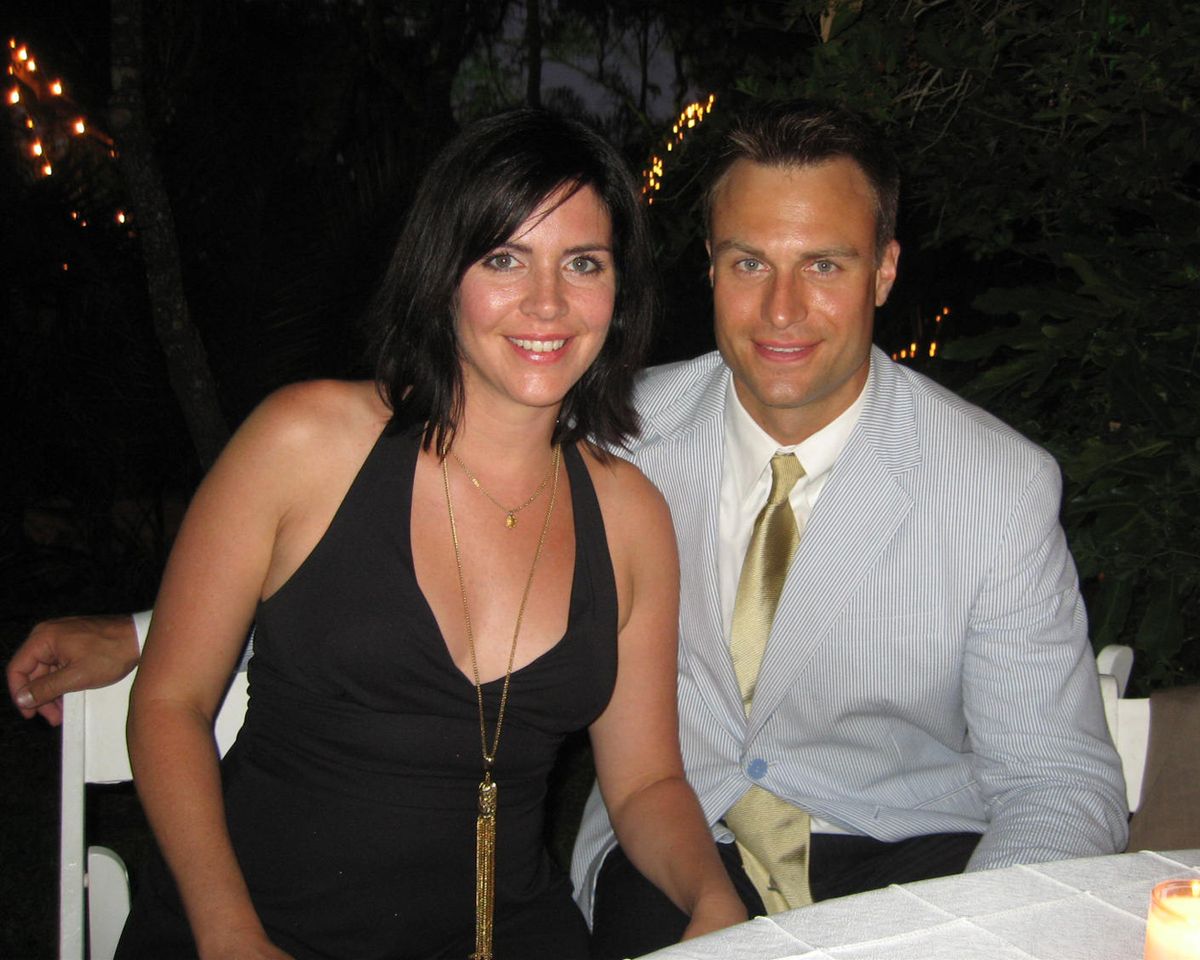 Now: David Lemanowicz married his wife, Gina, a United States citizen, in 2005.Photo courtesy of David Lemanowicz (Photo courtesy of David Lemanowicz / The Spokesman-Review)
Growing up, David Lemanowicz's vision didn't seem easily reconciled with that of the typical Canadian boy.
Oh, sure, it included hockey, and he would realize some dreams in the game – the first all-star goaltender in Spokane Chiefs history, Florida Panthers draft choice, seven-year pro – and accumulate all the attendant joys and scars along the way.
But beyond that, he saw himself in some kind of government service – and not even necessarily his own government.
"I think it had something to do with me coming from an immigrant family," said Lemanowicz, whose Polish-born parents settled in Vancouver, British Columbia. "They grew up in such an oppressive society that it made me think how good we have it in First World countries. I'm lucky and I want to be a part of this polity, the great institutions. I never really thought about, 'Oh, I want to make a ton of money.' It's just the way I was wired and socialized as a boy."
So in nine months, he'll be commissioned as Lt. David Lemanowicz of the U.S. Army Reserve – yes, he's an American citizen now – with a day job he hopes will be with the FBI or the DEA or some other federal agency.
He recently spent a month at Fort Lewis in Tacoma for a leader development course, and did a stint at Fort Leonard Wood, Mo., shadowing a military police company commander. Now he's back to complete a masters degree in global security studies through the ROTC program at the University of Texas Pan American.
A long, strange trip – and not just the numbing rides on the bus in the Central Hockey League.
It included a five-year "retirement" from the pro game, a detour to work as a tour guide – and later play – in Poland, an elusive championship with Laredo of the CHL in 2006 and tours with some of the most hapless teams in the minor leagues. So when he's asked for his best hockey experience, his answer really comes as no surprise.
"My last year in Spokane," Lemanowicz said.
The Chiefs open their 25th training camp this week, but 1996 was their first season at the Spokane Arena, when they won 50 games for the first time and reached the Western Hockey League championship series. It was the team that came back from a 3-0 series deficit to beat Portland in the first round of the playoffs and once rallied from six goals down to beat Kamloops.
"I can still see Joey Cardarelli scoring that goal in overtime," he said. "If you look back, we didn't have that many players make the NHL – Trent Whitfield, Jason Podollan, that was about it. But we had a great team and a great coach, and there was nothing like playing in front of 10,000 people at that age."
The next season he was playing for Florida's farm club in the American Hockey League – but the romance of chasing the pro dream didn't take long to fade.
"In the AHL, things are very professional," Lemanowicz said, "but when you take just that one step down to the ECHL, the Colonial, the Central – all those Double-A leagues – you're just a commodity, and that's putting it nicely."
So after three pro seasons he called it quits, enrolled at the University of Toronto, played for two years and coached for two more while earning a degree in international relations. He still had the itch, but his return to pro hockey was "a total fluke" – precipitated when the Toronto Maple Leafs needed a practice goalie so they could keep Ed Balfour in one piece.
"The first week, I was probably the worst goalie on the planet," he said. "But by the eighth week, I was doing no worse than the backup goalie – who was Trevor Kidd, in one of those weird Spokane connections."
And soon he was back on the pro bus, bouncing from Memphis to Laredo to Poland to Elmira and finally the Rio Grande Valley Killer Bees, where he was routinely peppered with 45 shots a night on a team that won just 16 games and fell into an impossible battle with the coach "who backstabbed to the point I felt I was living in a bizarre world. It's what made me retire."
Though he did so with a plan.
"I feel bad for players who end up on the minor pro merry-go-round, for lack of a better term," he said. "The next thing you know they're 30 and have no idea what they're going to do. There's no loyalty, in terms of those teams. They don't give a damn and if you don't look at things strategically, you can get lost. Sean Gillam (another '96 Chief) did a really good job for himself here in the valley, establishing himself in the community and becoming an assistant coach. I just had the good fortune of making a couple of decisions to stop playing for a while and get a degree, kind of anomalous to the normal career."
Of course, his segue into post-hockey life has proved to be a little anomalous, too.
Lemanowicz married his wife, Gina, in 2005 – they'd met years before when he was a student in Toronto, where she'd lived since age 7. But she was born in Tampa and retained her American citizenship, which eventually hastened Lemanowicz's permanent residency. They live in Edinburg with four dogs ("all mutts from the Humane Society") and are expecting their first child in January.
"I don't want to be totally disconnected from hockey forever," Lemanowicz said. "I still love the game, but I want to be part of something bigger – to serve and be a part of a historical narrative. Being part of the greatest military to have ever been on this earth is a tremendous privilege."
Local journalism is essential.
Give directly to The Spokesman-Review's Northwest Passages community forums series -- which helps to offset the costs of several reporter and editor positions at the newspaper -- by using the easy options below. Gifts processed in this system are not tax deductible, but are predominately used to help meet the local financial requirements needed to receive national matching-grant funds.
Subscribe to the sports newsletter
Get the day's top sports headlines and breaking news delivered to your inbox by subscribing here.
---