News > Idaho
Allred to challenge Otter
Democrats promise to respect nonpartisan approach, he says
Fri., Dec. 11, 2009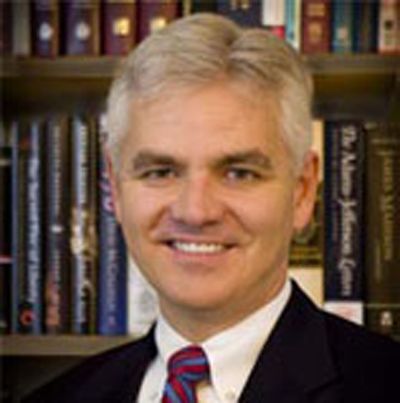 BOISE – A respected nonpartisan activist, former Harvard University professor and trained mediator stunned Idaho's political establishment Thursday by filing to run against Republican Gov. Butch Otter as a Democrat.
Keith Allred, founder of the citizen advocacy group The Common Interest, has been distinctly nonpartisan in his political agenda, which has included the successful drive to get the homeowner's exemption from property taxes tied to the ups and downs of the real estate market.
Allred gave no interviews Thursday, but sent a lengthy letter to the 1,500-plus members of The Common Interest saying the Democratic Party had convinced him it would adopt his Common Interest approach rather than expect him to be a partisan. He said he'll make a formal announcement "within a few weeks."
"He will be an outstanding candidate and would make a fine governor," said former Idaho Gov. Cecil Andrus, a Democrat who will be Allred's honorary campaign chairman. "Keith will immediately be a credible, serious candidate."
Bethine Church, a Democratic Party icon and widow of Sen. Frank Church, said, "I think we can expect one of the liveliest campaigns we've seen in years."
Otter is nearing the end of his first term as governor after serving three terms in Congress and 14 years as the state's lieutenant governor. Though Idaho's Legislature is overwhelmingly Republican, he's struggled so far to pass his initiatives, most notably failing two years running on his top priority: higher gas taxes and car registration fees to fund better road maintenance.
Otter hasn't yet formally announced his re-election plans, but his office referred questions to a campaign staffer, Brenda Maynard Walters. Walters issued a statement saying Otter is "working on finalizing his state budget and preparing his State of the State address," adding, "he is not focused on who the Democrats may or may not get to run against him next year."
Former state Rep. Margaret Henbest, D-Boise, signed on as Allred's campaign treasurer. A nurse practitioner, she made a name for herself as a health policy expert during her six terms in the Legislature and was known for reaching across the aisle on health care and budget issues.
Henbest said Allred's Common Interest group took the same "bipartisan, centrist" approach she tried to take in the Legislature. "So I was ecstatic to hear that he was going to run and happy to support his campaign," she said. "This is going to be exciting."
Allred taught for seven years as a faculty member at Harvard's Kennedy School of Government, and his research specialties include leadership, negotiation and conflict resolution. A fifth-generation Idahoan who grew up in Twin Falls, he moved back to the state in 2003 to form a consulting and mediation firm; he also still teaches courses at Harvard, Oxford University and Boise State University.
He holds a bachelor's degree in American history from Stanford University, and a doctorate in organizational behavior and social psychology from UCLA. He and his wife, Christine, have three young children.
When he formed The Common Interest in 2004, Allred said the group was designed to counter a trend that saw politicians getting polarized on the political spectrum, while regular citizens were actually getting more moderate, creating a disconnect between voters and their elected representatives. The group promised to reconnect voters; it asked prospective members for no membership fees, but instead to commit to voting in the primary and general elections and giving an hour of their time to research an issue.
The group voted on its most important issues, and Allred lobbied for them in the Legislature.
Board members of the group include noted former lawmakers from both parties, including former House Resources Chairman Cameron Wheeler, R-Ririe, and former Senate Minority Leader Marguerite McLaughlin, D-Orofino.
Since it was formed, the group has worked for election reform, open meetings, and fairness to both motorists and truckers in state transportation policy; it was Allred who, while researching transportation legislation, discovered a $10 million calculation error in one of Otter's main bills last year and alerted the administration. The bill ended up stalling. The group also pushed unsuccessfully last year for an increase in beer and wine taxes to fund substance abuse treatment.
Former state Sen. Mary Lou Reed, D-Coeur d'Alene, said, "We've worked together on a number of things, and I marvel at his ability to bring people together."
Local journalism is essential.
Give directly to The Spokesman-Review's Northwest Passages community forums series -- which helps to offset the costs of several reporter and editor positions at the newspaper -- by using the easy options below. Gifts processed in this system are not tax deductible, but are predominately used to help meet the local financial requirements needed to receive national matching-grant funds.
Subscribe now to get breaking news alerts in your email inbox
Get breaking news delivered to your inbox as it happens.
---