Sports
In brief: Big moves around baseball
Tue., Dec. 15, 2009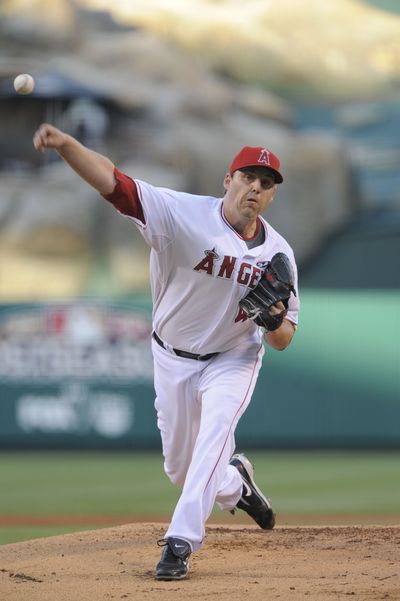 The retooling Red Sox made two key moves in one day, reaching tentative agreements with pitcher John Lackey and outfielder Mike Cameron.
Lackey and Boston agreed on a five-year contract, according to a baseball official with knowledge of the negotiations. The deal is worth $16 million to $17.5 million a season, the official said Monday on condition of anonymity because the agreement was not yet final.
The Red Sox also reached a tentative agreement on a two-year contract with Cameron, according to a person familiar with those negotiations. That deal is subject to a physical, the person said on condition of anonymity, again because the agreement was not yet final.
The moves seem to indicate Boston has abandoned an attempt to re-sign slugging outfielder Jason Bay.
•Hideki Matsui is headed west.
The World Series MVP and the Los Angeles Angels have reached a preliminary agreement on a one-year contract worth about $6.5 million, a person familiar with the deal told the Associated Press.
•The Washington Nationals and left-hander Scott Olsen have agreed to a $1 million, one-year contract.
The deal includes performance bonuses that allow Olsen to earn a total of $3,825,000 if he makes 33 starts next year.
•Yanks to meet BoSox in opener: The World Series champion New York Yankees will play the Boston Red Sox in the major league Sunday night opener on April 4.
The game will be televised on ESPN2 nationally but will be blacked out on ESPN2 in the areas of the two teams, where it will be broadcast on their local networks.
The game originally had been scheduled for Monday, April 5.
New York also closes the season at Fenway Park and plays Boston six times in its last 10 games.
Sixers rout Warriors, end 12-game skid
Basketball: Thaddeus Young had 26 points and 14 rebounds, Allen Iverson scored 20 points and the 76ers snapped a 12-game losing streak with a 117-101 victory over the Golden State Warriors in Philadelphia.
Iverson was a rookie the last time the Sixers lost 13 straight in the 1996-97 season.
Young was sensational, using an 11-of-15 effort in the first half to give the Sixers a rare comfortable lead. Iverson hit the 20-point mark for the second straight game a day after having his left knee drained of fluid.
•Rockets' Adelman not happy with schedule: Houston Rockets coach Rick Adelman criticized the NBA for setting up an "utterly ridiculous" schedule for his team that includes four back-to-back games over the next two weeks.
The Rockets face Detroit at home today, then must fly to Denver to play the first-place Nuggets on Wednesday. They visit Dallas on Friday and return home to face Oklahoma City on Saturday – then have to play two games on consecutive nights twice more during Christmas week.
•Ariza handed suspension: Houston Rockets forward Trevor Ariza says he received a one-game suspension after he was ejected from a game in Toronto for throwing a forearm at Raptors guard DeMar DeRozan.
Thrashers take SO win over Rangers
Hockey: Johan Hedberg made 46 saves and then was perfect in two shootout rounds to lift the Atlanta Thrashers to a 3-2 victory over the Rangers in New York.
Ilya Kovalchuk and Vyacheslav Kozlov scored on the Thrashers' only shots in the shootout against Henrik Lundqvist.
•Sullivan leads Predators over Blue Jackets: Steve Sullivan had three goals for the seventh time in his career, leading the Nashville Predators past the Blue Jackets 5-3 in Columbus, Ohio.
Patric Hornqvist and Ryan Jones also had goals for the Predators.
•Horton's hat trick leads Panthers: Nathan Horton scored three times for his second career hat trick and the Florida Panthers routed the New York Islanders 7-1 in Uniondale, N.Y.
Steelers safety appealing fine
Football: Pittsburgh Steelers safety Ryan Mundy is appealing a $10,000 fine for a late hit on Oakland wide receiver Johnnie Lee Higgins that led to the Raiders' winning touchdown on Dec. 6.
Mundy contends it wasn't a helmet-to-helmet hit, as the NFL states in the letter notifying him of the fine.
•USF looking into coach abuse allegations: The University of South Florida plans to look into a report that football coach Jim Leavitt struck one of his players in the face during halftime of a game last month.
Citing the player's father, high school coach and five USF players who were not identified, AOL FanHouse reported that Leavitt grabbed Joel Miller by the throat and hit him in the face twice because he was upset about a mistake on special teams on Nov. 21.
Local journalism is essential.
Give directly to The Spokesman-Review's Northwest Passages community forums series -- which helps to offset the costs of several reporter and editor positions at the newspaper -- by using the easy options below. Gifts processed in this system are not tax deductible, but are predominately used to help meet the local financial requirements needed to receive national matching-grant funds.
Subscribe to the sports newsletter
Get the day's top sports headlines and breaking news delivered to your inbox by subscribing here.
---