Sports
Dentmon delivers for UW
Huskies stay tied atop Pac-10 with UCLA
Sun., Feb. 1, 2009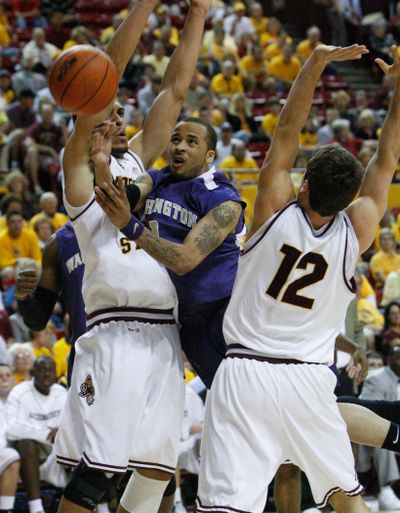 TEMPE, Ariz. – It didn't matter where Justin Dentmon was standing on the court. Just about everything looked like a layup.
Dentmon hit four 3-pointers and scored a career-high 30 points, freshman Isaiah Thomas added 25 and No. 23 Washington handed No. 14 Arizona State its second straight home defeat, 84-71 on Saturday.
Dentmon's scoring outburst came after he made 7 of 12 3-pointers and scored 23 points in the Huskies' 106-97 loss at Arizona on Thursday.
"It feels like every shot I shoot is going in," Dentmon said. "My confidence is high."
Washington (16-5, 7-2 Pac-10) led by 19 points twice in the second half before Arizona State got within 74-68 when Derek Glasser made three free throws after being fouled on a 3-point attempt with 1:58 remaining.
Thomas made two free throws on each of the next two possessions, and the Huskies made eight straight free throws over the final 1:56.
"Great gut-check win for our guys," said Washington coach Lorenzo Romar, whose team is tied with UCLA for the conference lead. "Justin Dentmon is playing like a senior should."
Jeff Pendergraph had 21 points and a season-high 14 rebounds for Arizona State (16-5, 5-4), his sixth double-double of the season. James Harden of the Sun Devils, who entered as the Pac-10's leading scorer with a 22.2 average, had 15 points.
"Jeff stood up and gave us a great performance," Arizona State coach Herb Sendek said.
Harden, defended by an aggressive double-team when he worked off high screens, made only four field goals. He did not make his first until 3:22 remained in the first half and had only five points at halftime on 1-of-2 shooting.
"All eyes were on him," Dentmon said of the Huskies' defensive strategy, which included aggressive double-teams when Harden tried to work off high screens.
"They did a good job of team defense, but it was more ASU, what we did," Harden said.
Washington led 41-29 at halftime, the most points Arizona State had given up in a first half this season.
ASU committed nine of its 11 turnovers in the first half after committing only eight, nine and six in its three previous games.
Dentmon and Thomas combined to go 15 of 26 from the field and 20 of 26 from the line. Dentmon shot 10 of 11 from the line.
Washington 84, ASU 71
 Washington (16-5, 7-2)—Pondexter 4-5 0-0 8, Brockman 3-6 4-4 10, Gant 0-1 0-0 0, Thomas 7-14 10-15 25, Dentmon 8-12 10-11 30, Overton 0-2 2-2 2, Bryan-Amaning 2-7 0-0 4, Holiday 1-2 0-2 2, Turner 1-1 0-0 3. Totals 26-50 26-34 84.
Arizona St. (16-5, 5-4)—Pendergraph 10-13 1-3 21, Kuksiks 3-6 2-2 10, Abbott 1-7 2-4 5, Glasser 2-14 5-5 11, Harden 4-9 7-8 15, Boateng 0-0 0-0 0, McMillan 3-8 0-0 7, Shipp 1-2 0-0 2. Totals 24-59 17-22 71.
Halftime—Washington 41-29. 3-Point Goals—Washington 6-12 (Dentmon 4-7, Turner 1-1, Thomas 1-3, Overton 0-1), Arizona St. 6-23 (Kuksiks 2-3, Glasser 2-7, McMillan 1-3, Abbott 1-5, Shipp 0-1, Harden 0-4). Fouled Out—McMillan, Pondexter. Rebounds—Washington 35 (Holiday 10), Arizona St. 32 (Pendergraph 15). Assists—Washington 11 (Dentmon, Turner 3), Arizona St. 15 (Harden 5). Total Fouls—Washington 19, Arizona St. 25. Technical—Arizona St. Coach. A—9,367.
Local journalism is essential.
Give directly to The Spokesman-Review's Northwest Passages community forums series -- which helps to offset the costs of several reporter and editor positions at the newspaper -- by using the easy options below. Gifts processed in this system are not tax deductible, but are predominately used to help meet the local financial requirements needed to receive national matching-grant funds.
Subscribe to the sports newsletter
Get the day's top sports headlines and breaking news delivered to your inbox by subscribing here.
---
Subscribe and log in to the Spokesman-Review to read and comment on this story