Sports
Cougs count down to signing day
And to signing days in future years
Tue., Feb. 3, 2009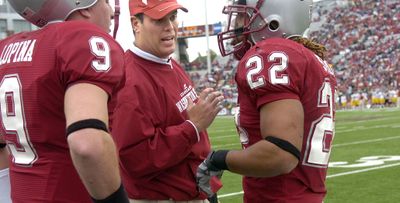 PULLMAN – The finish line is in sight. The first day of college football's letter-of-intent signing period is Wednesday.
Which can only mean one thing: The 2010 college football recruiting season starts in three days. In reality, it's already started, even as 2009's class gets ready to sign.
Such is the state of modern recruiting. Does it ever really stop?
"It doesn't," Washington State coach Paul Wulff said Monday. "We're making up a lot of ground for this program.
"We already have offers out to juniors for the 2010 class.
"We're already writing letters some kids will be getting in the mail the day we're signing letters-of-intent on Wednesday."
Over the next 365 days, just like the past 365, Wulff and his assistants will "focus a couple of hours each day" on recruiting, according to WSU tights ends coach and recruiting coordinator Rich Rasmussen.
"It's a huge dynamic when you look at it," Rasmussen said. "There's so much time built into it."
Time, money and pain.
Rasmussen has been to Hawaii four times recently – OK, that doesn't seem too bad – and has endured a car crash – that does – all trying to build the next great Cougars football team.
"We know it's the lifeline of any successful program," Wulff said of the year-round effort by his staff.
When asked how many miles the group has traveled since the end of the football season, Rasmussen was stumped. "That would be a good number to look up, because we have several coaches going in and out of California," and throughout the West Coast, he said, doing some figuring in his head.
Finally he admitted he couldn't come up with a precise number. He did, however, have a reaction. "Wow, that's a lot of miles," he said.
Earning first-class upgrades is only a part of the task, though it leads to the part of recruiting Rasmussen likes the most.
"The best part is the relationships you get to build, with the high school coaches, with the recruits," he said. "You really get to know someone."
"I like it, I really do," said Wulff of recruiting, adding that his assistant coaches feel the same way.
"When you have something really to present or sell, however you want to look at it, that you really believe in, it's a lot of fun."
And Wulff, who went through the process for eight years as head coach at Eastern Washington, believes in what Washington State has to offer right now.
In his first year, the Cougars posted a 2-11 record that included seven defeats by more than four touchdowns. In a word, Wulff is offering opportunity.
"When you're working you're way back up," he said, "and you have a youthful team and a depleted roster in some regards, the facts are what they are. A young player coming into our program is going to have a chance to play sooner than in a lot of times.
"This window (to play right away) isn't going to be (open) in two or three years."
Rasmussen said the Cougars have a database of about 4,000 contacts in this year's high school senior class, though that list was whittled down – by watching video and games, talking with high school coaches and, at times, Rasmussen said, "the security guard, the janitor," to get the full picture – to the 56 they are allowed to bring on campus.
If WSU were to offer all the NCAA-allowed 25 initial scholarships to high school players – it won't because of junior college recruits and players already in school will take some – it would mean 0.006 percent of the players the Cougars were aware of accepted scholarships.
The top 1 percent or so get hand-written letters, e-mails, phone calls and personal visits, all rigidly controlled by NCAA rules. And, finally, offers go out. If the players accept and sign, great. If they don't?
"It kills you," Rasmussen admits. "It beats you up for a few days. You're frustrated because you begin to second-guess yourself."
That hasn't been the case too often this winter.
Three linemen who signed last season – freshmen Alex Reitnouer and Tim Hodgdon and junior college transfer Josh Luapo – and two transfers – Canadian receiver Johnny Forzani and JC tight end Peter Tuitupou – enrolled at the semester, though Tuitupou left school last week, saying he was going on his LDS mission.
Add to them 18 solid commitments, including six of the top 10 players in the state of Washington as ranked by Scout.com, and WSU is nearly full.
Though Wulff can't talk specifics until Wednesday, he is happy with the players who have told him they're signing.
"I think you see more depth from top to bottom," Wulff said of his first full-year recruiting class, "in terms of players who will ultimately contribute and make an impact of the next 3, to 4 or 5 years."
Which is when the results of all the hours, all the work, all the travel are determined.
Local journalism is essential.
Give directly to The Spokesman-Review's Northwest Passages community forums series -- which helps to offset the costs of several reporter and editor positions at the newspaper -- by using the easy options below. Gifts processed in this system are not tax deductible, but are predominately used to help meet the local financial requirements needed to receive national matching-grant funds.
Subscribe to the sports newsletter
Get the day's top sports headlines and breaking news delivered to your inbox by subscribing here.
---