News > Nation/World
Senate opens stimulus debate
Republicans plan numerous amendments
Tue., Feb. 3, 2009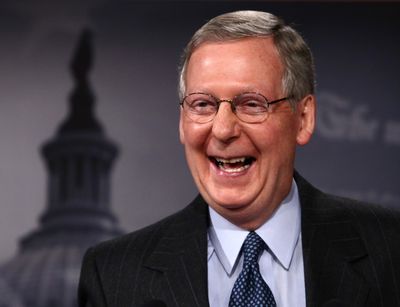 WASHINGTON – With the economy still spiraling downward and the political landscape in flux, the Senate on Monday opened debate on an $885 billion stimulus plan that faces bipartisan questions about whether it spends too little on housing and infrastructure and too much on other things.
President Barack Obama's ambitious plan is headed for more than a week of robust debate in the Senate, where it faces a stronger possibility of winning at least some bipartisan support than it had in the House. Not a single House Republican voted for it last week.
Senate Republicans will propose a panoply of amendments to make the bill more palatable – including moves to strip out spending they consider inappropriate in an economic stimulus bill. One such target: $75 million to help people quit smoking. Such changes, if accepted, could win support for the plan from conservative Democrats such as Sen. Ben Nelson, D-Neb., as well as Republicans. Both groups want to keep the program focused on short-term job creation.
Senate Republican Leader Mitch McConnell, R-Ky., suggested that Obama also believes the bill could be focused more sharply – or that the president is at least open to compromise. "Republicans agree with President Obama that we should trim things out that don't put people back to work," McConnell said as he opened debate.
To increase the bill's focus on problems in the housing market, members of both parties are considering liberalizing and expanding a tax credit for first-time home buyers that was approved last year in other legislation but had little immediate impact.
Under the reformulation being discussed, the credit would be doubled, to $15,000, and it would not have to be repaid, as the earlier measure required.
The home-buyer provision reflects a seeming paradox: Although Republicans and conservative Democrats complain that the bill's price tag is too high, the Senate probably will produce a bill significantly more expensive than the House's $819 billion version.
The Obama administration is keen on passing the bill as soon as possible, not only to speed relief to the economy but to avoid having the plan become entangled in another, far more difficult and divisive issue: new action to shore up the unstable financial system.
The possibility that at least two of the nation's biggest banks might be in danger of collapse could force the administration to ask Congress for another eye-popping bailout.
Tactically, the White House wants to have the stimulus plan approved and out of the way before any such proposal is made. Given the widespread anger over Wall Street bonuses and what are seen as other excesses, proposing to shell out more tax dollars could trigger extreme sticker shock in both parties.
Treasury Secretary Timothy Geithner is expected to lay out the framework of the administration's financial sector plan early next week.
Obama met with top Democratic congressional leaders Monday to discuss the stimulus bill and other upcoming legislation. A Democratic source familiar with the meeting said that there was a consensus that when all possible additions or changes to the bill have been decided, the total cost should not exceed $900 billion. That means some of the spending items would have to be jettisoned.
Congressional Democrats indicated that they would be willing to drop some of the business tax breaks in the bill, but that the administration wanted to keep them in hopes of attracting Republican support.
Republicans plan to propose additional income tax cuts for middle-class workers, McConnell said. That might be hard to pass in the Democrat-controlled Senate, but the GOP might garner more support for efforts to strip out spending that they do not believe will generate jobs quickly.
Nebraska Democrat Nelson is a fiscal conservative who is working with Republican Sen. Susan Collins of Maine and other senators to identify spending proposals that could be removed – such as the smoking cessation funding or $400 million for testing and prevention of sexually transmitted diseases.
"I'd have a great deal of difficulty voting for the bill as written," Nelson said, "but I am looking for a way to say yes."
Once the Senate passes the bill, expected early next week, negotiators will have to iron out differences with the House version.
Local journalism is essential.
Give directly to The Spokesman-Review's Northwest Passages community forums series -- which helps to offset the costs of several reporter and editor positions at the newspaper -- by using the easy options below. Gifts processed in this system are not tax deductible, but are predominately used to help meet the local financial requirements needed to receive national matching-grant funds.
Subscribe to the Coronavirus newsletter
Get the day's latest Coronavirus news delivered to your inbox by subscribing to our newsletter.
---