Sports
Childress sees success ahead
Thu., Feb. 5, 2009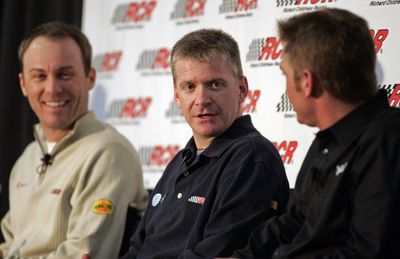 DAYTONA BEACH, Fla. – It's been 15 years since Richard Childress Racing won a NASCAR Sprint Cup championship.
The team that helped Dale Earnhardt win six of his seven series titles, including that last one in 1994, hasn't come close to a championship since the legendary driver was killed in the 2001 Daytona 500.
But that may finally be changing.
RCR drivers Jeff Burton, Kevin Harvick and Clint Bowyer have all made the Chase for the championship the last two years, and Burton figures the team is just one big step from serious title contention.
The question, though, is can RCR take that giant step in 2009?
"We're proud of what we've done," Burton said. "But it's also clear that it's not enough. So there's a bit of anxiety that we've done well, but it hasn't been good enough."
Burton came to a struggling RCR team in 2005 battling his own doldrums. Once a star in the Cup series, his career had seemingly devolved into that of a journeyman.
But Childress was determined to turn things around, and Burton, who has made the Chase and won at least one race for three straight years, had enough knowledge and patience to help that process.
"Well, I think Richard recognized three years ago that there was a hole that had to be filled and Richard's smart enough to know that you don't fill that hole overnight, that's it going to take time," Burton said. "I think it weighs on Richard when we're not competitive, but he's also realistic.
"Who would have walked (into RCR) three years ago and said, 'You guys will all be making Chase.' It didn't look anything like that. Today, a lot of people assume that we're going to be in the Chase. We don't. We know there's a lot of work ahead of us."
Asked what it is going to take to make that next step, Mike Dillon, RCR's vice president of competition and Childress' son-in-law, laughed and said, "If I knew that, I'd go ask Pop Pop – that's what my boys call him – for a raise.
"I know we've got to be faster. We've got to lead more laps and we've got to lead easier."
After Earnhardt died, the once-mighty team didn't appear to have much direction or motivation at times.
Dillon said Childress knew something drastic had to be done. The answer was a complete reorganization that began before the 2006 season.
"We have a whole lot of experience on this team and Richard just moved some people around and put them where he figured they'd be more effective," Dillon said.
"Right now we've got the best group of people we've ever had," he added. "We've got the type of race teams in place with 400 people that we had when we had 20 people and Dale in one shop. Everybody is willing to do anything."
There's a lot of loyalty, too.
Dillon said some employees who had contract raises coming volunteered to forgo them in these difficult economic times to keep other people at RCR from losing their jobs.
"That's the kind of people you want," Dillon said. "That's the kind of people you can build on."
The team has even been able to finally add the fourth Cup car that Childress has been visualizing for several years.
Casey Mears has moved from the elite Hendrick Motorsports team, winners of eight of the last 14 Cup titles, to drive an RCR Chevrolet.
"The team I came from is obviously a great one," Mears said. "But I like what I see here. I like the potential and I want to be part of it."
Burton said it's time to stop talking about potential and start achieving better results.
"We've worked hard every year to be better and I think, for the most part, we have been better every year," he said. "But it's so competitive and so hard to put it all together and win championships.
"There's a bit of anxiety about being able to take that next step and how do we take that next step because we haven't done it. Until we do it, we don't know that we can."
Another hurdle for RCR and everyone else this year is NASCAR's ban on testing at sanctioned tracks.
The cost-cutting measure has saved the teams millions of dollars, but it hasn't helped anyone find out more about the Car of Tomorrow that ran its first full season in 2008.
"Everybody has to run the same thing," Burton said. "The big deal to me is how much have we learned (about the car). Did we learn enough last year and can we apply that this year? If we start out in a hole, it's going to be hard to dig out of."
He noted that Jimmie Johnson, who won a record-tying third straight Cup title last year, struggled with the new car early in the season.
"They ran terrible," Burton said. "They went and tested and tested and tested and tested and they found a way to be better, more so than the other teams at Hendrick. We did the same thing. We got ourselves in a hole and went testing and testing and testing, and we got a little better. We didn't get as good as they did, but we did get better.
"We don't have that tool this year. It's going to be difficult."
So, heading into the season-opening Daytona 500 on Feb. 15, Burton said nobody knows quite what to expect.
"Anybody that says they're not nervous about the start of this year is just lying, or they're just arrogant," he said. "You have to be nervous. It's time to get it done."
Local journalism is essential.
Give directly to The Spokesman-Review's Northwest Passages community forums series -- which helps to offset the costs of several reporter and editor positions at the newspaper -- by using the easy options below. Gifts processed in this system are not tax deductible, but are predominately used to help meet the local financial requirements needed to receive national matching-grant funds.
Subscribe to the sports newsletter
Get the day's top sports headlines and breaking news delivered to your inbox by subscribing here.
---
Subscribe and log in to the Spokesman-Review to read and comment on this story