A&E > Food
Year of the Ox will rock the tongue
Starting Monday, the Chinese New Year will offer 15 days of celebration, tasting opportunities
Wed., Jan. 21, 2009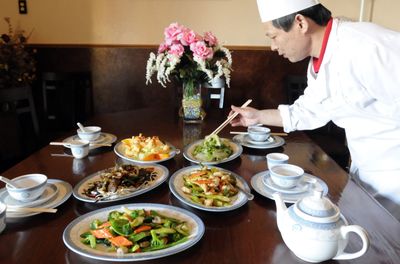 Ring in the Year of the Ox.
Chinese New Year begins Monday with lucky foods to bring prosperity and happiness.
The origin of Chinese New Year dates back thousands of years to the legend of a battle against a giant beast named Nian, meaning "year" in Chinese.
This mythical creature with a large mouth appeared at the end of the year and swallowed up livestock, crops, and even small children.
Villagers used various methods to scare Nian away, including lighting torches and firecrackers and hanging red banners outside their homes. (Nian was said to fear the color red.)
Today, the Chinese New Year, also known as the Spring Festival, is a 15-day celebration marked with red decorations, lanterns, dragon and lion dances, firecrackers, visits with family, and symbolic foods to bring luck in the new year.
Feeding the Kitchen God
The month prior to the Spring Festival is a time of preparation. Families clean house, purchase new clothes and decorate their houses with red panels wishing good luck.
Preparations include a ceremony called "sending off the Kitchen God."
In Chinese folklore, the Kitchen God, or Tsao Chun, lives with the family in the form of a picture hanging over the stove. Centuries ago, many Chinese kitchens were built with a special alcove in which to place a wooden carving of Tsao Chun.
"The Kitchen God is responsible for reporting the good and bad deeds of the family to the Jade Emperor (in heaven). Based on this report, the Jade Emperor allocates the family's portion of happiness and fortune, which the Kitchen God then brings back to the household," explains Yan Liao in "Food and Festivals of China."
In order to "sweeten" Tsao Chun's report, families prepare sacrifices of cakes and candies for the god, and smear his mouth with honey and sugar.
Sweet sticky rice is offered, possibly to seal the Kitchen God's mouth closed so no evil deeds are reported. His image is then burned to facilitate his ascent to heaven.
On New Year's Eve, a new picture of the Kitchen God is placed above the stove to watch over the family for the coming year.
Family reunion dinner
"Chinese New Year is like a combination of Thanksgiving and Easter that celebrates the sacredness of the family and presents a time of renewal," writes Grace Young, author of "The Wisdom of the Chinese Kitchen."
The Family Reunion Dinner is the centerpiece of the celebration. It is the busiest time of travel in China, with sons and daughters traveling home and migrant workers returning to be with their families.
Held on the 30th day of the 12th lunar month (Jan. 25 this year), the New Year's Eve dinner preparations often begin days in advance. Many special foods are prepared for the feast, and good wishes for the new year are offered continuously.
Lucky foods for new year
The importance of the role of food in Chinese culture was noted by the philosopher Confucius, who believed that the enjoyment of food facilitated peace and harmony in society.
It is no surprise, then, that certain foods play a key role in celebrating the New Year.
Some foods are considered virtuous because of their appearance. Jiaozi dumplings, for example, are similar in shape to ancient gold ingots, and therefore symbolize wealth and good luck. Round foods, such as Tang Yuan (sweet rice ball) soup, represent family reunion.
Sweet round cakes, such as sticky rice cakes, are popular as their sweetness symbolizes the wish for a sweet, rich New Year.
Other foods are served during the Chinese New Year because of the way they sound. The word for fish, Yu, also sounds like the word for plenty.
"It is almost certain that every family will have fish at the reunion dinner because the Chinese pronunciation means left over," explains Hui Xu, co-owner of Spokane's China Garden restaurant.
Leaving the head and tail intact symbolizes a good beginning and a good end to the coming year.
Lettuce sounds like the word for rising fortune, and tangerines and oranges sound like luck and wealth, respectively. Serving a whole chicken symbolizes family unity, and the word for chicken, ji, sounds like good luck.
It is believed that by eating these auspicious foods on New Year's Eve, good luck, wealth and happiness will follow into the new year.
Honoring the ancestors
Before the feast can begin, it is common to pay respects to the ancestors in the form of a food offering. Once all of the food is ready, a sacrifice is placed on the family altar next to wooden tablets with the names of the ancestors from the previous three generations.
Usual offerings include a whole chicken or fish, a pig's head, and various fruits such as oranges and tangerines. Sweet pastries are offered for longevity.
After the food is sacrificed to insure that the ancestors will remain well fed, the rest of the family is free to begin the feast.
New Year's Day
The first day of the new year officially begins at midnight, and many Buddhists pay a visit to the temple.
Since a great feast was prepared for the Family Reunion Dinner, there is no need for cooking on this day. Buddhists abstain from eating meat, as a way of inviting good health for the new year.
Using knives and scissors is considered bad luck, as sharp instruments may cut the good luck of the family. Similarly, no sweeping is allowed, as using brooms might sweep the luck from the house.
It is instead a day of rest and time to visit with family. Children receive paper money in red envelopes, called hongbao, from visiting relatives in order to drive away demons and ensure good luck for the new year.
Tray of Togetherness
During the 15 days of the festival, many Chinese spend time visiting relatives. Snacks are offered on a circular or octagonal tray, called a Tray of Togetherness.
The round tray holds sweets and other symbolic foods such as lotus seeds, lychee nuts, winter melon and tangerines. It has eight compartments, as eight is considered a lucky number.
The treats are offered to get the new year off to a sweet start.
Here are some recipes you can try to celebrate the Chinese New Year at home:
China Garden Steamed Fish
Courtesy of Chef Raymond Kong, China Garden Restaurant.
1 whole red snapper or similar fish, about 1 1/2 pounds, scaled and cleaned
10 grams scallions, sliced (about 1/4 cup)
10 grams peeled, sliced ginger root (a little smaller than thumb-size piece)
1/4 cup soy sauce
White pepper (pinch)
1/4 cup vegetable oil
Salt
Sprinkle a little salt on both sides of the fish and steam for about 9 minutes, or until fish flakes easily with a fork (see note).
Remove fish from heat and spread the scallions, ginger, soy sauce and white pepper on top. Heat 1/4 cup vegetable oil to 275 degrees and spread it over the fish; the heat from the oil will infuse the fish with the flavors of the ginger and scallions.
Yield: 4 servings.
Note: To steam, place a metal steamer rack in a wok or deep pan and add water to within 1 to 1 1/2 inches below the rack. Bring water to a boil, put the food on a heat-resistant plate (such as a glass pie pan) and place it on the rack.
If you don't have a steaming rack, you can make one by arranging two sets of chopsticks in a tic-tac-toe grid over the water in the bottom of the wok. Cover the food with a lid and make sure the wok doesn't boil dry.
Ginger-Poached Whole Chicken
From "Simply Ming," by Ming Tsai.
2 (2- to 3-pound) chickens, preferably kosher or free-range
Kosher salt and freshly ground black pepper to taste
8 (1/4-inch-thick) slices of peeled fresh ginger, cut lengthwise from a 2- to 3-inch long piece
1 bunch scallions, white and green parts, thinly sliced
1/2 cup packed basil leaves
4 quarts low-sodium chicken broth
2 large carrots, peeled and finely shredded
Season the chickens inside and out with salt and pepper. In a pot large enough to fit the chickens completely submerged in liquid, combine the chickens, breast sides up, with the ginger, scallions, basil and broth.
Cover and bring to a low simmer over medium heat. Reduce the heat to low and simmer for 30 minutes.
Uncover and add carrots. Cover the pot and remove from heat. Allow to stand for 30 minutes or up to 1 hour for the chickens to finish cooking. (Do not lift the lid during this time – the chicken won't overcook, even if left for the maximum time.)
Remove the chickens, carve and serve.
Yield: 4 servings.
The Sisters' Dumplings
From " Revolutionary Chinese Cookbook," by Fuchsia Dunlop. These savory dumplings are named after two sisters who sold them outside the Fire Temple in the Hunan Province in the early 1920s.
For the dough:
2 cups glutinous rice flour (available at Bay Oriental Market)
2 tablespoons rice flour
Water
For the filling:
1 dried shiitake mushroom
1 small piece fresh ginger, unpeeled
2 ounces ground pork
2 teaspoons Shaoxing rice wine (or substitute dry sherry)
1/2 teaspoon sesame oil
1 tablespoon light soy sauce
Salt and pepper (1/2 teaspoon each)
To make the dough, combine both rice flours with enough water (about 2/3 cup or a little more) to make a stiff, puttylike paste.
To make the filling, soak the shiitake in hot water for at least 30 minutes. Crush the ginger with the side of a large knife and put in a small cup with a little cold water to cover. Drain and squeeze the shiitake, chop finely and mix with the pork.
Stir in the wine, sesame oil, soy sauce, salt and pepper. Add just enough of the ginger-fragrant water to make a paste.
Roll the dough into sausage-shaped cylinders and break off walnut-sized pieces. Roll each piece into a ball and gently flatten it, making a small indentation in the middle. Place a little filling in the indentation and draw up the edges of the dough to seal. Roll into globes and draw up the top of the dough into a pointy tip.
Steam the dumplings for 8 to 10 minutes. Serve immediately.
Yield: about 20 dumplings.
Stir-fried Lettuce
Courtesy of Chef Raymond Kong, China Garden restaurant.
1 head iceberg lettuce
1 tablespoon vegetable oil
2 teaspoons soy sauce
White pepper, 1/8 teaspoon or less (to taste)
1/2 teaspoon sesame oil
Wash and dry the lettuce, then cut crosswise into 1-inch-wide pieces.
Heat vegetable oil in wok or large sauté pan to medium high. Add lettuce, soy sauce and white pepper. Cook 1 to 2 minutes until lettuce begins to wilt.
Remove from heat, stir in sesame oil and toss gently.
Yield: 4 servings.
Tang Yuan (Sweet Rice Ball Soup)
Adapted from www.flavorandfortune.com.
For the rice ball dough:
2 cups glutinous rice flour (available at Bay Oriental Market)
3/4 cup hot water (approximately)
For the sweet soup:
5 cups water
1/2 cup brown sugar
3 to 4 coin-sized slices of fresh ginger
To make the rice balls, put the flour in a large bowl. Using chopsticks, mix the hot water in a little at a time. Knead the dough in the bowl until it is soft and smooth; if it feels a little dry, wet your hands and knead again.
Put the dough in a plastic bag and let it rest for 5 to 10 minutes. Remove one quarter of the dough and break off gumball-sized pieces, about 1 inch in diameter. Roll into round balls. Repeat with remaining dough.
In a large stock pot, bring 12 cups of water to a rapid boil. Cook the rice balls by dropping them into the pot one by one, stirring occasionally so they don't stick. Cook for 7 to 8 minutes, until balls float to surface, then cook 1 minute more. Drain.
To prepare the sweet soup, bring 5 cups water to a boil. Add brown sugar and ginger. Boil gently for 10 minutes; taste and adjust for desired sweetness.
To serve, remove ginger from the soup and add rice balls; cook for 1 to 2 minutes or until rice balls are warm. Serve 2 to 4 rice balls in each cup of sweet soup.
Yield: 4 to 6 servings.
Local journalism is essential.
Give directly to The Spokesman-Review's Northwest Passages community forums series -- which helps to offset the costs of several reporter and editor positions at the newspaper -- by using the easy options below. Gifts processed in this system are not tax deductible, but are predominately used to help meet the local financial requirements needed to receive national matching-grant funds.
Subscribe to the Spokane7 email newsletter
Get the day's top entertainment headlines delivered to your inbox every morning.
---