Sports
Howard, Magic put on show against Cavaliers
Fri., Jan. 30, 2009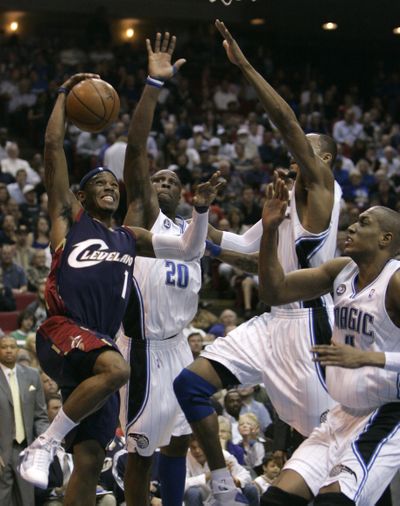 The Orlando Magic are looking more and more like a contender in the Eastern Conference.
Dwight Howard had 22 points and 18 rebounds, Hedo Turkoglu added 19 points and 11 rebounds, and the Magic took advantage of LeBron James' shooting struggles to beat the Cleveland Cavaliers 99-88 in Orlando, Fla.
Rashard Lewis and Jameer Nelson, both selected All-Star reserves earlier in the night, also came up big for Orlando. Lewis had 19 points, and Nelson chipped in 18.
James shot 10 of 27 from the floor for the Cavaliers, finishing with 23 points, eight rebounds and eight assists.
•No suspension for Bynum: The NBA announced Los Angeles Lakers center Andrew Bynum would not be suspended for the foul that put Charlotte forward Gerald Wallace in the hospital.
•O'Neal an All-Star once more: After being left out of the NBA's midseason gala for the first time in his career last season, Shaquille O'Neal received his 15th All-Star selection when the reserves were announced for the Feb. 15 game in Phoenix.
College Basketball
Gophers dominate Illini
Lawrence Westbrook had 10 of his 15 points in the second half, including two crowd-stirring 3-pointers down the stretch, and Minnesota came up with a 59-36 victory over No. 19 Illinois in Minneapolis to end a 20-game losing streak against the Fighting Illini.
Ralph Sampson added 10 points and seven rebounds for the Gophers (18-3, 6-3 Big Ten), who held the Illini (17-4, 5-3) to their lowest point total in 24 years.
Dominique Keller had nine points for Illinois.
•Stanford women top USC: Jayne Appel scored 19 points and freshman center Sarah Boothe added a season-best 16 points in helping No. 9 Stanford (16-4, 7-1 Pac-10) beat Southern Cal (11-8, 5-3) 81-53 in women's play at Stanford, Calif.
•FSU women knock off Duke: Mara Freshour scored a season-high 21 points and the No. 18 Florida State women (18-4, 6-0 ACC) upset third-ranked Duke (17-2, 5-1) 82-75 in overtime in Tallahassee, Fla., to grab sole possession of first place in the Atlantic Coast Conference.
NHL
Devils top Bruins in OT
Jamie Langenbrunner scored his second goal of the game with 1:11 gone in overtime and the New Jersey Devils, who allowed three straight third-period goals to blow a two-goal lead, beat the Boston Bruins 4-3 in Boston.
Scott Clemmensen stopped 24 shots for New Jersey.
•Staal leads Hurricanes: Eric Staal scored with 1:36 remaining to lift the Carolina Hurricanes past the Tampa Bay Lightning 3-2 in Raleigh, N.C.
Matt Cullen had a goal and an assist, Chad LaRose also scored and Cam Ward earned his 100th NHL victory for the Hurricanes.
•Stars outshine Red Wings: Brad Richards had two assists a minute apart on power plays midway through the first period and the Dallas Stars beat the Detroit Red Wings 4-2 at Detroit.
Tennis
Federer finds finals
After a scorching day in which temperatures hit 111 degrees, Roger Federer beat Andy Roddick 6-2, 7-5, 7-5 in more manageable 91-degree heat in the Australian Open semifinals at Melbourne, Australia.
The Swiss star will play in his 18th Grand Slam final but won't know his opponent until today, when Spanish left-handers Rafael Nadal and Fernando Verdasco meet in the other semifinal.
Serena and Venus Williams won their eighth Grand Slam women's doubles title with a 6-3, 6-3 win over Daniela Hantuchova of Slovakia and Japan's Ai Sugiyama.
The Williams sisters, seeded 10th, looked unflustered as they served out the first set in 38 minutes under a closed roof on center court.
Football
NFL lockout unlikely
The NFL players' union plans to pick a successor for the late Gene Upshaw early this year, and sees no reason to expect a lockout in two years.
Owners are opting out of the current labor deal after the 2010 season, but the union said it didn't anticipate trouble.
"This is a good thing we have going on between the players and owners," president Kevin Mawae said in the NFL Players Association's first news conference since Upshaw died in August. "The players don't feel we have to get to that point."
The five finalists to replace Upshaw, as reported last week by The Associated Press, are former NFLPA presidents Troy Vincent and Trace Armstrong; former Chicago Bears tackle Jim Covert; Ben Utt, who played for Baltimore and Indianapolis; and Washington-based attorney DeMaurice Smith.
Miscellany
Nitties, Glover share lead
Lucas Glover and Australia's James Nitties shot 6-under-par 65s to share the first-round lead in the FBR Open in Scottsdale, Ariz., while Phil Mickelson struggled to a 76 in his first PGA Tour round of the year.
Play was suspended because of darkness with nine players still on the course.
•Kearney takes moguls lead: Skier Hannah Kearney of the United States won the moguls in Park City, Utah, to lead the Freestyle World Cup moguls standings.
Guilbaut Colas of France won the men's moguls, edging World Cup leader Alexandre Bilodeau of Canada and Patrick Deneen of the United States.
•U.S. plans World Cup bid: The United States plans to submit simultaneous bids to soccer's governing body for the right to host the World Cup in either 2018 or 2022.
Local journalism is essential.
Give directly to The Spokesman-Review's Northwest Passages community forums series -- which helps to offset the costs of several reporter and editor positions at the newspaper -- by using the easy options below. Gifts processed in this system are not tax deductible, but are predominately used to help meet the local financial requirements needed to receive national matching-grant funds.
Subscribe to the sports newsletter
Get the day's top sports headlines and breaking news delivered to your inbox by subscribing here.
---