News > Spokane
Cutbacks curtail campsite comforts
Visitors will see fewer trash cans, outhouses
Thu., July 9, 2009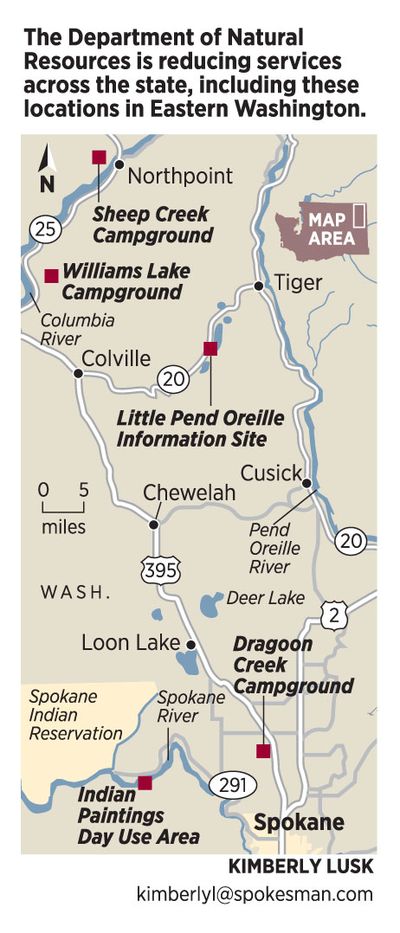 OLYMPIA – You're still welcome to hike, picnic and camp at dozens of Department of Natural Resources sites across the state.
But brace yourself for a primitive experience. The road may be closed or the picnic table gone, and in many cases, you'll have to hike in past a closed gate.
Oh, and bring a shovel. At numerous spots across the state, workers will remove the outhouses.
"As a result of budget cuts, DNR has had to make some difficult and painful decisions," state Public Lands Commissioner Peter Goldmark said. "It is unfortunate that we need to start reducing services just as summer activities get into full swing."
The stripped-down facilities include the small Dragoon Creek Campground north of Spokane and the Indian Paintings Day Use Area about 15 miles northwest of the city. The Indian Paintings site is close to DNR's Lake Spokane Campground, which will remain open.
In Stevens County, the affected sites include the Sheep Creek Campground, Little Pend Oreille Information Site and Williams Lake Campground.
The DNR oversees millions of acres of public land across the state. Most of it is used for timber, crops or shellfish beds, but the department also has added campgrounds, day-use areas, trails, boat launches and horse camps.
The facilities tend to be primitive already, without flush toilets or running water. The campsites aren't paved. There's no power. Most of the campgrounds offer just a picnic table and a fire pit. And in many places, the table's about to go.
"We're in the business of recreation and creating opportunities, not taking them away," said Mark Mauren, an assistant division manager at the agency. "So this is really hard."
Like Goldmark, he said the DNR had little choice. Workers will remove signs, garbage cans, picnic tables and outhouses from 29 campgrounds, trailheads and day-use areas. Two other campgrounds and the Beverly Dunes Recreation Area will be open during peak months only. Three campgrounds will be converted to day use only, and maintenance will be reduced at nine other sites, mostly campgrounds.
In a few cases, recreation groups have agreed to pick up some costs and maintenance to keep trails and camps open. The agency's $1.1 million recreation allotment from the state's general fund for the next two years was slashed 60 percent to $440,000, Mauren said.
The numbers just firmed up in the past few weeks, he said, forcing regional recreation managers to conduct triage.
"It's like the recreation budget is a house of cards, and it's coming down," Mauren said. The state's NOVA – non-highway and off-road vehicle activities – program, which has received a percentage of the vehicle gas tax, was not funded at all for the next two years, he said. "We've depended on that for about $3 million a biennium. That's gone."
DNR recreation funding from the agency's timber harvest revenue has decreased by 50 percent "because the timber market is in the tank," he said.
People are still welcome to go to the sites, although overnight camping is now banned in many areas, including Dragoon Creek, Sheep Creek and Williams Lake campgrounds.
"The public still has access to it. It's just that we no longer have amenities out there that they would expect," Mauren said.
At the Indian Paintings site, for example, you can now drive in and park fairly close to the petroglyphs. That road will be blocked off, Mauren said. But visitors are still welcome to take the short hike from the road to see the ancient art.
It remains to be seen how people will treat the untended sites. State officials are calling for a pack-it-in, pack-it-out approach to the extent possible. They're hoping that gates discourage keg parties. They're also trying to persuade campers to disperse, partly to spread out the spots used as makeshift toilets.
"We see a lot of white paper out there," Mauren said.
He said the changes are only a first step – the agency will have to find other ways to cut more spending while still preserving the public's land.
"We're hoping that the majority of the folks will respect the transition," he said.
Outdoors editor Rich Landers contributed to this report.
Local journalism is essential.
Give directly to The Spokesman-Review's Northwest Passages community forums series -- which helps to offset the costs of several reporter and editor positions at the newspaper -- by using the easy options below. Gifts processed in this system are not tax deductible, but are predominately used to help meet the local financial requirements needed to receive national matching-grant funds.
Subscribe now to get breaking news alerts in your email inbox
Get breaking news delivered to your inbox as it happens.
---