A&E > Food
The Mick tests his mettle
Wed., June 17, 2009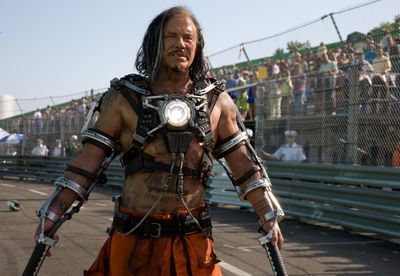 Mickey Rourke's bruising opponents in "The Wrestler" don't look so tough compared to his new foe: Robert Downey Jr.'s Iron Man.
Distributor Paramount has released the first photo of Rourke as villain Whiplash in the upcoming sequel, "Iron Man 2."
He's dressed for battle in the image, his tattooed torso and arms wrapped in metal braces sporting weapons and a chest device resembling the portable power plant that runs Downey's Iron Man suit.
Directed by Jon Favreau, "Iron Man 2" kicks off Hollywood's 2010 summer season next May 7.
Alba's core values
Police will not bring criminal vandalism charges against Jessica Alba over posters of great white sharks that were plastered around downtown Oklahoma City.
None of the property owners wanted to press charges against Alba, who has apologized.
The posters – aimed at raising awareness about sharks' declining numbers – were glued to a downtown bridge, utility boxes and a billboard for the United Way charity.
Alba is in Oklahoma City shooting a movie, "The Killer Inside Me."
Giving it a real shot
Former "Sopranos" star Drea de Matteo and her longtime boyfriend, country singer Shooter Jennings, are officially engaged after Jennings popped the question onstage at a concert last week.
The couple have an 18-month-old daughter, Alabama.
The birthday bunch
Singer Barry Manilow is 63. Comedian Joe Piscopo is 58. Actor Mark Linn-Baker ("Perfect Strangers") is 55. Director Bobby Farrelly ("There's Something About Mary") is 51. Actor Thomas Haden Church is 48. Actor Greg Kinnear is 46. Actor Jason Patric is 43. Actor-comedian Will Forte ("Saturday Night Live") is 39. Actor-rapper Herculeez (Herculeez and Big Tyme) is 26.
Local journalism is essential.
Give directly to The Spokesman-Review's Northwest Passages community forums series -- which helps to offset the costs of several reporter and editor positions at the newspaper -- by using the easy options below. Gifts processed in this system are not tax deductible, but are predominately used to help meet the local financial requirements needed to receive national matching-grant funds.
Subscribe to the Spokane7 email newsletter
Get the day's top entertainment headlines delivered to your inbox every morning.
---