Sports
She's one of a kind
High school senior dunks like a man
Thu., March 5, 2009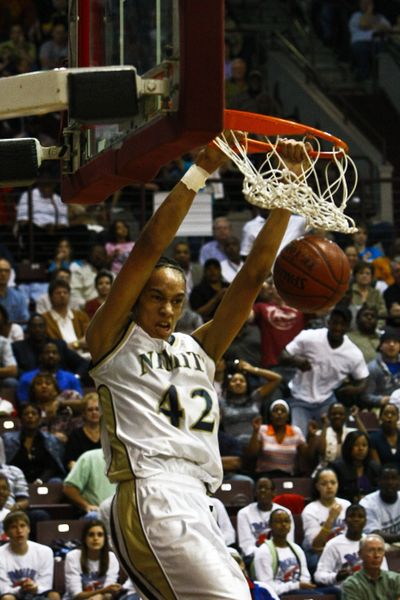 HOUSTON – Brittney Griner can dunk.
Not one of those just-above-the-rim throw-downs that have long been accepted as the best a woman can do in games of the past. When the 6-foot-8 high school senior dunks, it can be a rim-rattling, backboard shaking, two-handed slam.
Simply put, she dunks like a guy.
"It was overwhelming, obviously, the first time I did it and I just wanted to do it more and more," she said.
Add this athleticism to her speed, blocking and rebounding prowess and it's easy to see how Griner has become more than simply a top recruit, but someone who might be able to transform the women's game.
Griner, who signed with Baylor, is the top player in the country according to Rivals.com and ESPN's HoopGurlz. She's dunked more than 50 times in games this season for Aldine Nimitz, the north Houston school that plays in the highest classification in Texas.
"I've been doing this a long time … but I've never seen anything like Brittney Griner," Baylor coach Kim Mulkey said.
Since Georgeann Wells of West Virginia became the first woman to dunk in an NCAA game almost 25 years ago, a handful of players have done it in college and WNBA games, including Lisa Leslie, Candace Parker, Michelle Snow and Sylvia Fowles.
Nearly all those dunks have come on fast breaks and, while rare and certainly fodder for ESPN and YouTube, nobody gets those confused with anything Dr. J, or even Spud Webb, has done.
Griner could change that. As she gets older and more skilled, the 18-year-old who didn't play organized basketball until ninth grade could dunk as a normal part of Baylor's offense.
Hall of Fame coach Jody Conradt, who retired from Texas with 900 wins, has worked with Griner in camps and is intrigued by her skills.
"She can (dunk) better and differently than anybody that I've seen in the women's game," Conradt said. "It's effortless for her."
Yet for all the sizzle those dunks create, Conradt thinks Griner's other talents will be more valuable at the next level.
"She has great hands. She has excellent quickness. She obviously has tremendous size and mobility," Conradt said. "She has every tool that I think a player needs to have to become one of the best players or maybe the best player ever. It's not going to happen just dunking though."
Griner's high school coach, Debbie Jackson, has seen her dunk for years and says she's still "amazed all the time."
"My husband said: 'You really shouldn't say dunk, because people that haven't seen Brittney just think, OK, she's going over the rim and pushing the ball,' " Jackson said. "But she's slamming the ball. They're monster dunks."
Some might even say they're Shaq-adelic. Not surprisingly, she has a fan in the big fella himself, Shaquille O'Neal. He said he met Griner last year and was shocked at how high above the rim she got.
"It would bring a whole new dimension to the women's game," O'Neal said.
Indeed, she has already brought the girls game in Texas above the rim and could do the same for college.
Local journalism is essential.
Give directly to The Spokesman-Review's Northwest Passages community forums series -- which helps to offset the costs of several reporter and editor positions at the newspaper -- by using the easy options below. Gifts processed in this system are not tax deductible, but are predominately used to help meet the local financial requirements needed to receive national matching-grant funds.
Subscribe to the sports newsletter
Get the day's top sports headlines and breaking news delivered to your inbox by subscribing here.
---