Sports
Ducks could be dangerous for Cougs
Oregon's speed faces WSU 'D'
Wed., March 11, 2009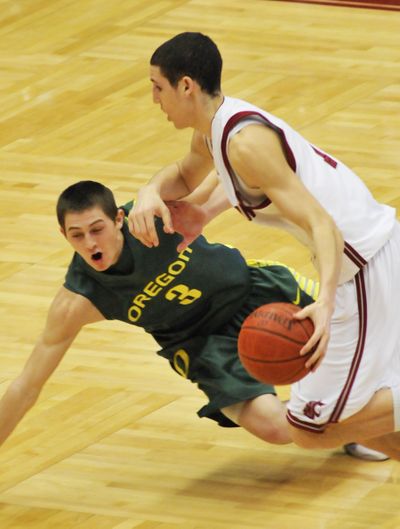 LOS ANGELES – It will be a battle of wills and ways.
Whoever can play their way will probably impose their will.
That's how the Pac-10 tournament will begin tonight for the Washington State Cougars, playing as the seventh seed after finishing 8-10 in conference and 16-14 overall.
The opponent at the Staples Center is the last-place Oregon Ducks, who, despite their 8-22 overall record – and 2-16 Pac-10 finish – and two regular-season losses to WSU, pose an interesting challenge with their frantic style of play – a style that's become more frantic lately.
"They're dictating tempo, they're getting people sped up," WSU coach Tony Bennett said of the Ducks. "They're playing with a reckless abandon."
That abandon that has led to two wins in their past four games, including a second-half rally from 14 points down to upset rival Oregon State 79-69. The Ducks turned up the pressure with a full-court press, forced 12 turnovers and streaked past the Beavers.
"They have the ability," Bennett said. "I saw what they did to Oregon State. They went on a 19-0 run and really changed the game. They have the athletes and the quickness (to do that)."
"We're going to have to do some things to kind of impose our will on them and try to control the tempo of the game," Oregon coach Ernie Kent told the Eugene Register-Guard this week.
"We can't let them play at their pace. Whether we win or lose the game, we've got to play at our pace."
But trying to slow down opponents is the Cougars' usual style. They lead the Pac-10 in scoring defense (55.2 points per game) and field-goal percentage defense (39.0 percent). They are also last in scoring offense, at 59.4 points per game, but only about nine points a game fewer than Oregon and its up-tempo offense.
The Ducks limit themselves by hitting just 40.5 percent of their shots, easily the worst in the Pac-10 (WSU is next at 43.6 percent).
In the two losses to WSU, Oregon shot just 38.9 percent in Eugene and a season-low 20.8 percent in Pullman, hitting 10 of 48 shots in that 67-38 defeat.
"They'll be hungry," freshman Klay Thompson said. "They're young like us, but they've got talent and you can't overlook them."
The Cougars are hungry as well after dropping a 67-60 decision to Washington on Sunday that would have allowed them to avoid tonight's play-in game. To win the conference tournament and the NCAA automatic berth – WSU's only hope for a third consecutive appearance – the Cougars will have to win on four consecutive days.
"I would love to be dealing with that, I'll be honest with you," Bennett said. "It certainly can be done. The mind and the body can do a lot more than people think."
Taylor Rochestie, who has played more minutes in Pac-10 play than any conference player (718, or 39.9 out of a possible 40 minutes per game), welcomes the opportunity as well.
"I would love to" play 160 more minutes of basketball during the tournament, said Rochestie, who is still nursing a sore right ring finger. "I would love to play even more if it came down to it. I love to play the game so, as many games as we can play down there, I'm all for it."
For his part, Bennett thinks almost every team has a shot at winning the tournament.
"There is more parity in this Pac-10 conference tournament probably than I've ever seen in the six years I've been part of Washington State," he said. "There are a number of teams, if they are playing well, they can certainly win this thing. … That's what's exciting about this tournament. I hope we're in that class."
Notes
Senior forward Daven Harmeling practiced Monday, a rubber-like brace around his sprained right shoulder. He sat out the last third of practice after tweaking it again. He said he would try to go this week, but would let the shoulder dictate how much he could play. … Junior Tajuan Porter leads UO in scoring (15.2), but freshmen Drew Wiley and Matt Humphrey have been coming on. Humphrey had a career-high 17 in the win against Oregon State, while Wiley scored 18 in Oregon's last game at UCLA. … The other game tonight pits eighth seed Oregon State (13-16, 7-11) against Stanford (17-12, 6-12) at 6. The Beavers swept both regular-season games with the Cardinal. The winner of that game faces top seed Washington at 2:30 p.m. Thursday. The Oregon-Washington State winner gets No. 2 seed UCLA at 8:30 p.m. No. 4 Arizona State and No. 5 Arizona State play at noon Thursday, with No. 3 Cal and No. 6 USC playing at 6 p.m.
Local journalism is essential.
Give directly to The Spokesman-Review's Northwest Passages community forums series -- which helps to offset the costs of several reporter and editor positions at the newspaper -- by using the easy options below. Gifts processed in this system are not tax deductible, but are predominately used to help meet the local financial requirements needed to receive national matching-grant funds.
Subscribe to the sports newsletter
Get the day's top sports headlines and breaking news delivered to your inbox by subscribing here.
---
Subscribe and log in to the Spokesman-Review to read and comment on this story