Sports
Ankiel recovering
Wed., May 6, 2009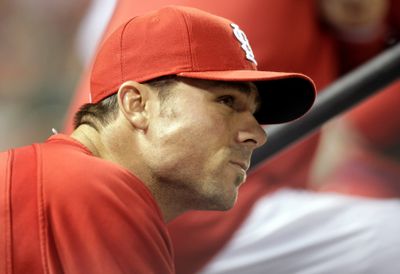 Just before Rick Ankiel barreled headfirst into the wall, the thought flashed through his mind: My career is finished.
"I thought that might be it," the St. Louis Cardinals outfielder said Tuesday. "When you don't get a chance to put up your hands to protect yourself, I'm lucky to be walking today. Anything from here is a plus."
Ankiel escaped with only soreness from the harrowing collision after making a running catch at the warning track in the eighth inning Monday. X-rays and a CT scan of Ankiel's head, neck and back revealed no broken bones, although manager Tony La Russa was so concerned he spent the night in the hospital with the center fielder.
Feeling fortunate he was able to stand at his locker stall and talk to reporters, Ankiel said he "tweaked" his right shoulder and added that his neck and left side, which appeared to take the brunt of the blow, also were the worse for wear.
Ankiel was released from the hospital earlier Tuesday and was due to be examined by team physician Dr. George Paletta later in the day.
Posada on DL
Jorge Posada was a durable staple in the Yankees' lineup for a decade. Now, New York is growing accustomed to trying to win without him.
Posada was placed on the 15-day disabled list with a strained right hamstring that is expected to sideline the All-Star catcher for two to three weeks.
It was a frustrating blow to the Yankees and Posada, who toiled through months of a strenuous rehab program to get ready for this season. He missed most of last year with a right shoulder injury that required surgery.
Matsuzaka rehabs
Boston's Daisuke Matsuzaka pitched 22/3 scoreless innings in a rehab start for the Pawtucket Red Sox against the Toledo Mud Hens.
Matsuzaka has been on the DL since April 15 with a mild right shoulder strain.
He allowed two hits, threw 29 of 47 pitches for strikes and topped out at 93 mph.
Anderson activated
The Atlanta Braves had one bat return to the middle of their lineup and they hope another will follow later in the week.
Left fielder Garret Anderson came off the disabled list as the cleanup hitter Tuesday against the New York Mets. Anderson had been out with a strained left quadriceps since April 20.
Catcher Brian McCann, who began the season as the team's cleanup hitter before suffering vision problems, plans to begin a two-game minor league rehab with Triple-A Gwinnett today.
Local journalism is essential.
Give directly to The Spokesman-Review's Northwest Passages community forums series -- which helps to offset the costs of several reporter and editor positions at the newspaper -- by using the easy options below. Gifts processed in this system are not tax deductible, but are predominately used to help meet the local financial requirements needed to receive national matching-grant funds.
Subscribe to the sports newsletter
Get the day's top sports headlines and breaking news delivered to your inbox by subscribing here.
---