Sports
CV gets even with University
Bears, Titans tied atop GSL softball standings
Wed., May 6, 2009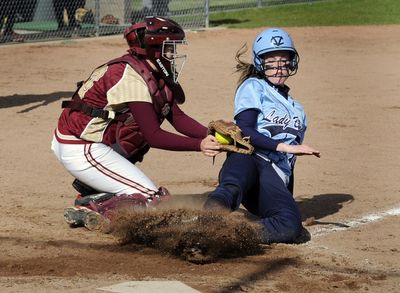 When Alexa Morales was afforded the opportunity, she delivered during a showdown between Greater Spokane League softball leaders.
Central Valley's shortstop and leading hitter scored one run and drove in another in the Bears' 3-1 victory at University on Tuesday to even the score in their season series.
Both teams stand 15-2 atop the league with three games remaining.
"Playing U-Hi's always a big deal for us," said Morales, who doubled and scored in the fourth inning and singled home Gen Aman in the fifth for a 2-0 lead. "Anytime we can come out with a win against them is a big moment."
She said the victory kept alive the Bears' goal of winning the school's first GSL softball title since 1989, before fastpitch was introduced.
The title contenders breezed through three scoreless innings with only a handful of base runners and one hit before Morales slugged a change-up into the gap in left-center field.
"When I stepped up to the plate I took a big ugly cut at one of the pitches," Morales said. "I stepped out, took a deep breath and just tried my best to stay focused and within myself."
Morales scored on Becky White's grounder that was deflected by Titans first baseman Breann Warren, but which second baseman Jessica Moon couldn't corral.
The next inning, after Jamie Belknap was cut down at home on a throw from the outfield, Morales singled in the Bears' second run.
"Alexa's having fun right now," CV coach Jeff Van Horne said. "She's just having fun playing the game and not trying too hard and putting it all on her shoulders.
CV added insurance in the sixth on a pair of singles and an error before Ali Warren homered for U-Hi's only run in the bottom of the frame.
The teams were nearly even in total hits and base runners, but Titans coach Jon Schuh said the difference was the Bears made the most of their opportunities and his team didn't, hitting into two double plays, including getting a runner thrown out at third base by right fielder Belknap following a fly out.
"Alexa hit the heck out of the ball and had two clutch hits when they needed them," Schuh said. "I'm happy with things we did. We battled and had base runners, but just didn't come up with (runs)."
CV lost to U-Hi by a run the last time they played, but now has its lineup intact with the return of White to third base and resultant move of Jenna Gaskin to the outfield.
"The kids kept believing that they had a really good chance to compete in this game," Van Horne said. "Their goal was to get better every game, do the little things – put the ball in play and hit with runners in scoring position. They're healthy and peaking at the right time."
The teams, regardless of what happens the rest of the regular season, are destined to meet again May 15 for the district championship and a berth in regional.
"The next time we play each other, it's going to be the team that makes the most adjustments who will win," Schuh said.
•In other GSL games, Shadle Park (14-4) defeated visiting Mt. Spokane (9-8) 4-1. All scoring came in the first inning, including on a three-run Wildcats error. The fourth run was driven in by Megan Skillingstad with a base hit. It was one of two given up by Mt. Spokane pitcher Delaney Zalud. Highlanders pitcher Haylee Cushner pitched a three-hitter, two of those by Makenzie Reid. … Host East Valley (9-9) topped Mead (10-7) 3-2, handing the Panthers their fifth straight loss and sixth in seven games. Knights pitcher Tiffany Lucas didn't allow an earned run, struck out 10 and walked one while giving up just three hits. Justine Simpson doubled in two runs in the third and the Panthers tied the game on a throwing error in the fourth. But Lucas walked and scored the winner on Baily Riggin's single in the fifth. … North Central (7-10) beat Gonzaga Prep (5-13) 11-2 at home. Catherine Lively had three hits, including a double and triple, and three RBIs. Kilee Brown singled twice and drove in three runs. Cheyenne De La Rosa hit a bases-clearing triple during the Indians' five-run third. … The Ferris at Rogers game was rescheduled for today.
Local journalism is essential.
Give directly to The Spokesman-Review's Northwest Passages community forums series -- which helps to offset the costs of several reporter and editor positions at the newspaper -- by using the easy options below. Gifts processed in this system are not tax deductible, but are predominately used to help meet the local financial requirements needed to receive national matching-grant funds.
Subscribe to the sports newsletter
Get the day's top sports headlines and breaking news delivered to your inbox by subscribing here.
---