Sports
Baseball notebook: Bad news for Chavez
Wed., May 20, 2009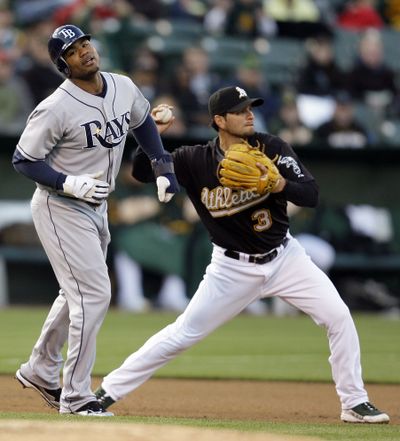 Oakland Athletics third baseman Eric Chavez has a herniated disk and could be facing career-ending surgery if he injuries his back again.
Chavez, rehabbing in Arizona, was moved from the 15- to 60-day disabled list Tuesday. He was placed on the DL May 1 with a strained right forearm, a move retroactive to April 25. He experienced back spasms May 10 and underwent an MRI exam one day later.
Chavez was limited to just 113 games over the 2007-08 seasons with back problems, and was recently informed about the herniated disk. He was told the disk could go out at anytime, which would require career-ending surgery. He could require a spinal fusion procedure later in his life.
"Pretty much game, set and match," Chavez told the San Francisco Chronicle. "It's disheartening."
Milestone for Helton
Todd Helton got his 2,000th hit Tuesday, one night after Colorado manager Clint Hurdle thought the slugger should have reached the milestone.
Helton hit a sharp one-hopper past Atlanta shortstop Yunel Escobar in the ninth inning of Monday night's 5-1 Rockies victory, but the play was scored an error.
Hurdle disagreed with the ruling and called the press box to request a meeting with official scorer Jack Wilkinson. The two met briefly before Tuesday night's game, but Wilkinson upheld his call.
Clearing the bases
Carlos Delgado had arthroscopic hip surgery and the New York Mets expect their slugging first baseman to return in late July. … Reds first baseman Joey Votto had more tests in Cincinnati, and more were scheduled for the next few days to try to determine what is causing his dizziness. He came down with the flu May 7, returned to the lineup last week and began having dizzy spells. … Minnesota Twins outfielder Delmon Young will be out until at least Friday after his mother died from cancer Monday. … San Francisco Giants left-hander Noah Lowry was scheduled to undergo surgery to remove the first rib on his left side, because of symptoms from thoracic outlet syndrome. The surgery will correct a circulatory problem. … The St. Louis Cardinals hope to activate center fielder Rick Ankiel from the 15-day DL today. Ankiel bruised his right shoulder when he crashed headfirst into an outfield wall.
Local journalism is essential.
Give directly to The Spokesman-Review's Northwest Passages community forums series -- which helps to offset the costs of several reporter and editor positions at the newspaper -- by using the easy options below. Gifts processed in this system are not tax deductible, but are predominately used to help meet the local financial requirements needed to receive national matching-grant funds.
Subscribe to the sports newsletter
Get the day's top sports headlines and breaking news delivered to your inbox by subscribing here.
---
Subscribe and log in to the Spokesman-Review to read and comment on this story