Sports
A-Rod 'adored' in Texas
6 years later, Rangers fans love to boo him
Tue., May 26, 2009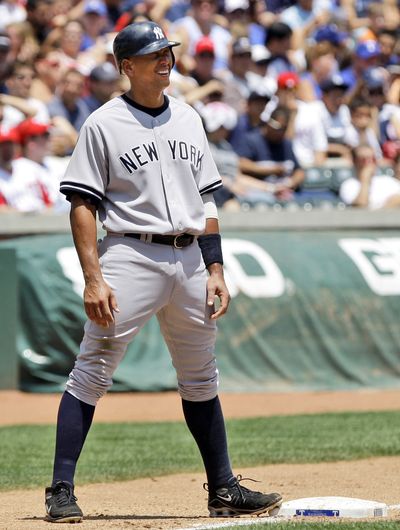 ARLINGTON, Texas – Alex Rodriguez hopes to speak again with Tom Hicks.
The Texas Rangers owner who initially made Rodriguez baseball's highest-paid player doesn't seem to have that same desire just yet.
"I have a lot of respect for Tom, and I love him, and I hope at some point (to talk with him)," Rodriguez said after going 5 for 5 with four RBIs in the Yankees' 11-1 victory at Texas. "Absolutely, I would love that."
It was the first game for Rodriguez in Texas since admitting earlier this year that he used steroids while playing for the Rangers from 2001-03. He was traded to New York before spring training in 2004.
Before watching from his front-row seats by the Rangers dugout, Hicks said he had no plans to talk to Rodriguez.
"I'm here to pull for the first-place Texas Rangers," Hicks said.
Rodriguez made a personal call to Hicks in February to apologize, about a week after an interview with ESPN in which A-Rod blamed the pressures of his then-record $252 million, 10-year contract with the Rangers for his decision to use performance-enhancing drugs.
After that public admission by Rodriguez in February, Hicks then described feeling "personally betrayed" by the slugger.
This is Rodriguez's eighth series with the Yankees in Texas, and New York's only trip to Rangers Ballpark during the 2009 regular season.
Rodriguez was heartily booed when introduced before the game. He heard more boos each time he batted, though the cheers of the Yankees fans were more prominent by the time he was lifted for a pinch runner after a single in the eighth inning with the New York leading 10-0.
A-Rod insisted there was no extra motivation for this game, and that he didn't view the reaction in Texas as any different from other stadiums the Yankees visit.
"No, it's been so long, it's been six years," Rodriguez said. "I love it here. I have a lot of good friends."
Texas (26-18) still has the second-best record in the American League behind Boston (27-18) and has led the A.L. West for nearly three weeks.
The Rangers lost 270 games during Rodriguez's three seasons with the Rangers, finishing last in the West each time, even though he led the A.L. in home runs each season and was the A.L. MVP in 2003.
Before the Rangers took the field, The Who song "The Kids are Alright" blared over the loudspeaker, an obvious dig at Rodriguez for comments he made after being traded that he would have never gone to Texas if he had been told it would be him "and 24 kids."
"He got booed here before, so I'm pretty sure he'll get booed again," Rangers third baseman Michael Young, who still considers A-Rod one of his good friends, said before the game.
The negative reaction seemed much louder initially than any of the previous 22 games Rodriguez played when he visited Texas.
The Rangers were still paying part of A-Rod's salary until he opted out of the original 10-year deal in 2007 and then signed a $275 million, 10-year contract with the Yankees.
Local journalism is essential.
Give directly to The Spokesman-Review's Northwest Passages community forums series -- which helps to offset the costs of several reporter and editor positions at the newspaper -- by using the easy options below. Gifts processed in this system are not tax deductible, but are predominately used to help meet the local financial requirements needed to receive national matching-grant funds.
Subscribe to the sports newsletter
Get the day's top sports headlines and breaking news delivered to your inbox by subscribing here.
---
Subscribe and log in to the Spokesman-Review to read and comment on this story