Sports
Uninspired Cougars grind out win
Fri., Dec. 10, 2010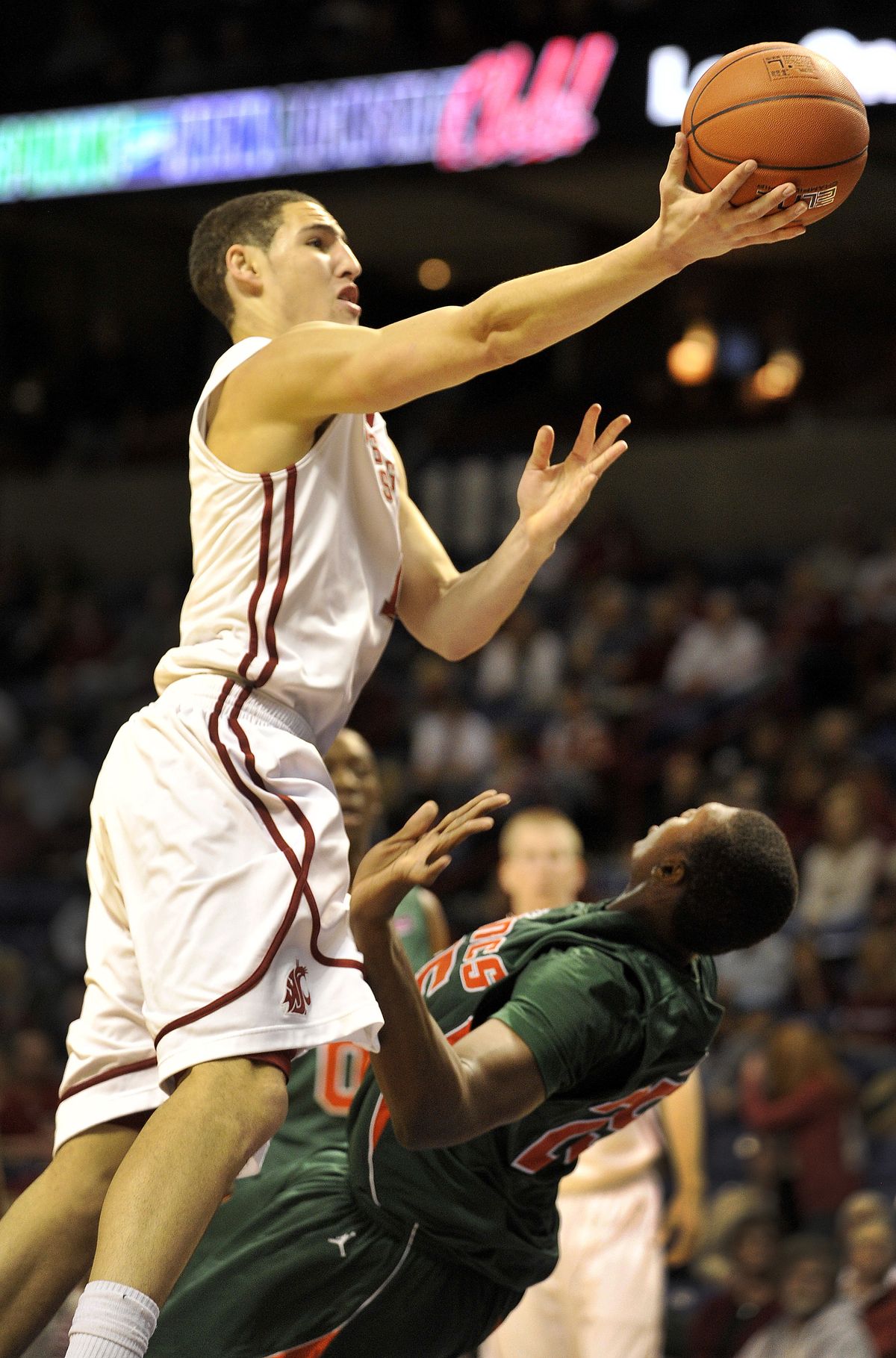 Heading for the basket, WSU's Klay Thompson goes over the top of Texas-Pan American's Josh Cleveland in the first half Friday, Dec. 10, 2010. (Colin Mulvany / The Spokesman-Review)
A letdown may have been inevitable, maybe even expected, but it wasn't enjoyed. The Washington State Cougars may have eventually put away Texas-Pan American, 74-52, before an underwhelmed – and underwhelming – crowd of 4,382 in the Spokane Arena, but no one, not coach Ken Bone, not the players, not the fans, seemed all that happy about it. "The effort wasn't what I hoped, but I'm not shocked at what it was," Bone said, before mentioning the difficulty of coming off a week like the Cougars had just experienced. It was only a week ago they fell 63-58 to fifth-ranked Kansas State before 11,671 in Beasley Coliseum and Friday night's matchup came just 48 hours after WSU's 81-59 blitzing of local rival Gonzaga. That one came before 10,177, with both crowds serving to energize the Cougars. "That shouldn't serve as an excuse," for the Cougars' slow start, said sophomore point guard Reggie Moore, who played a team-high – and season-high – 32 minutes and finished with five assists. But maybe the back-to-back marquee matchups played as much a role in Texas-Pan American leading 19-17 with 6 minutes, 32 seconds left in the first half as the Broncs' defensive intensity and the Cougars' lack of same. "It's always difficult to come of a huge win or a devastating loss," Bone said. "As well as we played Wednesday night against Gonzaga and how excited the kids were … that probably was in the back of their mind and it is sometimes difficult to turn the page." The undersized Broncs, who started four players 6-foot-3 and shorter, battled WSU (7-1) inside early, forcing the Cougars to settle for 3-pointers early in the shot clock. The problem was the shots weren't falling. "In our other games, we did the same thing," Moore said, "we just made them." With 7:50 left before the half, the Cougars were 5-of- 19 shooting, 2 of 7 from beyond the arc and, if not for the inside play of Brock Motum, would have been in trouble. As it was, the 6-10 Motum came off the bench and worked his way around the basket for seven quick points, including the Cougars' first 3-pointer. He finished with 13 and seven rebounds, joining Faisal Aden, a quiet 20 points and also seven boards, and Klay Thompson, 15, in double figures. And Motum was the only Cougar in the early going who didn't seem flummoxed a little by Texas-Pan American's physical effort. "They were the underdogs, they were going to do everything they could to win," Motum said of the Broncs, 3-7 coming in and winless on the road. After trailing by that 19-17 score, WSU went on a 12-0 run, hitting five consecutive shots, including the first of Thompson's two 3-pointers. From there, Pan American never got closer than seven. WSU, which shot 61.5 after halftime, finished 10 of 22 from beyond the arc – Pan Am was 5 of 20 – and hit half of its 60 shots from the floor. Marcus Capers played a big role in the decisive first-half stretch, converting a fastbreak layup, hitting his first 3-pointer of the year and tipping out an offensive rebound to Thompson for his 3. He also spent the night hounding Pan American's leading scorer Aaron Urbanus, a 6-foot, 147-pound sophomore who looks as if he could be playing in high school, into a 2-for-7 shooting night. After a near-perfect game against Gonzaga, Thompson wasn't nearly as consistent against the Broncs. Though he finished with the 15 points on 5-of-11 shooting, he didn't grab a rebound – he was averaging 4.9. He also got himself in Bone's doghouse for a while, not playing the first 3:50 of the second half. As the clock ran down in the first half with WSU leading 34-24, Bone wanted Thompson to shoot in the last 5 seconds. His shot went up with about 10 seconds left and, though Motum followed it in, Bone wasn't pleased. "Tonight it didn't make a big difference," Bone said of Thompson shooting too early, "but sooner or later, down the road, it will make a big difference." And that, ultimately was what Friday night was for. "It was good, because it mentally prepared us not to take any team lightly," Motum said, "and to be physical with everyone we play." The Cougars don't play again until Dec. 19 at Santa Clara, the start of a 13-day, five-game road trip that will take them to Hawaii and back to California for the Pac-10 opening series at UCLA and USC. Before then, however, it's finals time in Pullman. "It will help us physically," said Moore of the finals week break. "We played Gonzaga and we played K-State. Mentally and physically we're just up in the air, we're just excited. It will help us." Just like Friday's grind-it-out win.
Local journalism is essential.
Give directly to The Spokesman-Review's Northwest Passages community forums series -- which helps to offset the costs of several reporter and editor positions at the newspaper -- by using the easy options below. Gifts processed in this system are not tax deductible, but are predominately used to help meet the local financial requirements needed to receive national matching-grant funds.
Subscribe to the sports newsletter
Get the day's top sports headlines and breaking news delivered to your inbox by subscribing here.
---