News > Idaho
Election shakes status quo for Idaho GOP
Primary ousts six in party from seats
Thu., May 27, 2010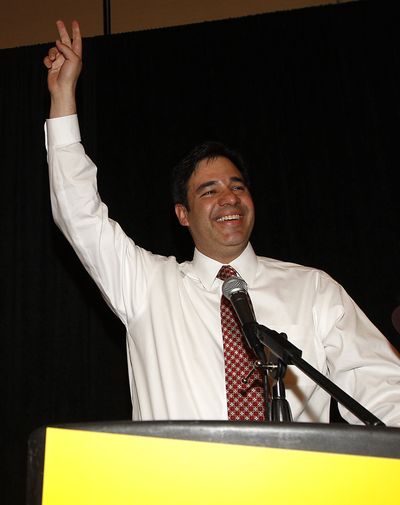 BOISE – A primary election has caused havoc in Idaho's Republican Party, with everything from tea party activism to social media hijinks contributing to such surprising results as the defeat of six sitting GOP lawmakers and an upset in the congressional race.
Among those losing their seats on Tuesday were state Sen. Gary Schroeder, R-Moscow, a nine-term senator and chairman of the Senate Resources Committee, and state Sen. Mike Jorgenson, R-Hayden Lake, a three-term senator and chairman of the Idaho Indian Affairs Council.
Schroeder lost to a tea party activist, prompting much speculation that the moderate Latah County district could fall to the Democrats in the November general election. Moderate state Sen. Chuck Coiner, R-Twin Falls, also was defeated in the primary, as were moderate state Sen. Lee Heinrich, R-Cascade; conservative state Rep. Steve Kren, R-Nampa; and conservative state Rep. Rich Jarvis, R-Meridian, who lost to the man he replaced, former Rep. John Vander Woude.
Gov. Butch Otter, who received 54.6 percent of the vote in a race against five GOP challengers, said he'll miss some of the ousted lawmakers, but he's not worried about the tea party. "What the tea party has emphasized is smaller government," he said, which Idaho Republicans also favor.
Statewide, 27 percent of registered voters went to the polls; in Kootenai County, the turnout was between 20 and 22 percent.
"There's so much attention and so much focus, and yet the turnout is so low," said Norm Semanko, Idaho Republican Party chairman, who said the turnout was his one big disappointment about the primary election.
The secretary of state's office, however, estimated that voter turnout was its highest in a decade for a primary election.
"The people are angry, especially angry at the federal government, but people in other forms of government take the same hit," said Secretary of State Ben Ysursa, attributing the above-average turnout to tea party activism.
In the 1st Congressional District race, Raul Labrador defeated Vaughn Ward despite Ward's huge fundraising lead, blanketing of the district in television ads when Labrador had none, and 10-month head start in entering the race.
Ward's campaign stumbled in the final month with a series of embarrassing revelations, culminating in the resignation of his campaign manager after The Spokesman-Review reported that half the issue position statements on Ward's campaign website were cribbed from other candidates' or congressmen's sites.
But Ward's troubles didn't stop there. Even though he brought in former Alaska Gov. Sarah Palin to stump for him at a rally the Friday before the election, a video mash-up that made it appear he'd given Barack Obama's 2004 Democratic convention speech as his announcement speech went viral on social media over the weekend and by election night was playing on the "Tonight Show with Jay Leno."
Lucas Baumbach, a Boise Republican legislative candidate who created the video mash-up juxtaposing phrases from Ward's and Obama's speeches, calls himself a "RINO hunter" (for Republican In Name Only) and a tea party activist and is blunt about why he created the mash-up: Because he supported Labrador over Ward.
"No, it wasn't accurate – it was a piece of propaganda," Baumbach said Wednesday, "and people thought that there was enough truth in it to change their votes."
Baumbach said he decided to exercise his video-editing skills after earlier reports about how some of Ward's phrases in the speech matched turns of phrase in Obama's famous speech got little attention. Baumbach said the splicing was helpful "when you're trying to get the word out, sensationalizing something," and said, "I admit that there was a lot of editing that went on there."
Labrador said of the video mash-up, "I think it was just the icing on the cake, I don't think that it made the difference." He noted that the earliest results that came in on election night, which consisted of absentee votes from Ada and Canyon counties that could have been cast weeks ago, showed him ahead.
Ward said, "Did I learn stuff? Of course I did. Were there mistakes made? Yes, there were, and I own the responsibility for everything."
He blamed his former campaign manager for the problems with the issue position statements, though new ones posted several days after the manager's resignation included another that echoed another candidate's website. Ward also said he wrote his own announcement speech, but a staffer added phrases that included the Obama-echoing ones, like "we stand on the crossroads of history" and "our country will reclaim its promise."
Semanko said he'd never seen anything like the rise and fall of Ward's campaign. Ward, a decorated Iraq war veteran, was making his first run for office; he'd piled up endorsements from much of Idaho's GOP mainstream, including two former governors.
"I think social media is playing a significant role in politics in general," Semanko said. "Even though it was a low turnout, what drove people to vote was the social media. … Things are changing before our eyes."
Jim Weatherby, political scientist emeritus at Boise State University, said the defeat of moderate GOP senators could create the same effect in the Idaho Senate as has been seen in recent years in the House, where moderate Republicans were defeated by Democrats, leading to a slightly smaller but still large and considerably more conservative GOP caucus.
"That has been the question," Weatherby said. "Will the Senate look more and more like the House in the next election or two, and is this a step in that direction?"
The Associated Press contributed to this report.
Local journalism is essential.
Give directly to The Spokesman-Review's Northwest Passages community forums series -- which helps to offset the costs of several reporter and editor positions at the newspaper -- by using the easy options below. Gifts processed in this system are not tax deductible, but are predominately used to help meet the local financial requirements needed to receive national matching-grant funds.
Subscribe now to get breaking news alerts in your email inbox
Get breaking news delivered to your inbox as it happens.
---