Sports
Seahawks defensive back Thurmond returns to playing mode
Fri., Aug. 26, 2011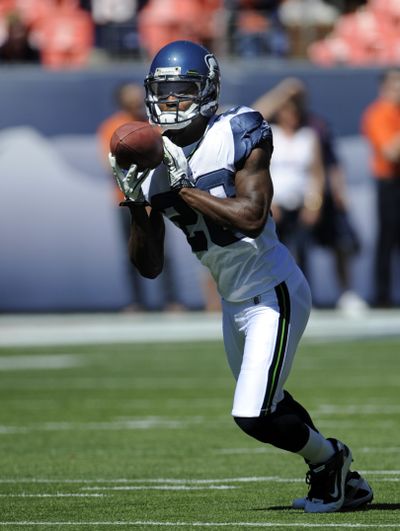 RENTON, Wash. – Gasping to catch his breath, his lip covered in blood, Walter Thurmond looked and sounded every bit like a person in the midst of an intense game of catch-up.
After missing more than three weeks of training camp with a high-ankle sprain, the second-year cornerback has finally been back on the field this week, and Thurmond is doing every thing he can to get back to game speed with the season only a couple of weeks away. So if that means sprinting up the steep grass hill next to the practice field to get in some extra conditioning, Thurmond is all for that. And if it means playing with enough reckless abandon to end up bloodied in practice, well then that will be part of the plan, too.
"I'm just shaking this rust off," he said while still catching his breath from the sprints up the hill. "… I had to wait the whole offseason, not doing anything and just train hard, and was really looking forward to camp, then the second day of practice I get hurt. So it just feels really good to get back out here. Got to stay healthy now."
Staying healthy will be important not just for Thurmond, but for the Seahawks' secondary as well. A team with many needs, the Seahawks could have take a cornerback with their first-round pick, or tried sign a big-name corner in free agency, but instead they used their first two picks on the offensive line, and spent their biggest free-agency dollars on the offense. So if Seattle is going to improve a pass defense that has struggled in recent years – the Seahawks have ranked 27th, 30th, and 32nd in pass defense over the past three seasons – it will have to happen without any big-name additions.
And one reason the Seahawks think they'll be better in the secondary is because they are expecting big things out of Thurmond, a fourth-round pick in 2010. Thurmond, who played sparingly last year after coming back from a devastating knee injury that ended his senior year at Oregon, was expected to compete immediately for a starting job this season. Only two days into training camp, however, he suffered a high-ankle sprain and missed more than three weeks of practice.
Thurmond finally was back in action this week, and despite being rusty, he is expected to play Saturday in Denver. And even in a few short days of practice, Thurmond has made plays that have the Seahawks excited about his potential for the upcoming season.
"He's looked special," Seahawks coach Pete Carroll said. "He's looked very quick. … He looks very explosive. He's much more together physically than he was last year at this time coming off the surgery and all that. It's exciting."
The surgery Carroll refers to was the one Thurmond needed to repair a torn ACL, MCL and PCL after hurting his knee in September 2009. Prior to that injury, Thurmond projected as a second-round pick, possibly even a late first-rounder, so the Seahawks have felt since last year's draft like they may have found a steal if Thurmond can get back to full speed.
"He was a fourth-round pick that could have been a second-round pick or wherever, had he been healthy, and he shows that kind of explosiveness out here," Carroll said.
Thurmond will get every opportunity to win the starting job at cornerback opposite former WSU Cougar Marcus Trufant, but for now he is mostly playing as the nickel back in passing situations.
Notes
In addition to Thurmond, two others will make their preseason debuts this weekend, Carroll said. Defensive end Chris Clemons, who had offseason ankle surgery, will see limited playing time, and receiver Ben Obomanu, who had offseason shoulder surgery, will see significant playing time. … Running back Marshawn Lynch will not play because of a sore ankle. Carroll said the injury isn't serious, and that Lynch would probably play if it were a regular-season game.
Local journalism is essential.
Give directly to The Spokesman-Review's Northwest Passages community forums series -- which helps to offset the costs of several reporter and editor positions at the newspaper -- by using the easy options below. Gifts processed in this system are not tax deductible, but are predominately used to help meet the local financial requirements needed to receive national matching-grant funds.
Subscribe to the sports newsletter
Get the day's top sports headlines and breaking news delivered to your inbox by subscribing here.
---
Subscribe and log in to the Spokesman-Review to read and comment on this story