Sports
Gonzaga's Raap contributes again
Wed., Jan. 19, 2011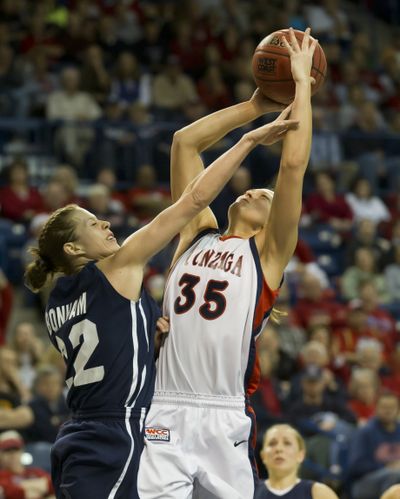 Claire Raap was recognized as the Most Improved Player her first two seasons on the Gonzaga women's basketball team and she could be on her way to that honor again as a senior.
But her junior season, when she was an afterthought on the Bulldogs' Sweet 16 team, says more about her than any honor.
Raap had an ankle injury that required surgery after her sophomore season, when she came off the bench and contributed 4.4 points per game on 53 percent shooting, plus a couple of rebounds a game for the team that won the program's first NCAA tournament game.
"Being out the whole summer and when the season started I still wasn't cleared, so I fell a step behind and I never had the time to catch up," she said. "That's how injuries go."
It's not like she didn't play. She got into 23 games, but her numbers were well below those she had even as a freshman, including minutes. So she made it a point to be the best cheerleader she could be.
"The best I could do was push my teammates as hard as I could in practice to make them better," Raap said. "They were doing so well. It was a team effort and I helped push them. I'm very much a team person. They were doing awesome and even though I wasn't out there I was proud to be on that team."
"Her first two years she was really showing progress," GU coach Kelly Graves said. "Also, as a freshman and sophomore she was playing both in and out. With the emergence of Katelan (Redmon) outside and Kayla (Standish) inside, that took some minutes from her at both ends."
Now Raap is putting together a senior season to remember, and not just because her numbers are up across the board, including 4.8 points and 2.5 rebounds per game.
The former three-sport standout at Prosser is a together person.
"I want to be an elementary P.E. teacher," she said. "I'm also getting my endorsement to be in the classroom, but I really like being in the gym with elementary kids. You're their rock star. Every day they want to come to P.E. It's a pretty sweet gig."
When and where she uses her degree remains to be seen, depending on when she and ex-GU men's player Josh Heytvelt get married.
"We're still young, we've got time," she said.
Heytvelt is playing in Turkey, where he got her a big engagement ring last year. Wherever he goes, if there's a women's team, she'll consider playing, or she'll look into teaching.
"But we've had distance for two years now," she said. "That's the last thing I'm looking for again."
They met when Raap arrived on campus and started dating about a year later. She says her fiancé has a sensitive side few people know.
After sneaking off to Prosser to ask Raap's parents for her hand, Heytvelt capped a full day of fun in Coeur d'Alene with a nice dinner – and the waiter delivering the ring on the dessert try.
"I cried, I did," Raap said. "I knew he had the ring … but I did not see that coming."
But now the focus is on her senior year, with the conference-leading Zags (15-4, 3-0 WCC with Santa Clara here on Thursday, San Francisco on Saturday) out to capture their seventh straight West Coast Conference title and make their third straight NCAA tourney.
"It sure went by fast," she said. "We have a great team. I'm just going out there working hard, finishing up strong."
Graves knows that feeling.
"I wish there was more time for her," he said. "I've been really pleased with how she's played this year. She's a great athlete."
Home sweet home for most
Washington State is the only Pac-10 school with a losing record (161-221) on its home court. Even at 29 years old, Beasley isn't one of oldest courts in the conference. Arizona State's Wells Fargo Arena, Stanford's Maples Pavilion, UCLA's Pauley Pavilion and Washington's Bank of America Arena are all in their 35th year.
Tip-ins
Gonzaga star Courtney Vandersloot was named the WCC Player of the Week for the 10th time in her career, second this season. She had 40 points, 16 assists, 10 rebounds and four steals in a pair of conference wins on the road. … Reserve Tatjana Sparavalo has four double-doubles for Eastern Washington. … Katie Baker (Lake City) had a strong weekend with 22 points and 20 rebounds as Montana split two games. She had a 12-12 double- double in a win at Weber State, her fourth of the season and sixth of her career.
Local journalism is essential.
Give directly to The Spokesman-Review's Northwest Passages community forums series -- which helps to offset the costs of several reporter and editor positions at the newspaper -- by using the easy options below. Gifts processed in this system are not tax deductible, but are predominately used to help meet the local financial requirements needed to receive national matching-grant funds.
Subscribe to the sports newsletter
Get the day's top sports headlines and breaking news delivered to your inbox by subscribing here.
---
Subscribe and log in to the Spokesman-Review to read and comment on this story