News > Idaho
Hunters, natural predators no match for real turkeys
Thu., March 31, 2011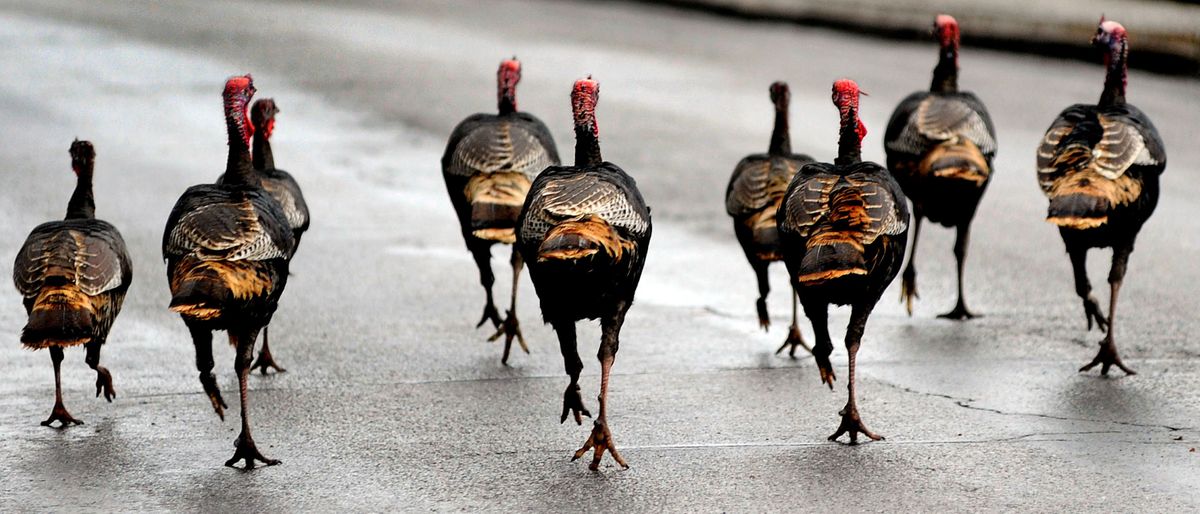 A rafter of turkeys walks down the center of Milwaukee Drive in Coeur d'Alene on Wednesday. Turkeys have been abundant in the area. (Kathy Plonka / The Spokesman-Review)
It was a turkey showdown in Nils Rosdahl's pasture Wednesday morning.
Tail feathers unfurled, a male strutted toward a group of females. As he neared the hens, two other toms moved aggressively to block his path. Deceptively casual, the first tom strolled away before stealthily circling back.
The advance/retreat strategy played out for several minutes until one of the guarding toms flew at the intruder. Feathers clashed.
Wild turkey courtship is under way, and no one knows better than Rosdahl. Eighty to 100 turkeys roost in the trees behind his Coeur d'Alene home at the base of Canfield Mountain.
The non-native game birds are flourishing in the Inland Northwest, where they've readily adapted to coniferous forests and suburban backyards. They're a showy sight this time of year, with scarlet wattles and iridescent heads that change from indigo to turquoise when the males are excited.
To landowners such as Rosdahl, however, the birds are primarily pests.
"Unfortunately, in our neighborhood, it's our trees they like to roost in," said Rosdahl, a retired North Idaho College journalism professor and former longtime columnist for The Spokesman-Review.
Over the past decade, the wild flock on his property – more correctly referred to as a rafter of turkeys – has increased by about 10 birds each year. Rosdahl and his wife, Mary, no longer use the hillside above their house; it's covered with greenish turkey poop. They don't let their young granddaughters play there, either.
At daybreak and twilight, the turkeys start gobbling. The Rosdahls are used to the noise, but it often startles houseguests.
Wildlife agencies don't have an immediate solution. Sometimes, big flocks of turkeys form when neighbors put out cracked corn, or when seed from birdfeeders is readily available, said Joey McCanna, Washington Department of Fish and Wildlife's upland game bird specialist.
Other times, landowners simply have good habitat, said McCanna, who's seen flocks of 200 to 300 wild turkeys in Eastern Washington. Turkeys like towering trees to roost in and nearby pasture to scratch for insects. The flocks are largest in the winter.
"The thing about Spokane Valley and North Idaho is that, in many places, it's ideal turkey habitat," said Ed Mitchell, an Idaho Department of Fish and Game spokesman.
Wild turkeys are native to the East Coast, parts of the Great Plains, Texas and the Black Hills of South Dakota. As early as the 1940s, they were introduced to Washington for hunting. Similar releases in Idaho started in the 1960s.
The first introductions didn't take. The turkeys were an Eastern subspecies, poorly adapted to cold winters. But in the 1970s, game managers started introducing the Merriam subspecies native to the Black Hills and Plains states. In Lincoln and south Spokane counties, the releases were the Rio Grande subspecies, a native of Texas.
As the birds have flourished, the numbers of nuisance complaints have shot up. To help control populations, both states have liberalized turkey seasons. Hunters can take up to six turkeys per year in Washington and Idaho.
The liberal seasons have reduced the number of turkey complaints fielded by Tony McDermott, an Idaho Fish and Game commissioner from Bonner County. However, the ideal number of turkeys is a matter of perspective, he added.
"I know that southern Idaho would like to have our problem," McDermott said.
Hunters bag about 3,000 wild turkeys each year in Spokane, Lincoln, Ferry, Stevens and Pend Oreille counties, McCanna said. Washington has nearly 16,000 turkey hunters. Idaho doesn't keep numbers on individual turkey hunters, but the state sold more than 30,000 turkey tags last year.
Fish and Game officials have offered to refer turkey hunters to Rosdahl, but he said the close proximity of his neighbors' homes precludes hunting as a flock-thinning option.
Sometimes, Rosdahl shoots BBs into the air to keep the turkeys from roosting in the trees directly over his patio. His dog, which was recently killed by coyotes, wasn't effective at hazing the birds. Natural predators haven't made a dent in the flock, either.
On Wednesday morning, Rosdahl stood on his porch, watching preening toms unfurl their tail feathers. It was a scene from a Thanksgiving card. Rosdahl gobbled to the turkeys. They gobbled territorially back.
"They're very entertaining. That's the good thing about them," he said. "These would be great outside a senior housing complex. The old folks could watch them all day long."
Local journalism is essential.
Give directly to The Spokesman-Review's Northwest Passages community forums series -- which helps to offset the costs of several reporter and editor positions at the newspaper -- by using the easy options below. Gifts processed in this system are not tax deductible, but are predominately used to help meet the local financial requirements needed to receive national matching-grant funds.
Subscribe now to get breaking news alerts in your email inbox
Get breaking news delivered to your inbox as it happens.
---