Sports
Cougar defense built around linebackers
Sat., Aug. 18, 2012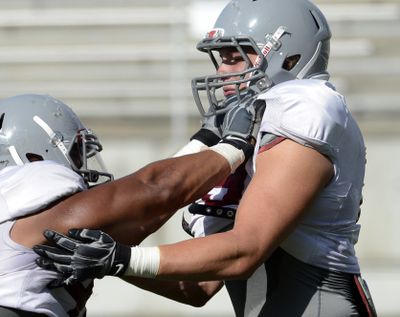 This is the fifth of eight position previews of Washington State University's 2012 football team. Today: linebackers. Sunday: defensive backs.
PULLMAN – Ask about Washington State's linebackers and you will receive a nautical reference in response.
But not from coach Mike Leach, surprisingly enough.
"We're like the captains of the ship, shall I say," redshirt freshman Darryl Monroe said. "We're the badasses, and we're also the communicators. Everyone else looks to us for leadership."
Indeed, the linebackers must be the strength of WSU's defense. That's not necessarily a statement about the unit's talent or experience, though there does appear to be more of the former than originally anticipated. It's simply how defensive coordinator Mike Breske structures his base 3-4 scheme.
"The system's built around the linebackers," Breske said. "Whether you're blitzing or just fitting your runs, our system is built around the linebackers and they've got to be able to get there and make plays."
"We do all the communicating, adjustments and all that stuff, so when you come play linebacker you really have to be focused and dialed in to what's going on," Monroe said. "Because if you're not, then you'll miss so many plays and checks that you'll be all over the place."
A combination of player dismissals and injuries left linebackers coach Jeff Choate with few options by the time spring ended. Since then, though, the Cougars have more figured out at linebacker than most would have imagined – Choate included.
"There's significantly more depth than I thought we were going to have," Choate said. "At the end of the spring we were down to just a few straws."
The depth issues here have been well-documented. C.J. Mizell, who would have been a junior, was dismissed from the team in the winter after an alleged altercation at a fraternity party. Sekope Kaufusi, another returning starter, was booted after an arrest for alleged marijuana possession.
That led to the creation of Choate's "island of misfit toys," as he has called his group before.
"I didn't know if those two guys that were going to be gone – I didn't know if they were good players," Choate said. "On purpose, I didn't come in and watch film and establish an opinion about these guys. I wanted to have an open mind so that when they got here and I said, 'Hey you've got a clean slate, everybody here's on an equal playing ground and you've all got an opportunity to go out and prove yourselves,' that I didn't have any preconceived notions."
The mantra remains the same from WSU's linebackers as it does from everyone else on the roster –the depth chart is meaningless, and you're playing for your job each day.
Be that as it may, the Cougars – even in spring – developed a hierarchy early, albeit an inexperienced one. Eric Oertel, a converted running back, took hold of the No. 1 "Sam" linebacker spot and hasn't let go. Monroe figures to start at middle or "Mike" linebacker, and sophomore Chester Su'a has taken most of the reps with the starting defense at "Will" – though junior college transfer Justin Sagote is expected to contribute at that spot.
The surest of things in WSU's linebacker corps is that senior Travis Long will be on the field just about every play. Long, a defensive end the last three seasons, is slotted into Breske's "buck" linebacker position, a hybrid rush end who can stand up or put his hand on the ground, rush the quarterback or drop into coverage.
An area of concern has morphed into an area of promise. Still, not counting Long (who technically hasn't started a game at linebacker, either), WSU's projected starters have just four career starts among them (all of which belong to Su'a).
Logan Mayes, Cyrus Coen, Tana Pritchard, Corey Laufasa and Jared Byers add depth to the group, along with freshmen such as Jeremiah Allison and Keith Ewing who could also play this year.
"We're not in redshirt mode with anybody. The best 11 are going to play," Choate said. "Football has become more of a situational game, so there's going to be some spots where maybe one of those guys' skill set fits that opportunity, so they'll get a chance."
Local journalism is essential.
Give directly to The Spokesman-Review's Northwest Passages community forums series -- which helps to offset the costs of several reporter and editor positions at the newspaper -- by using the easy options below. Gifts processed in this system are not tax deductible, but are predominately used to help meet the local financial requirements needed to receive national matching-grant funds.
Subscribe to the sports newsletter
Get the day's top sports headlines and breaking news delivered to your inbox by subscribing here.
---