News > Features
Chasing dreams: Christopher Wojtowicz, 39
Sun., Jan. 1, 2012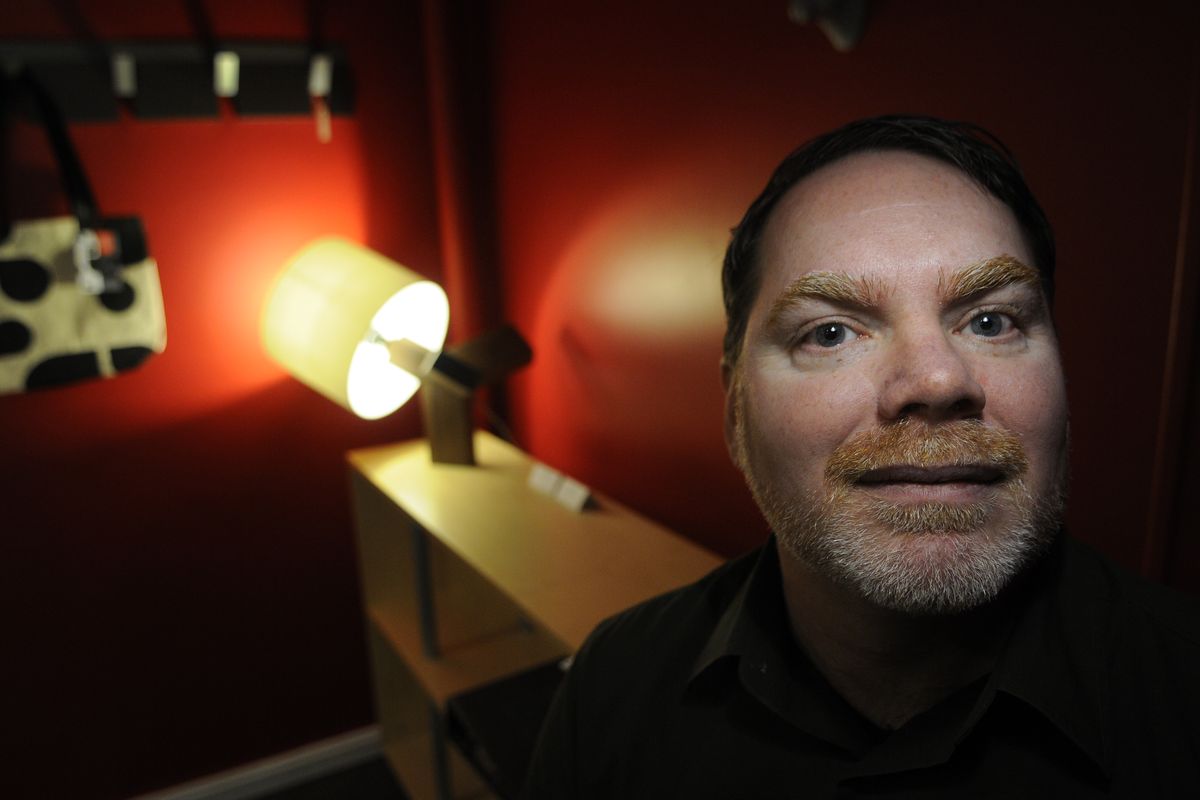 Christopher Wojtowicz opened Wojo Works in downtown Spokane in late November. The first sale at his "mid-century modern" furnishings store was a $10 soap dish. He didn't tell the customer because "I was trying to play it cool and be professional." (Dan Pelle)
Back story: The University High School graduate fell in love with a design period known as "mid-century modern" when he attended college at Portland State University and later worked for an architecture firm there.
The 1950s-1960s furniture and home accessories have grown popular in recent years, thanks in part to the television series "Mad Men," but Wojtowicz (pronounced Voy-tow-vitch) fell hard for mid-century modern long before the AMC hit series debuted on cable.
Wojtowicz also admired the boutique furniture shops in Portland's Pearl District. And small business is in his blood. His mother owns Antiquarian in downtown Spokane.
The dream to own a mid-century modern furnishings store stirred his imagination in the early 2000s, but he knew he would "never quit a job to take on that kind of risk."
Wojtowicz returned to Spokane in 2008 and landed a job with an affordable housing development company. Two years later, his job was eliminated due to the economy.
The dream: "When I was laid off I knew my prospects to find employment in architecture, development, even in construction, were dim," he said. "The idea kept coming back to me: Open a store that focused on mid-century modern furnishings, household accessories and paper goods."
Dream to reality: Naysayers said to him: "This isn't the right economy. The financial risk is too great for someone who has been unemployed."
He responded: "This is my only opportunity to do this."
Wojtowicz got a micro loan from SNAP, an Inland Northwest nonprofit that required a solid business plan, which he researched for months.
He put a lot of the dream on credit cards. And on Nov. 21, he opened Wojo Works at 824 W. Sprague Ave., across from the Davenport Hotel. The store's products range from $3 greetings cards to $900 chairs.
The items are not antiques, but they are inspired by the mid-century modern look that stresses "clean lines, the melding of form and function and integrity of design" Wojtowicz explained.
Helpers: His stepdad painted walls and ceilings with him to turn a former clothing store into Wojo Works. His wife, Ladonna, encouraged him. Fortunately, she works for Spokane County and has medical benefits for the entire family, including the couple's two young daughters.
Advice: "Make sure it's something you're passionate about and then do your homework."
Onto 2012: Business has been slow so far, though word is spreading about the shop. Wojtowicz has a commitment to try this for two years.
He gets a high when he "walks in and sees something I created with the help of my family." The lows come on the days "when there are no sales."
But he has no regrets.
"I found a niche, and I wouldn't take this risk if I weren't passionate about it," he said.
Local journalism is essential.
Give directly to The Spokesman-Review's Northwest Passages community forums series -- which helps to offset the costs of several reporter and editor positions at the newspaper -- by using the easy options below. Gifts processed in this system are not tax deductible, but are predominately used to help meet the local financial requirements needed to receive national matching-grant funds.
Subscribe now to get breaking news alerts in your email inbox
Get breaking news delivered to your inbox as it happens.
---