Sports
Stricker opens year with win in Hawaii
Tue., Jan. 10, 2012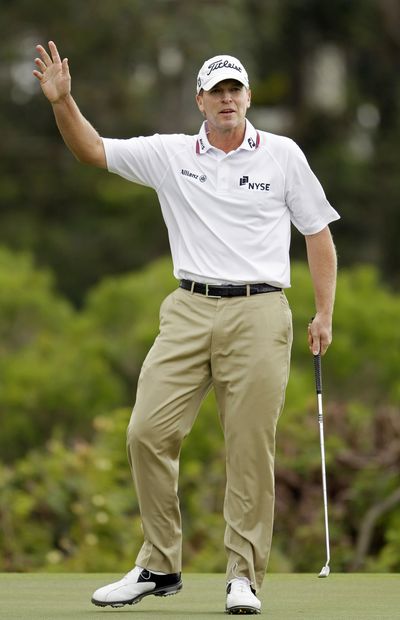 Golf: Steve Stricker kicked off the new PGA Tour season Monday with a victory in the Tournament of Champions in Kapalua, Hawaii, though he didn't make it easy on himself.
His five-shot lead was reduced to one shot after only six holes before Stricker pulled himself together with back-to-back birdies and closed with a 4-under 69 to win by three.
Martin Laird, Jonathan Byrd and Webb Simpson each got within one shot of Stricker in the final round, but they couldn't catch him.
It was the 12th career win for Stricker, and ninth since he turned 40. He moved back to No. 5 in the world.
• Woods to kick off season at Pebble Beach: Tiger Woods is returning to the Pebble Beach National Pro-Am for the first time in 10 years.
Woods announced on his website Monday he will start his PGA Tour season Feb. 9-12 at Pebble Beach, which he said "might be the prettiest place on earth."
76ers top Pacers for fifth straight win
NBA: Andre Iguodala scored 20 points and Lou Williams added 13 to help the Philadelphia 76ers win their fifth straight game, 96-86, over the visiting Indiana Pacers.
The Sixers used a 15-3 run in the third quarter that helped them pull away against the Pacers.
Indiana's Danny Granger, averaging a team-high 14.9 points, sat out with food poisoning. Pacers guard George Hill (back) also did not play. Roy Hibbert led the Pacers with 19 points and David West had 15 points and 11 rebounds.
Goc lifts Panthers to win over Canucks
NHL: Marcel Goc scored the tiebreaking goal midway through the second period and the Florida Panthers beat the Vancouver Canucks 2-1 in Sunrise, Fla.
Goc also had an assist as the Panthers won for just the third time in nine games. Dmitry Kulikov scored the Panthers' first goal and Scott Clemmensen finished with 25 saves.
Dale Weise found the net for Vancouver's lone goal.
Kilpatrick leads Bearcats over Hoyas
Men's basketball: Sean Kilpatrick scored a career-high 27 points, and Cincinnati went 6 for 6 from the free throw line in the final 70 seconds to upset No. 11 Georgetown 68-64 in Washington.
Kilpatrick and Dion Dixon each had four of Cincinnati's 13 steals as the Bearcats (13-4, 3-1 Big East) forced Georgetown into 17 turnovers, matching the Hoyas' season-high.
Georgetown (13-3, 3-2) hit 59 percent of its shots.
NFL scouts barred from NFLPA bowl
Football: The NFL has barred scouts from attending a Jan. 21 bowl game organized by the players' association, upsetting the union.
A league rule prohibits team scouts from being at practices or games of a college all-star game that includes underclassmen. The NFLPA Collegiate All-Star game at Carson, Calif., will include underclassmen who have given up their eligibility and declared for the draft.
"The NFLPA could consider any group boycott as maybe a violation of antitrust laws," union spokesman George Atallah said.
NFL spokesman Greg Aiello said he was unaware of any discussions to amend the rule.
• RG3 still undecided: Heisman Trophy winner Robert Griffin III met again with his coach in Waco, Texas, as he decides whether he will declare for the NFL draft.
Griffin is projected to be one of the top picks in April if he declares for the draft. The deadline for underclassmen to declare is Sunday.
"It's a situation where he's really contemplating what he feels like is the thing that's going to give him peace," Baylor coach Art Briles said.
Briles said he is for whatever Griffin feels is the right thing to do, whether it's the NFL or coming back to play as a senior at Baylor.
Griffin, who played this season as a fourth-year junior, has another of year of eligibility remaining at Baylor because he got a medical redshirt after he tore the ACL in his right knee in the third game of the 2009 season.
• Tulsa's Johnson sets sights on NFL: Tulsa wide receiver and kick returner Damaris Johnson, the NCAA leader in all-purpose yards who was suspended for much of the season, is leaving to pursue a pro career.
Johnson was suspended near the beginning of the 2011 season after he was charged with embezzlement for paying only $14 for $2,600 worth of merchandise at a store where his girlfriend worked. He pleaded guilty and got a one-year deferred sentence.
In 2010, Johnson set the NCAA record for all-purpose yards (7,796) and career kickoff return yards (3,417). For his career, he had 2,746 receiving yards and 1,062 rushing yards.
• Crouch done with football: Nebraska's 2001 Heisman Trophy winner Eric Crouch says he's finished with football.
The 33-year-old Crouch tore the lateral meniscus in his left knee while playing quarterback for the United Football League's Omaha Nighthawks in September. He said that his goal is to be able to do "country-club workouts" and play racquetball and pickup basketball again.
Messi named FIFA Player of the Year
Miscellany: Lionel Messi became the first person to win FIFA men's Player of the Year three years in a row.
The Argentine forward, who led Barcelona to the Champions League title, was voted the FIFA Golden Ball Award, beating out Real Madrid's Cristiano Ronaldo and Barcelona teammate Xavi Hernandez in voting by national team coaches and captains plus selected reporters.
The only other three-time winners are Ronaldo (1996-97 and 2002) and Zinedine Zidane (1998, 2000 and 2003).
• Group seeks more aid for student athletes: An advocacy group is pushing a "bill of rights" for student-athletes aimed at increasing financial assistance to college players.
Among other things, the legislation would require large athletic programs to cover all sports-related medical expenses incurred by athletes. Such programs would also be required to pay into a state trust fund. The proceeds would go to student loan creditors on behalf of former men's basketball and football players who are still in school but have exhausted their athletic eligibility.
The National College Players Association says it will push the legislation in at least 15 states this year. State lawmakers in California and Indiana have already committed to pushing versions of the bill.
Local journalism is essential.
Give directly to The Spokesman-Review's Northwest Passages community forums series -- which helps to offset the costs of several reporter and editor positions at the newspaper -- by using the easy options below. Gifts processed in this system are not tax deductible, but are predominately used to help meet the local financial requirements needed to receive national matching-grant funds.
Subscribe to the sports newsletter
Get the day's top sports headlines and breaking news delivered to your inbox by subscribing here.
---
Subscribe and log in to the Spokesman-Review to read and comment on this story