Sports
Leach will keep Cougars busy on and off the field
Sun., July 29, 2012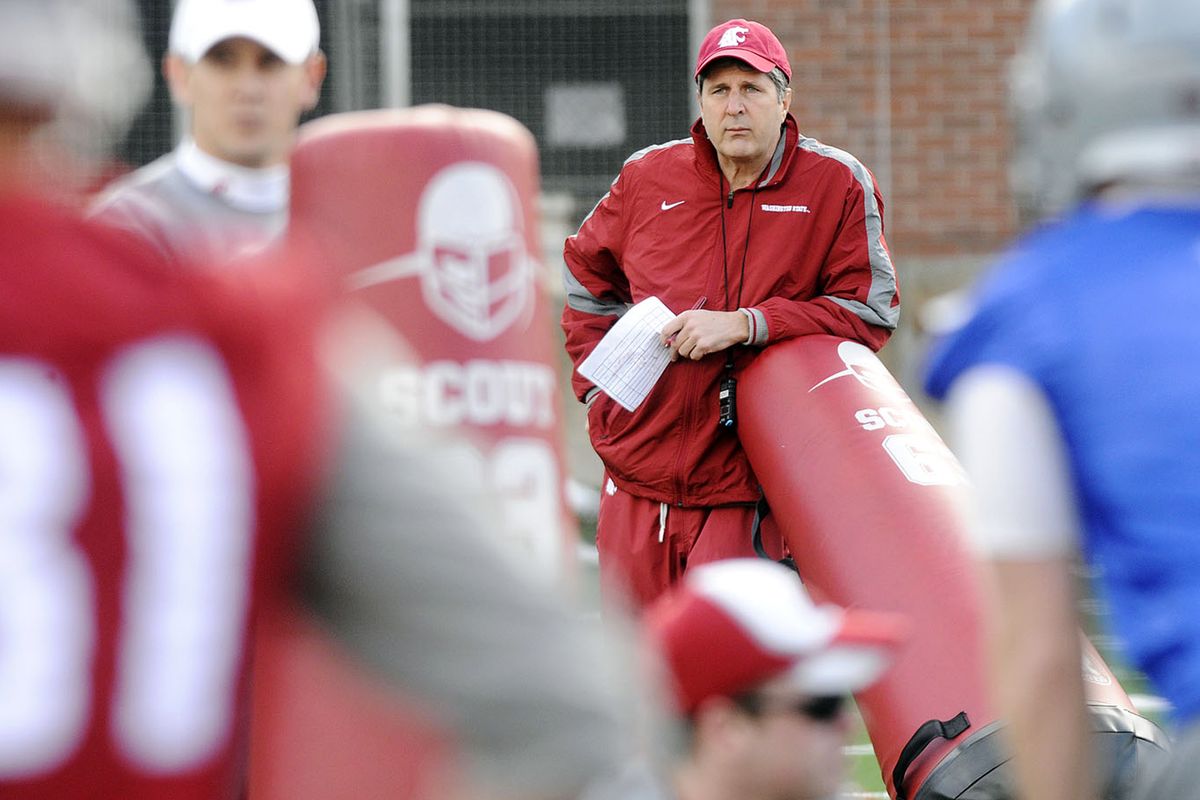 Media Day behind him, Mike Leach is focused on practice. (Associated Press)
Roughly 30 minutes after Mike Leach departed the stage at Pac-12 media day last week in Los Angeles, he was answering another question, this one about his celebrity and how quickly it's grown in the months since his hire.
The Washington State coach, perhaps surprisingly, didn't have much to say.
"I'm thinking more about practice right now than anything," he responded.
The Cougars will regroup at Rogers Field on Aug. 2 for their first official practice of fall camp – though the 10-day forecast indicates it is very much still summer – preparing for a season that ranks among the most-anticipated in the program's history.
WSU opens its season on Thursday, Aug. 30, at BYU, Leach's alma mater.
And as has become custom at WSU in Leach's brief tenure, camp is going to vary a bit from years past.
For one, Leach doesn't run two-a-day practices during the fall, meaning the Cougars will practice just once per day. But as Leach is quick to point out, this doesn't mean his players are getting a break.
"We'll get our pound of flesh," he said, noting that meetings and other duties will fill much of his team's days. "It'll be one-a-day, but they won't be short practices."
The Cougars do have plenty to sort out – such as their defensive-line situation in the wake of Anthony Laurenzi's dismissal, and developing depth on the offensive line and at linebacker.
But summer workouts were beneficial in the conditioning department, and for quarterback Jeff Tuel and his rhythm with the receivers.
Tuel said 7-on-7 sessions and other passing drills were "really about them (receivers) and I understanding and getting on the same page that, 'OK, I can stop in this hole, or I'm going to keep going,' and just things like that."
Tuel says he's 100 percent healthy, adding that he's removed enough from previous injury woes that he doesn't even think about it now.
Senior linebacker Travis Long said players were made to run much more this past summer than in previous years, and as a result, he thinks the team is in considerably better shape.
Of course, the next coach or player to claim his team got worse over the summer will be the first.
But Long's claim seems to be evidenced by the new weight numbers listed on WSU's updated roster: 14 players lost 10 pounds or more from last season.
Long credited WSU strength coach Jason Loscalzo for not only creating a challenging workout plan, but also for making players want to show up every day.
"I think Coach Loscalzo did a really great job in working us out this summer," Long said. "Overall, a really, really productive summer.
"You can relate to him; you can talk to him. He's kind of like your friend out there. He still expects the best from you, but it's nice being able to not be afraid of your strength coach, almost."
Notes
Tuel said he hopes to hear soon whether the NCAA will grant him an extra year of eligibility. If he is denied, this will be his final season at WSU. He said he hasn't decided whether he would accept the extra year if granted. … Laurenzi's dismissal, which followed an arrest for third-degree theft, leaves WSU short-handed on the defensive line. Kalafitoni Pole is the only returner with any experience at the nose tackle position, though newcomers Ioane Gauta and Robert Barber could help provide depth.
Local journalism is essential.
Give directly to The Spokesman-Review's Northwest Passages community forums series -- which helps to offset the costs of several reporter and editor positions at the newspaper -- by using the easy options below. Gifts processed in this system are not tax deductible, but are predominately used to help meet the local financial requirements needed to receive national matching-grant funds.
Subscribe to the sports newsletter
Get the day's top sports headlines and breaking news delivered to your inbox by subscribing here.
---