Sports
Cougars would welcome CBI invitation
Thu., March 1, 2012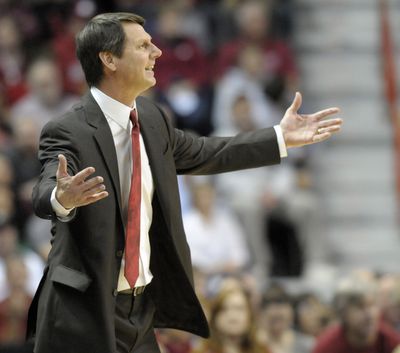 PULLMAN – Remember the 2010 season, Ken Bone's first as Washington State's head coach, when the Cougars turned down a chance to play in the College Basketball Invitational?
OK. Now forget about it entirely. Because the Cougars say their perspective of that postseason tournament is dramatically different this season.
Unless WSU, which plays at UCLA (16-13, 9-7 Pac-12) tonight at 7:30, wins the Pac-12 tournament next week, its best bet to continue playing is in the CBI, a tournament that began in 2008 as an alternative to the National Invitational Tournament for teams that don't make the NCAA tournament.
Unlike the 2010 season, which saw the Cougars (14-14, 6-10) finish in last place in the Pac-10 with a 16-15 overall record, coach Ken Bone said his team can benefit from playing more games this year if the CBI deems them worthy.
In 2010, Bone said the team decided at its Los Angeles hotel after a loss to Oregon in the conference tournament that it was best to just end it right there.
"We did not end the season on a good note," Bone said.
"We were just mentally and physically really fatigued and just didn't have the passion to, 'OK, let's jump in this tournament that WSU's never even been a part of.' So I know there wasn't that passion to keep going on from our student-athletes."
And now?
"Even though we don't have a great record, they're (players) coming to practice every day and really bringing it," Bone said. "Working hard, the attitudes have been good, the team chemistry has been really good and I feel like we keep playing better and better.
"Speaking for myself, we'd love to be in a postseason tournament."
He seems to have the backing of athletic director Bill Moos, who said Tuesday that WSU has already submitted paperwork to indicate its interest in participating in the CBI. If the Cougars are selected, Moos said, they would like to host.
Teams that host CBI games are required to pay a cash guarantee of $70,000, which Moos said was a concern but indicated that it could be worth it if it helps the team develop.
"I always think that if you have a team that's got some young players and you've got a chance to get into the postseason, it's good experience regardless of what the tournament is," Moos said. "We all hope to get in the NCAA tournament, but to have some experience after the Pac-12 tournament is valuable in many regards."
As evidence, Bone submits Oregon State and Oregon, teams that won the 2009 and 2011 CBI championships, respectively. OSU entered the tournament that season with a 13-17 record, meaning WSU's .500 record has them firmly in play for a bid. Bone said each of those teams gained valuable experience by continuing their season.
It would help if the Cougars could beat the Bruins tonight.
UCLA topped them 63-60 in Pullman on Feb. 4, employing a zone in the second half to help slow WSU leading scorer Brock Motum.
The Bruins are dealing with a big distraction, though. On Wednesday, Sports Illustrated published a story on their website detailing a history of drug and alcohol abuse by Bruins players during coach Ben Howland's tenure.
WSU is already locked into the No. 8 vs. No. 9 game in the Pac-12 tournament (noon on Wednesday at the Staples Center), so it can't improve its seeding this weekend. But it can at least gain some momentum.
"To be honest, I feel like we can win the Pac-12 tournament, and that's just pretty much the mindset we've got," said senior guard Marcus Capers, who is still holding out hope for the automatic NCAA bid that accompanies a conference tourney title. "Because we've been competing with all the teams."
Local journalism is essential.
Give directly to The Spokesman-Review's Northwest Passages community forums series -- which helps to offset the costs of several reporter and editor positions at the newspaper -- by using the easy options below. Gifts processed in this system are not tax deductible, but are predominately used to help meet the local financial requirements needed to receive national matching-grant funds.
Subscribe to the sports newsletter
Get the day's top sports headlines and breaking news delivered to your inbox by subscribing here.
---