Sports
Cal's Rogers bounces back
Overcomes death of her father, rare heart disease
Sun., Nov. 25, 2012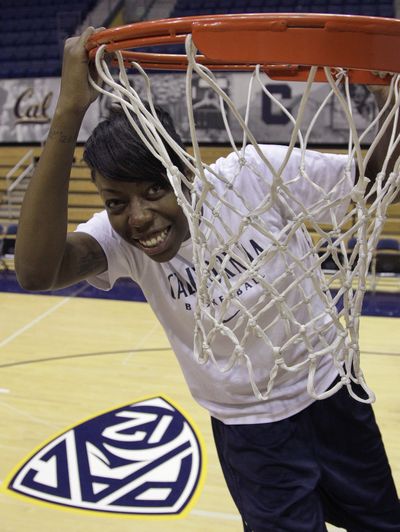 BERKELEY, Calif. – For two years, Tierra Rogers cried herself to sleep each night as California's basketball team moved forward without her.
Still grieving 20 months after her father was murdered during one of her high school games, Rogers' career got cut short before it began. A top recruit, the highly touted freshman guard collapsed and stopped breathing in a seriously close call outside the Cal training room.
It's been three years since that frightening day. Most with her rare heart condition never know, until it's too late, because it is often fatal.
Rogers rarely misses practice these days, even though she has never played a minute for the Golden Bears, who jumped to No. 11 in this week's AP Top 25 poll. Rogers steps in to help during drills as a passer, or stays busy under the basket to rebound balls and keep things moving. On game day, she is the last player the Cal starters greet for a handshake or choreographed dance move during introductions.
"A lot of tears were shed. I think of my dad a lot," Rogers said during a recent practice. "I felt alone. I felt lost. I felt I had no control over anything in my life. I felt defeated. I was just sad and distraught at everything that happened."
To see Rogers now, smiling, still taking part on the court in a drastically different role, is to see just how far this young woman has come in a success story that reaches from Rogers to her teammates and coaches and the entire Bay Area. Rogers recently began taking part in a clinical trial at UC San Francisco, something she hopes will help others with her health situation keep playing their sport at a high level.
She is on schedule to graduate next summer – on time, with a bachelor's degree in African American Studies.
"She amazes me," said Rogers' mother, Dalonna Ingram-Rogers. "I always tell her I get my strength from her. She says, 'Well, you and dad raised me,' and I tell her, 'Give yourself some credit.' She has been through so much at a young age. It's so easy to quit."
On Sept. 21, 2009, Rogers collapsed at Haas Pavilion after she had trouble breathing during a workout. She was taken by ambulance to a hospital, where she spent a week for testing and observation. Once doctors determined she had a cardiac condition, she was transferred to UC San Francisco Medical Center. There, doctors discovered her condition – Arrhythmogenic Right Ventricular Dysplasia – and implanted a defibrillator.
A high school All-American at San Francisco's Sacred Heart Cathedral Prep, her dad was shot to death at halftime of a game across the street from her home gym on Jan. 12, 2008. She considered giving up basketball after the tragedy.
Later, the decision was made for her.
Former Cal coach Joanne Boyle, now at Virginia, still keeps in touch with Rogers whenever possible. Second-year Bears coach Lindsay Gottlieb was Boyle's top assistant during the recruiting process with Rogers, but had left to coach Santa Barbara by the time Rogers arrived.
When Gottlieb returned last season, keeping Rogers around on scholarship was never a question.
"She is 100 percent a part of the team," Gottlieb said. "Her presence is really felt, and her presence is really important."
Rogers often called her mother, who lives in Houston after leaving San Francisco, in the middle of the night fighting the urge to give up, to leave town and start fresh elsewhere.
"I said, 'We'll cry every day, but leaving is not an option,' " her mom said.
Boyle made a point to check in on Rogers twice a day, if not more.
"She had just started to find the love of the game again when she got to Cal. Going to games brought back memories of her dad," Boyle said. "She played the rest of the season and her heart wasn't in it. She got to Cal and the kids said the first couple weeks she was playing awesome.
"My concern for her and listening to her talk was just, at that age, how can you handle losing your father and the thing she identified most with after she had found the love again? She had some dark, dark moments, she really did, and understandably so."
Rogers easily could have walked away. Instead, she leaned on her support system in Berkeley. Last year, Rogers came through when teammate and then-roommate Eliza Pierre most needed a caring friend who could relate. Pierre's older brother, Wilson, was killed at a North Hollywood party in a gang-related shooting in August 2011.
It was Rogers who flew home with Pierre to mark the one-year anniversary of his death this summer.
"I always knew I had a friend who was there for me, period. We were already close before it happened. Both of our struggles and pains have brought us together," Pierre said. "The team is like a family in that sense. She has contributed to this team in so many other ways even though she can't play. She stuck it out."
Rogers still has emotional moments. Naturally, she has questioned, "Why me?"
On the tough days, Rogers opts to stay away from practice so her mood doesn't affect her teammates. That's not often.
"You still feel some type of loneliness," she said.
Rogers met regularly with a counselor, plus a tutor to help with a learning disability that makes numbers and reading comprehension that much more challenging.
"I think people doubted she could do it on time, and she's going to do it on time," Boyle said.
Rogers led her high school team to state titles from 2006-08, including perfect 32-0 seasons in 2007 and '08. She lost only three games in her entire high school career.
"That's all she ever thought she would do was play basketball," her mother said. "And to not have that and still be in that surrounding, is great."
Rogers reports to doctors at UC San Francisco every couple of weeks – and someday, she hopes, she will no longer need her defibrillator.
Local journalism is essential.
Give directly to The Spokesman-Review's Northwest Passages community forums series -- which helps to offset the costs of several reporter and editor positions at the newspaper -- by using the easy options below. Gifts processed in this system are not tax deductible, but are predominately used to help meet the local financial requirements needed to receive national matching-grant funds.
Subscribe to the sports newsletter
Get the day's top sports headlines and breaking news delivered to your inbox by subscribing here.
---