Sports > Gonzaga basketball
Zags 6-0 all-time at Old Spice tourney
Mon., Nov. 26, 2012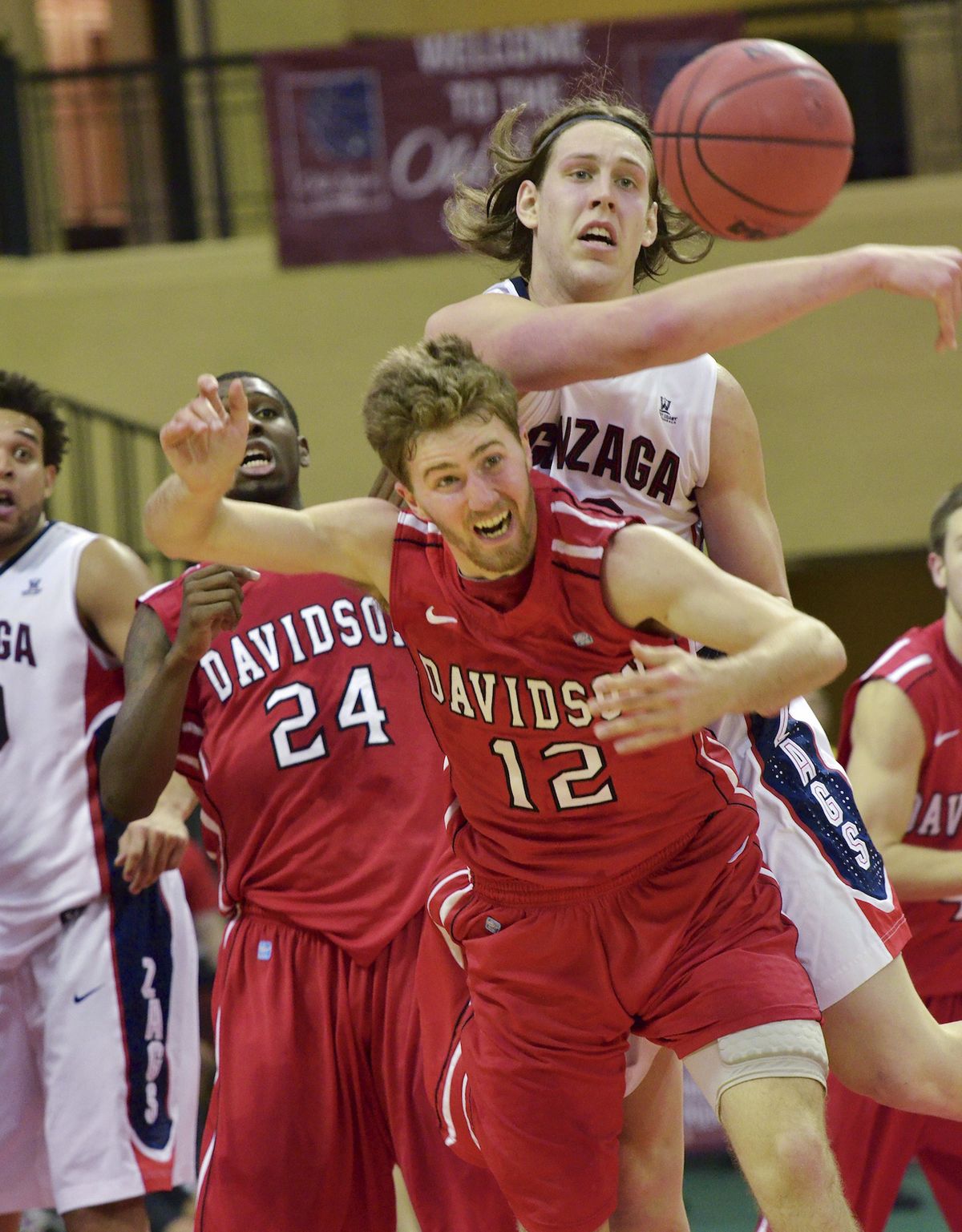 Gonzaga's Kelly Olynyk goes for a loose ball against Davidson's Nik Cochran (12) during the first half. (Associated Press)
LAKE BUENA VISTA, Fla. – During a second-half timeout, senior forward Elias Harris boiled down Gonzaga's offensive strategy to simple terms.
"Keep feeding Kevin (Pangos)," Harris told his teammates. "He's hot."
Pangos knocked down four 3-pointers in the second half and Harris poured in 24 points as the Bulldogs turned back several Davidson rallies and captured the Old Spice Classic title with an entertaining 81-67 victory Sunday in front of 4,121 at the HP Field House.
Pangos misfired on 3 of 4 first-half 3s, but he shook those off just as Davidson (3-3) completed a comeback from a 12-point deficit to pull even at 51 with 9:21 remaining. Pangos made four 3s in the next 2:40, the first a spot-up 3 in transition, followed by a patient possession punctuated by another Pangos trey.
Davidson responded both times, but then so did Pangos, who drilled two more 3s, the last on a wide-open look from the corner on an inbounds play, giving Gonzaga breathing room with a 64-55 lead. All four of Pangos' 3s hit nothing but net.
"My teammates got me open and I just let it fly," said Pangos, who finished with 23 points, five assists and five rebounds. "Our team is really unselfish like that. If someone's hot, we don't care about our personal stats."
No. 17 Gonzaga is 6-0 for the first time since the 2008-09 season, when it captured its first Old Spice championship.
"We got tested in a variety of ways, both with how the games flowed and also with the different schemes and matchups we faced," Bulldogs coach Mark Few said. "That's an unbelievably skilled team that is tough as nails and fights you on every possession. We had to respond several different times to get it going in our direction."
Before his second-half sharp-shooting, Pangos was just 3 of 14 from long distance in the tournament.
"He's a fantastic shooter and he was getting good looks," Few said. "Like those guys said, it doesn't matter if he misses 10 in a row, everyone on the team wants him to take the 11th. And he deserves a lot of credit for that. One of the hardest things in sports is when things are going bad, most of us chalk it up to having a bad day. Fortunately, he didn't do that."
Harris was steady throughout GU's three wins. Against Davidson, he grabbed 10 rebounds and made 9 of 11 shots and 6 of 7 free throws. In three games, Harris made 21 of 31 shots and averaged 18.3 points to earn tourney MVP honors.
"Harris is just so difficult to deal with," Davidson coach Bob McKillop said. "I'll bet you he got three fouls (on Wildcats players) just going for rebounds. He's a ferocious rebounder."
Harris was joined on the all-tournament team by GU's Kelly Olynyk, who finished with 14 points, six boards and two blocks, Davidson's Nik Cochran, who had a team-high 17 points, Clemson's Milton Jennings and Oklahoma's Romero Osby.
"I really thought (Harris) was the best player in the tournament," Few said. "He was a much more patient player in all three games. He didn't settle. He attacked the rim on nearly every occasion."
Davidson jumped in front 13-4 and led 18-15 when GU rattled off 15 straight points. Harris had nine points and an assist and Olynyk added a layup and two key defensive plays, drawing a charging foul and swatting De'Mon Brooks' shot.
Gonzaga's nine-point halftime lead dissolved quickly as Davidson connected on four 3-pointers. The Zags clamped down defensively, closing with a 23-12 run over the final 6:50.
"They're daggers," McKillop said of Pangos' 3-pointers. "And it wasn't one or two, it was four. We answered each time and then we didn't answer when Olynyk blocked (Chris) Czerapowicz's shot. … It takes a little wind out of your sails."
Gonzaga made 55 percent of its field goal attempts. Davidson finished at 36.2 percent, the highest of GU's last five opponents.
Local journalism is essential.
Give directly to The Spokesman-Review's Northwest Passages community forums series -- which helps to offset the costs of several reporter and editor positions at the newspaper -- by using the easy options below. Gifts processed in this system are not tax deductible, but are predominately used to help meet the local financial requirements needed to receive national matching-grant funds.
Follow along with the Zags
Subscribe to our Gonzaga Basketball newsletter to stay up with the latest news.
---