News > Features
'Songs' for a nonprofit
Civic Theatre hopes to score with Tony Award-winner Jason Robert Brown's musical numbers
Fri., Oct. 26, 2012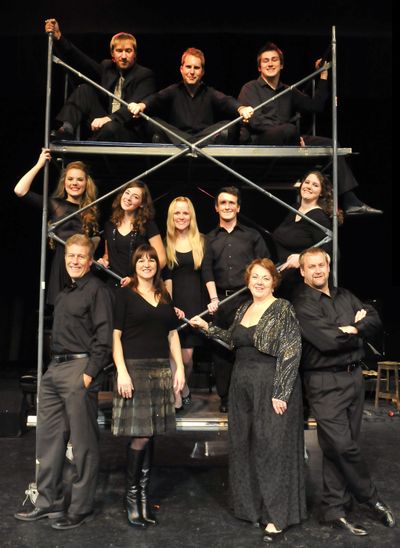 A woman learns she's pregnant.
A former "king of the world" finds himself behind bars.
A wealthy woman discovers her husband is having an affair.
Some moments are bigger than others. Composer and lyricist Jason Robert Brown's "Songs for a New World" is a collection of 17 musical numbers, each containing its own story and characters, but each also connected to the others by that theme of the major moment – and the choices people do or don't make in the face of them. "Songs for a New World" will play tonight and Saturday at Spokane Civic Theatre as part of the nonprofit theater's In Concert fundraiser series.
"It's about hitting the wall and having to make a choice, or take a stand, or turn around and go back," Brown has written.
The Tony Award winner will visit Spokane for the production, staying after Saturday's show to answer questions from audience members. He'll also teach a master class Saturday to some of the cast members; the public is invited to observe.
"Songs for a New World" was Brown's first produced show, making its debut Off-Broadway in 1995. Its centerpiece song, "Stars and the Moon," has been recorded hundreds of times by artists such as five-time Tony winner Audra McDonald. After "Songs," Brown went on to win a Tony for his score to "Parade." He's also won Drama Desk and New York Drama Critics' Circle awards.
"Songs" is not a revue, and it's not a traditional musical, said Robby French, 28, who'll perform in several numbers. It's an "abstract musical."
French, of Coeur d'Alene, said he first heard "Songs" as a high school student and was hooked. It's not the "normal musical theater sound," French said – repeated melodies, full orchestrations. In "Songs," a small orchestra backs vocalists performing gospel, rock, jazz and pop.
"I just love how the music speaks to the audience," French said.
Originally produced with just four singers, "Songs for a New World" at the Civic – directed by Yvonne A.K. Johnson – will star 12 vocalists, joined by a five-person orchestra. The singers will include some who may be familiar to Spokane theatergoers – Steven Mortier, Andrea Dawson, French, Darnelle Preston, Jim Swoboda.
The youngest cast member, Morgan Keene, is 15. "She sings 'Christmas Lullaby,' and she'll take your breath away," Johnson said.
Vocalists and orchestra members who've done In Concert shows before have said this is the most challenging one yet, Johnson said. Brown is known for complicated songwriting.
"He's really this young version of a Stephen Sondheim," she said. "Most people would tell you in the music theater world, his music's the most difficult to play, his and Stephen Sondheim's. … Part of the reason we wanted to do the show is the music is breathtaking."
Local journalism is essential.
Give directly to The Spokesman-Review's Northwest Passages community forums series -- which helps to offset the costs of several reporter and editor positions at the newspaper -- by using the easy options below. Gifts processed in this system are not tax deductible, but are predominately used to help meet the local financial requirements needed to receive national matching-grant funds.
Subscribe now to get breaking news alerts in your email inbox
Get breaking news delivered to your inbox as it happens.
---